Salesforce training course in Hyderabad | Best institute in ameerpet
The Salesforce market is really good and generates many jobs every day. CRS Info Solutions is the best place in Ameerpet to get job-oriented salesforce training. We give real-time project-based training; from day 1, we will train you on real-time concepts. Our syllabus is the most comprehensive on the market, and we will provide daily assignments in the course. Class recordings will be provided after every class in our salesforce coaching program in Ameerpet, Hyderabad. Join our free demo class, enroll now!
Success Story:
Enroll for Demo
Upcoming Demo Dates:
Please note the following dates are demo class or orientation only. Our faculty announces actual batch starting details at the time of demo class. Fill contact form and try to join our free orientation class. We will try to arrange appropriate timings based on your flexible timings.
Timings not matching with your schedule?
Fill the
Contact form
, we will schedule a flexible Demo as per your convenience.
Course Content
Admin
[accordions id="2406″]
Development
[accordions id="2409″]
Lightning and Bonus Topics
Frequently Asked Questions
How much does Salesforce Training in Hyderabad[2023] cost?
The cost of a salesforce training course ranges from Rs.15,000 to Rs.55,000, depending on the number of modules selected. Salesforce Admin, Developer, and Lightning Web Components are important modules included in our online course event.
Is there an advance payment required by CRS Salesforce course in Hyderabad?
We do not charge our participants anything in advance. If you do not like our Hyderabad Salesforce training service, it will be a problem for you, which is why we do not require any advance payment from you. Experience the quality by attending our free Salesforce Ameerpet, Hyderabad demo class. Only enroll in and pay for the course if you truly believe in our quality and service.
Does CRS provide a refund or Money-back Guarantee?
We want to be transparent with our learners. As part of that, we will provide a 100% money-back guarantee in our Salesforce training in Hyderabad. In fact, we do not charge you anything unless you are satisfied with the quality of our training. Only after you have personally examined our quality will you be able to enroll. If a candidate cancels within two days of enrollment, a full refund of training fees will be issued. If you have any questions about this, please do not hesitate to contact us. We are always happy to assist you.
What is the Duration of this Salesforce training in Hyderabad?
Because we have added highly essential real-time projects in our training curriculum, the Administrator, Development, Lightning Web components, and integration modules will take 8-10 weeks. The duration of real-time projects is determined by your practice. Practice theoretical issues in the Salesforce Trailhead and Trailblazer platforms, but at our job-oriented Salesforce institute in Ameerpet, Hyderabad, we will train you on real-time hands-on concepts, a completely project-based admin course, and a developer course with bonus subjects. We'll also conduct Q&A sessions. To learn more about demo flexible times, please contact our support staff.
What will be included in live demo class?
The following is the Agenda for our free live demo class:
Salesforce Course Overview
Current CRM market Analysis
About Course Curriculum
FAQs on Salesforce Jobs
Instructor Experiences
Q&A session and
New batch timings
So, please don't miss our free live interactive demo class, which will be provided by email (prefer to share gmail since it's easier to share our free material, free movies, and free stuff we'll supply).

Can CRS Info Solutions assist with the Salesforce Certification Exam?
Yes, we will aid you with Salesforce certification test help. We provide certification test notes, material, and daily tasks to our students and ensure they pass the exam. We'll teach you certification questions and answers to assist you pass the examinations for Admin 201, development 401, and lighting, among other courses in Ameerpet, Hyderabad. Please attend our live orientation to receive free videos and interview questions in pdf format. CRS Info Solutions is your first priority if you are looking for the best alternative among the top 10 salesforce training institutions in Ameerpet, Hyderabad.
Will this training helps me to get job?
We provide real-time project-based Salesforce CRM training that is 100% practical. As a result, you will study subjects realistically and hands-on from day one. You will obtain practical information that will enable you to confidently face any interviews. So, if you want to study SFDC online training to prepare for any challenging interviews, kindly sign up for our free sample.
What are the class schedules?
In our Salesforce training Hyderabad, we will provide morning and evening batches for your comfort and flexibility. The regular class times will be revealed during the online demo session. Don't miss our demo session to learn about the class schedule for our Salesforce Administration and Development course in Ameerpet, Hyderabad.
Who will be teaching this Salesforce training in Ameerpet, Hyderabad?
Our trainers have at least 10 years of real-world experience, knowledge, and certification in teaching Salesforce. They always go out of their way to make complicated concepts into easily comprehensible pieces. Experience professional Salesforce training in Ameerpet, Hyderabad, and a certification program with a hands-on approach to improve your abilities in Salesforce Administration and Development modules from qualified trainers, and get free Salesforce videos. Our qualified teachers are ideal for providing salesforce courses in Ameerpet, Hyderabad.
What if I miss any class?
If you miss a lesson, you will receive a video recording of that class so that you do not fall behind in our instruction. You may practice by watching our video library at any moment. While practicing email conversation, our trainer will assist you in resolving your questions. CRS info solutions provides the finest salesforce training in Hyderabad.
Do you provide administration (ADM 201) and development (DEV 401) training?
Yes, we offer completely practical Salesforce Administration (ADM 201) and Development (DEV 401) training in Ameerpet, Hyderabad in this course, which is the first step toward a career in Salesforce CRM. If you want to work as a Salesforce specialist, you should begin with administration and development.
What subjects are taught during Salesforce training in Hyderabad?
Salesforce training Ameerpet, Hyderabad covers a wide range of vital concepts such as Salesforce administration, development, chatter, sandbox, and lightning basics. Among the main subjects are:
CRM concepts
Salesforce CRM administration
Workflow Process
Salesforce Deployment
Migration Strategies
Connection between setup and environment
Inbound and Outbound change set up
Packaged Deployment
Apex
Visualforce
Lightning Essentials and these modules videos
In Hyderabad, you may get expert salesforce training and certification support. Please do not hesitate to seek our aid; we are here to assist you. If you are looking for the best salesforce training institutions in Ameerpet, Hyderabad[2023], then CRS INFO SOLUTIONS should be your first priority.
What will I learn from this Hyderabad based Salesforce course?
You will study Salesforce ideas from the ground up so that you may construct your own apps in the sfdc platform. Our hands-on training prepares you to manage Salesforce consultant responsibilities in the workplace. With this training, we hope to prepare you for a job.
I do not have any programming knowledge. Can I learn this training?
As additional videos, anyone with no programming experience may learn Salesforce Administration, development, Lightning web components, and integration. Our course benefit is that anyone may learn without prior coding knowledge; we will teach from the ground up, that is our assurance. There are MBA, HR, sales, and marketing students with no coding experience.
Why should I prefer Salesforce training?
Salesforce is No. 1 in the CRM segment, and it's a Fortune 500 software company with the best employee benefits. Google, Apple, and Facebook—all these companies are customers of Salesforce. So, you can imagine how strongly established Salesforce is. It's going to create a million jobs in the coming years.
Is this Salesforce training in Hyderabad expensive?
Our Salesforce training fee is affordable, you can take it in parts, and you can retrieve it once you get a job, so it will be a valuable investment in your career. There is 100% worth and ROI in Salesforce CRM. You will get professional Salesforce videos for free, including PDF interview questions. Talk to our representative; they will help you.
Is it necessary to have a technical background?
There is no need to be from a technical or software background in order to become a Salesforce consultant in Hyderabad. Many of the students in our training are from non-IT backgrounds—marketing, graduates, MBAs, etc.—so these are the live examples that anybody can learn from and become a Salesforce consultant.
Is this course suitable for working professionals?
Our course is designed for working professionals. If you are a working professional and willing to learn Salesforce, then it is the best program designed for you. In fact, we have so many working professionals in our training program. Please Feel free to make a call to us. We are here to help you.
Is it suitable for those who have some gaps?
If you have some gaps after marriage or some other issues, then Salesforce is the best course for you. We have such students with a lot of gaps in their job lives who happily started their careers again with Salesforce. Do not hesitate to talk to us; we are here to guide you. Our representatives will guide you and help you all the way. Please Feel free to make a call to us. Join the world's leading Salesforce training in Hyderabad, India [2023].
I have a few years gap due to personal reasons.
I have a few years gap due to personal reasons; will Salesforce training help me start my career again?
Yes, of course, you can restart your career undoubtedly with a Salesforce course; this will surely give you better career opportunities. There are so many people in our training course from Hyderabad who have gaps. So if you have any such doubts, please feel free to contact us. We will help you with training, videos, and interview questions.
What other features are offered in this training?
The following features are included in our training program:
2-3 Real time Projects
Live project use cases
Ample hands on
One to one attention
Interview preparation
Resume preparation
Certification preparation
Exposure to live environment
Why is CRS the best place for the SFDC Online Training Course in Ameerpet, Hyderabad, Telangana, India?
If you watch our student's testimonials, you will get an idea of what is the best choice from the list of the top 10 Salesforce training institutes in Ameerpet, Hyderabad. Our 100% real-time ONLINE training program in Ameerpet, Hyderabad, by profound instructors who have real experience will give you more practical knowledge than academic, so CRS Info Solutions is the best institute for practical-based Salesforce online training. Experience our quality by attending our free live demo class.
Which countries do students taking this course come from?
We provide Salesforce CRM job oriented online training courses in Ameerpet, Hyderabad, for aspirants from various parts of the world.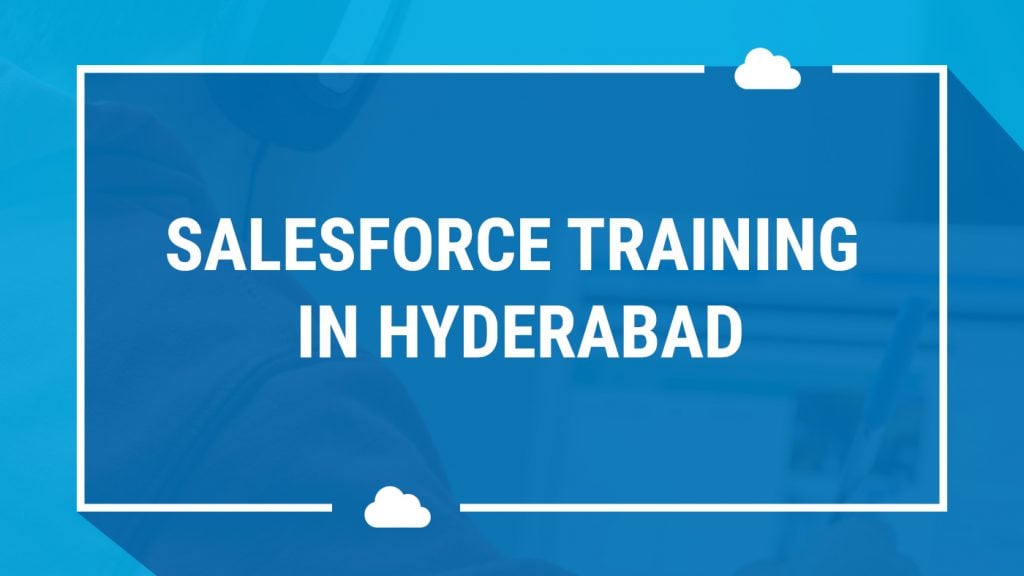 Find the finest Salesforce training provider with experienced faculty in Hyderabad. CRS Info Solutions is a Hyderabad-based Salesforce admin and developer training company. Join our free trial class to see how our project-based Salesforce CRM training from real-time teachers in Hyderabad compares.
We also provide a practical Salesforce training institute in Hyderabad with a real-time project course, which makes us one of the best Salesforce coaching institutes in Ameerpet. The practical information gained aids in job placement interviews and the management of consultant responsibilities.
Discover the most reputable computer institutes in Hyderabad that offer Salesforce online training, enabling you to effectively attain your educational goals under the guidance of experienced professionals from the industry. CRS Info Solutions is a leading provider of Salesforce Customer Relationship Management (CRM) training. The company offers instruction from a seasoned professional with over 10 years of industry experience who is capable of guiding learners from the foundational level.
In addition, our Salesforce training program in Hyderabad incorporates real-time SF projects, scenario-based interview questions and answers, daily activities, and a fully immersive learning experience. These components are designed to enhance your skill set and facilitate skill development. Enroll today to gain complimentary access to our live demonstration session, which presents an excellent opportunity for direct engagement with the trainer for Salesforce Admin training in Hyderabad.