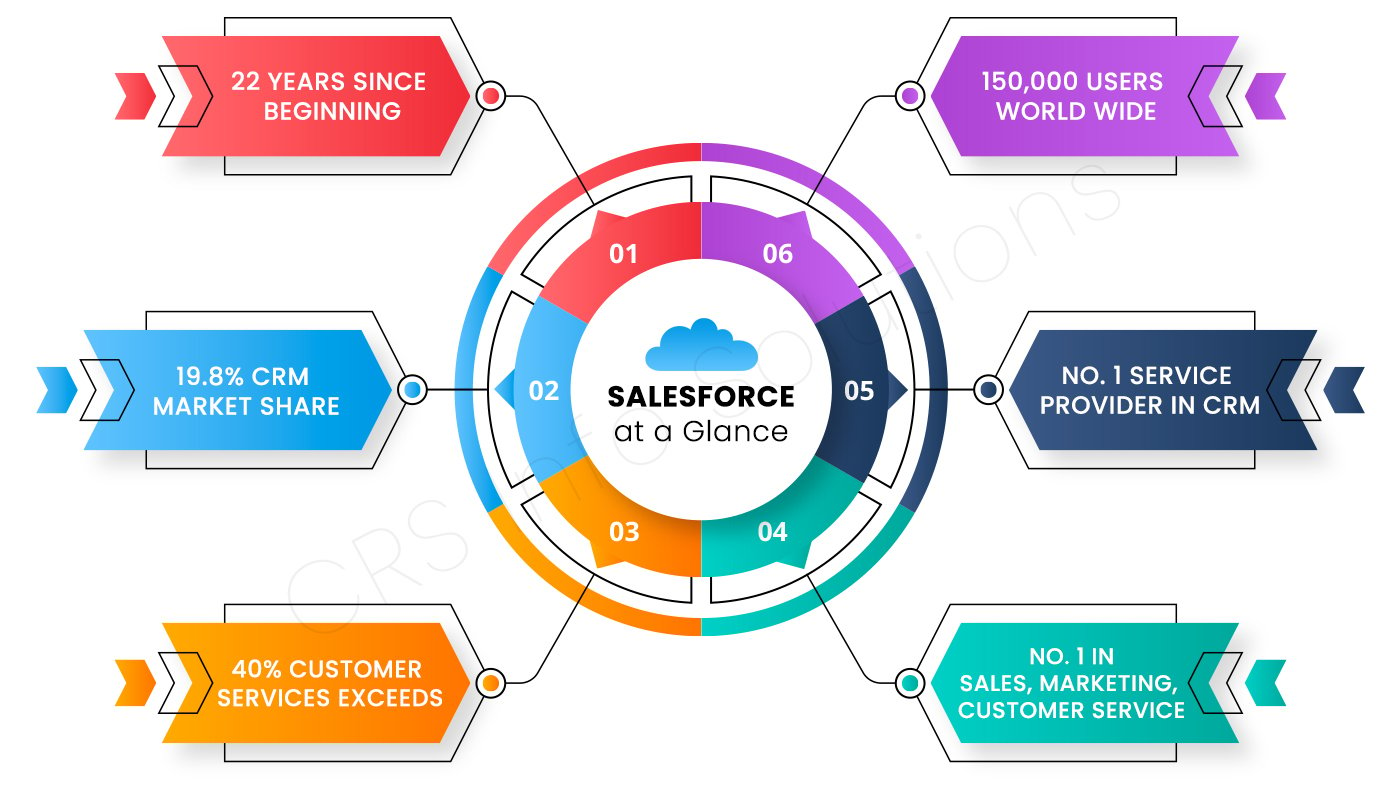 What is Salesforce—Everything You Should Know About This Leading CRM Provider
Customers are the cornerstone of any business. How well a business connects with and understands the customers plays a significant role in determining its success. That's why many modern companies rely on Salesforce to make the process of managing customer relationships more efficient and straightforward. As the leading CRM solution in the market, Salesforce provides an all-in-one solution to handle every aspect of customer connections, from processing leads to developing customer-oriented applications.
If you want to understand how Salesforce can help your company get the best out of customer connections, you've come to the right place. In this post, we will answer the question, "what is Salesforce?" to provide you a clear view of the value it adds to a business process.
Salesforce at a Glance
Salesforce is the leading CRM platform in the world with a 19.8% market share. Especially, its market share in sales and customer service areas exceeds 40%, guaranteeing its domination over competitors by substantial margins. As of 2021, Salesforce is trusted by over 150000 users worldwide to streamline the customer management process. Earlier this year, the IDC semiannual software tracker ranked Salesforce as the #1 service provider in sales, marketing, customer service, and CRM.
Today, global business giants and small businesses alike trust Salesforce to fulfill their CRM requirements. PayPal, Spotify, Amazon Web Services, Adidas, and Unilever are only a few prominent names in its customer list.
With a wide range of products, all accessible through a single platform, Salesforce combines ease-of-use and innovation to deliver a cloud-based solution that allows all the employees in your organization to have a 3600 view into customer relations.
What is Salesforce?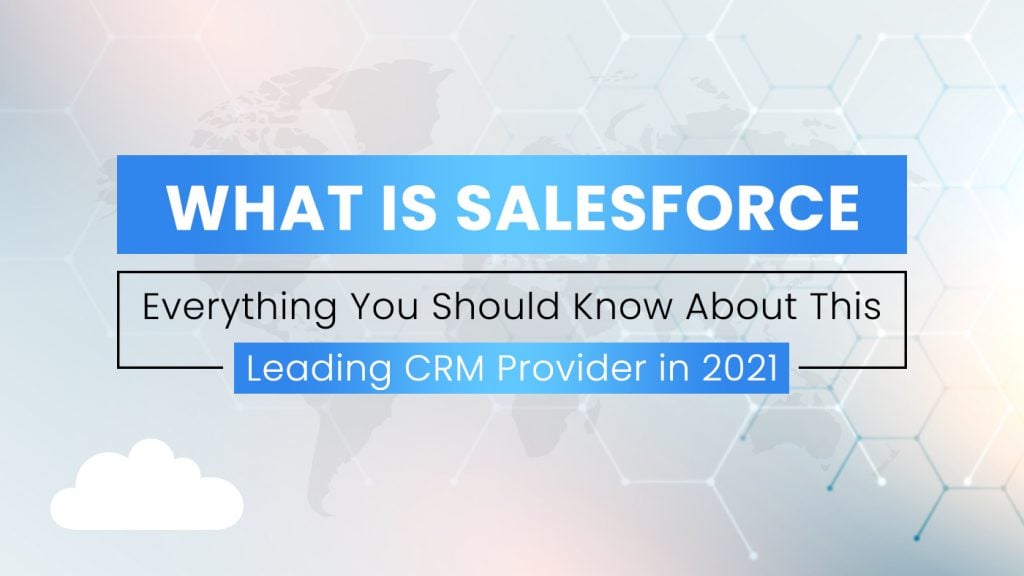 When talking about what Salesforce is, we should start from the very beginning. In 1999 Marc Benioff founded Salesforce with the vision to deliver software to customers over the cloud 24/7. Even in its early days, Salesforce strongly believed in the power of the cloud for distributing more accessible and easy-to-use software.
With that belief, the company went against the then trend of developing on-premise software solutions, a method tested and proven by business leaders like Oracle. It allowed Salesforce to reap the benefits of the recent boom in cloud computing earlier than the others, while Oracle and the rest of the world are still trying to catch up with rising demands for cloud-based software. I hope you've got an idea about What is Salesforce?
Now, after 22 years since the beginning, Salesforce has become the go-to CRM solution for modern businesses. It has stayed ahead of the competition through constant innovation and understanding the upcoming trends in the market earlier than the others.
Read our Salesforce interview questions and answers from latest company interviews.
What Exactly is CRM?
Throughout this post, we used the term, CRM, to introduce the type of services Salesforce provides. Now it's time to understand what exactly CRM is after learning what is Salesforce.
CRM stands for customer relationship management. As the name suggests, it focuses on managing all relationships with current and potential customers. CRM allows businesses to stay connected with customers, build lasting relationships, and streamline all customer-related processes.
CRM can be as simple as keeping records of your customers and the products they've brought. Today, as businesses become more customer-centric and gain access to large amounts of readily available data, dedicated CRM tools and software can add more value to this process in the following ways.
Automate repetitive tasks
Seamlessly share knowledge across different teams
Build sales pipelines
Use analytics to draw insights into customer operations.
These are only a few benefits you can gain through CRM software like Salesforce. In fact, reports show that CRM can help businesses increase sales up to 29%, productivity by 34%, and forecast accuracy by 40%.
CRM Before and After Salesforce
Before Salesforce introduced CRM to the cloud, companies had to set aside large sums of money for setting up on-premise CRM solutions. They had to buy servers to store data, manually install the necessary software, and regularly carry out system updates. The entire process required the services of technical experts, shooting the costs even higher. It made CRM solutions unaffordable to small and medium-scale businesses. Even those who could afford had to spend months, sometimes even years, to get an on-premise solution up and running.
But the introduction of Salesforce made CRM more affordable and accessible to everyone by hosting its applications on the cloud. It provided a Software as a Service (SaaS) CRM solution that allowed companies to use high-quality software through regular browsers without a drawn-out installation process. They no longer had to worry about technical failures or upgrading software because Salesforce itself handled these operations.
Today, businesses can provide the best services to customers using Salesforce for an affordable subscription-based fee.
Read more: Cloud Computing Tutorial
How Salesforce Provides an Unparalleled CRM Solution
Salesforce provides a CRM solution anyone can sign up for from any place, at any time, without a substantial initial investment. It makes accessing enterprise-grade CRM tools as simple as visiting Facebook or Netflix.
Salesforce offers a set of applications for a variety of business processes. Companies get to store all the information related to customers and customer operations in a single system, allowing employees to get a 3600 view of customers.
The Customer 3600 View
Salesforce has coined the term, "customer 3600 view," to refer to its unifying range of applications that spans marketing, sales, service, IT, and commerce aspects of connecting with customers. It facilitates creating universal customer profiles that are accessible from all Salesforce and many 3rd party applications. With this method, everyone in the company gets to have a single view of the customer lifecycle.
Mike Katz, the executive vice president of T-Mobile, a long-term customer of Salesforce, best summarizes the essence of customer 3600 view like this: "Customer doesn't want to know that they are talking to a series of different departments. They want to know that they are talking to T-mobile." And the wide range of applications provided by Salesforce allows a business to do just that. This helps you understand What is Salesforce's The 3600 view.
Salesforce Products & Services
As we discussed before, Salesforce offers a range of products to build a complete picture of customer relationships. In this section, let's see what these products are and how they can add value to a business.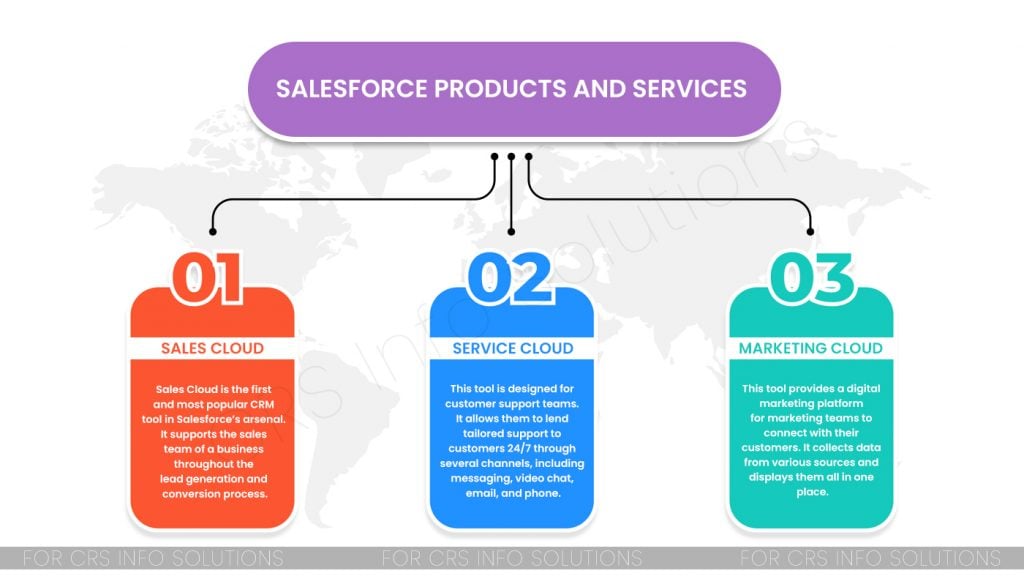 Sales Cloud
Sales Cloud is the first and most popular CRM tool in Salesforce's arsenal. It supports the sales team of a business throughout the lead generation and conversion process. It helps you to increase conversion rates and efficiently pursue and achieve goals by delivering customized experiences to each customer.
Even though Sales Cloud initially came out as a tool designed for B2B companies, many B2C companies rely on this tool to manage their sales operations nowadays. Here are some of the software's main features that have helped many sales teams in the world to improve their outcomes.
Read more: 50 LWC Lightning Web Component Interview Questions
Provide customized sales experience to contacts with specialized account management.
Track sales opportunities.
Use data-driven forecasting to identify growth opportunities.
Streamline and automate repetitive sales tasks such as activity tracking and email alerts.
Service Cloud
Here is the question "What is Salesforce Cloud?". This tool is designed for customer support teams. What is Service Cloud? It allows them to lend tailored support to customers 24/7 through several channels, including messaging, video chat, email, and phone. The main services provided by the Service Cloud include:
Get actionable insight on every customer interaction.
Allow service agents to handle several cases simultaneously from a single screen using an easy-to-use service control.
Automatically match cases on any channel to the right agent after considering their expertise and skillset.
Marketing Cloud
This tool provides a digital marketing platform for marketing teams to connect with their customers. What is Marketing cloud? It collects data from various sources and displays them all in one place to create a single source of truth for interacting with different audiences. You can maintain personalized communication with customers depending on their preferences to maximize customer engagement. Some of the key services of the product are:
Develop highly targeted audience segments.
Build a loyal customer base humanizing and personalizing the targeted messages.
Improve interactions with customers through ads, emails, social media, and other channels with the help of AI.
Commerce Cloud
Salesforce Commerce Cloud allows businesses to increase their revenue by providing satisfying buying experiences to customers through different channels. Both B2B and B2C businesses can take advantage of this platform to convince customers to trust their services. Its services include:
Deliver branded experiences like embedded commerce.
Easily scale to a global customer base with no worries.
Build a digital storefront for your business to increase sales.
Maintain the complete transparency of ordering and buying processes.
Read more: 61 LWC Lightning Web Component Interview Questions
Experience Cloud
Salesforce Experience Cloud helps businesses build customer-first digital experiences. It permits you to interact with any audience through personalized and interactive apps, sites, and portals. You can create experiences in a matter of minutes through a set of templates and themes provided within the platform. Here are some experiences you can develop with the pre-built components it offers.
Create a knowledge base, self-service portal, or forum to let customers find answers to product-related questions themselves.
Develop a responsive portal for customers to update their accounts, access articles, and manage cases and claims.
Create a partner central to manage relationships with your partners.
With the Experience Builder integrated into the platform, you can create experiences that surpass these pre-built solutions whenever you want.
Tableau Analytics
Tableau Analytics is a business intelligence platform that allows companies to draw actionable insights from the large amount of customer data flowing through their systems. With its drag and drop components, you can build BI models with so much ease in no time. When you ask me "What is Tableau Analytics?", I would say that the platform lets you use data to determine the future path of your business and identify opportunities to grow your customer base.
Read our 155 Salesforce Interview Questions with Answers
Salesforce Platform
Salesforce Platform is the brand name of the low-code development tool Salesforce provides for building applications. It gives a click-based interface for creating and shipping custom applications with superior security, increased performance, and integrated Salesforce data.
This development platform enables diverse teams to experiment and innovate together even without previous coding experience. You can create apps for web, mobile, and tablet devices to enrich the customers' experience related to your business and its services.
AppExchange
Salesforce AppExchange is similar to App Store on iPhones or Google Play on Android phones. It's a marketplace used for distributing applications that enhance the functionality of native Salesforce. Most of these are third-party apps capable of seamlessly working with Salesforce products.
Say, you want to use an email marketing tool like MailChimp. Then, AppExchange is the place you should go to integrate it with the Salesforce product you are using. It contains over 3000 apps compatible with Salesforce for functions like adding mobile forms, tracking expenses, or customer onboarding.
What are the Benefits of Using Salesforce?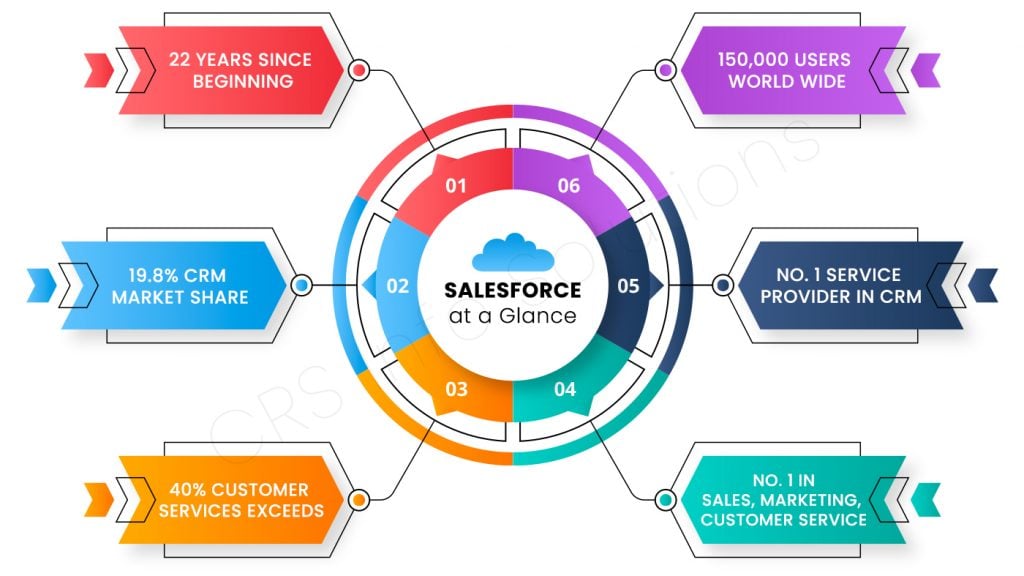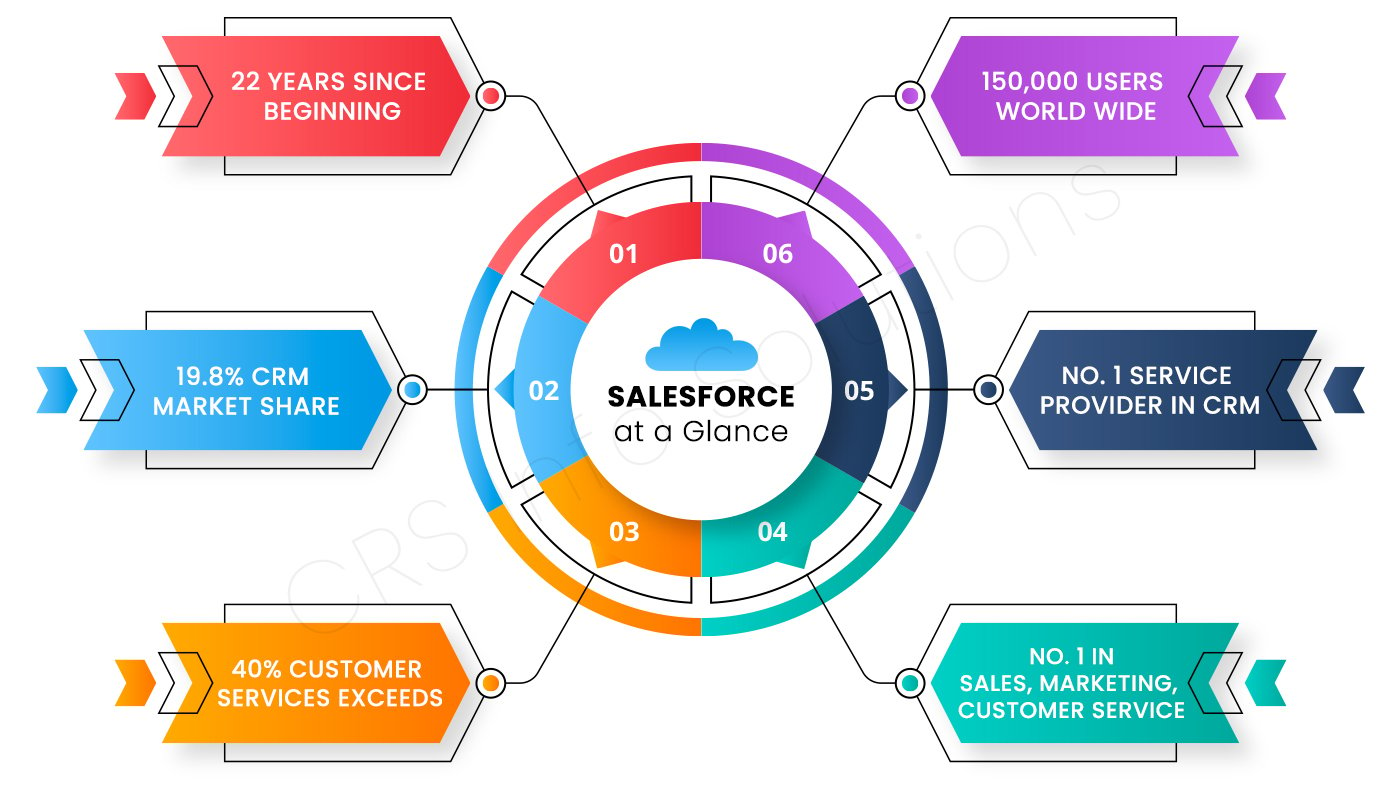 It's no secret that Salesforce has been the most popular CRM software globally, at least in the past decade. The answer to the question, "What is Salesforce?" is never complete without understanding the reasons that draw even the biggest companies to this platform for their CRM needs. How can Salesforce benefit a business compared to other solutions in the market? How can it add value to your organization if you adopt this technology? We'll find the answers to these questions in the following section.
Salesforce is Easily Scalable
Any company invests in CRM software with the hope of future growth in revenue and customer base. So, the CRM solution you adopt today should be capable of handling the increased demands of the business even after five or ten years. As a solution servicing both small businesses and giant enterprises, Salesforce is more than capable of rising to this challenge and scaling up as your business grows.
The Comfort of the Multi-tenant Architecture
Salesforce is built upon a multi-tenant architecture. It enables multiple clients to share a single application developed with the same infrastructure and technology. Due to this architecture, all the clients, no matter how small or big their operations are, receive the same performance while the platform effectively saves resources.
Multitenant architecture also enables Salesforce to upgrade the underlying software or infrastructure without client interference. And clients get to enjoy each update instantaneously as soon as the central update takes effect.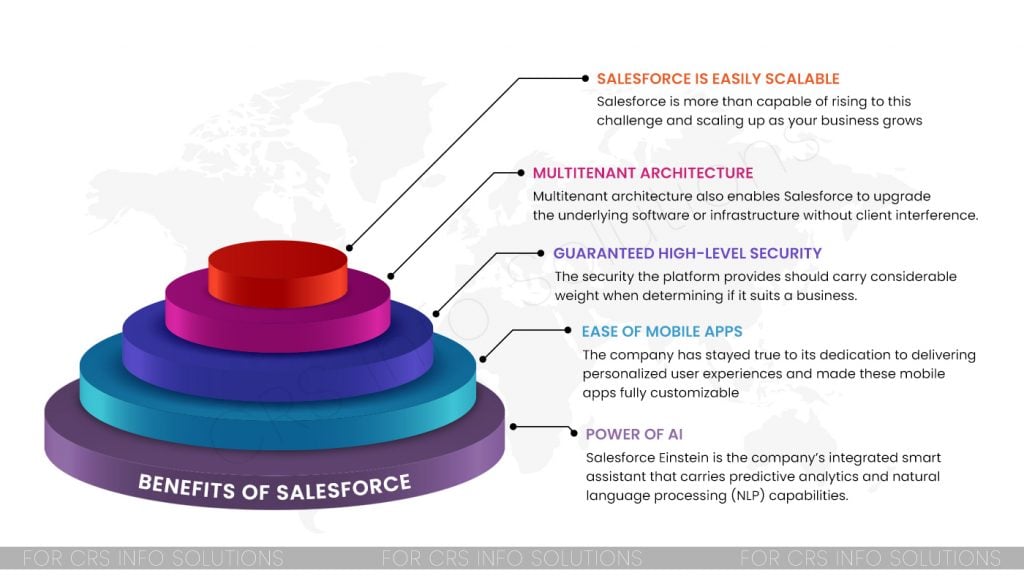 Guaranteed High-Level Security
A CRM platform often deals with private and sensitive customer data. Therefore, the security the platform provides should carry considerable weight when determining if it suits a business. Since its early days, Salesforce has prioritized security and complied with numerous international security standards. PCI DSS, FISMA, and ISO/IEC 27001:2005 are only a few compliance certificates Salesforce has acquired over the years.
The Ease of Mobile Apps
Today, the technology world is gradually shifting towards a mobile-first approach. Salesforce has embraced this shift by releasing mobile apps to make their products more accessible and easier to use for customers. They provide the same set of features as their counterpart web-based solutions, enabling customers to fulfill their business responsibilities on the go. What is the ease of Mobile Apps? The company has stayed true to its dedication to delivering personalized user experiences and made these mobile apps fully customizable.
Power of AI
Salesforce is one of the first CRM solutions that adopted Artificial Intelligence to enhance its functions. Salesforce Einstein is the company's integrated smart assistant that carries predictive analytics and natural language processing (NLP) capabilities. What is the power of AI? Here are a few examples of Einstein's use cases in different Salesforce products.
In Sales, it predicts the likelihood of a customer buying a product using forecasting and opportunity scoring.
In Service, it uses smart chatbots to offer solutions to common problems customers face.
In Marketing, it predicts the likelihood of email subscribers engaging with emails using engagement scoring.
In Commerce, AI predicts the type of content to advertise for a particular user based on their preference and interaction history.
Wrapping Up
Salesforce is one of the tech leaders in the world. Yet, many people don't have an idea about what Salesforce is. Chances are, most of them have never even heard of the company. The reason for this is, as you would have guessed after reading this post, Salesforce's products don't directly interact with end-users but the internal employees of businesses. Still, it's most likely that you have unknowingly interacted with Salesforce at least once in your lifetime, considering how popular it is in the modern CRM market.

I hope this post helped you understand how Salesforce works under the hood by supplying the right tools to businesses to improve their interactions with customers. If you read this post, not as a business decision-maker, but as a professional who'd love to contribute to Salesforce's incredible journey as an insider, check out our compilation of commonly asked Salesforce interview questions. It can give you a comprehensive view of what the company expects from its employees. If you believe you are suited for the job, we can only encourage you to steer your career path towards Salesforce. Who wouldn't want to work for a company globally recognized as one of the best places to work, after all?