What is MuleSoft & How to Get Started with MuleSoft?
Introduction –
Mulesoft is an ESB which is also known as Enterprise Service Bus (ESB) which is acting as a middleware tool to integrate various applications.
MuleSoft is using the concept of API Led connectivity to connect different systems so that the connections and API can be managed easily.
Mule, which is the runtime engine of Anypoint Platform is a lightweight Java-based enterprise platform that has been developed on top of Java using Java Spring frameworks and Java Enterprise beans.
MuleSoft also has an online cloud-hosted platform which is known as the MuleSoft AnyPoint platform and is mainly used to manage your APIs, Users, and other assets.
With the help of MuleSoft, we can easily perform the integration of existing systems like Salesforce, SAP, AWS, Oracle, Google Clouds, irrespective of which technologies those platforms are applications are using including JMS, Web Services, JDBC, HTTP, and more
MuleSoft is a
Is a Salesforce Company
Can be used to develop the API
Used to manage the complete API Lifecycle
Can be used to integrate various systems
Before we get deep into the other aspects like what is API and API Led Connectivity in MuleSoft. Let's talk about what is Integration and why we need to use Integration.
What is Integration
An Integration in general terms is an act of bringing the smaller components together that serves as an end product. For example, a Mobile phone which has too many smaller components like a Sim card, a Battery, a camera and etc.
similarly, if we talk about integration in the IT context, integration is something where one or more components ( systems ) are working together to make a project run successfully. For example, a Case Management software where the cases are stored in a separate database, customer information is stored in a separate database but when a customer calls customer representatives, the service rep can access all the information in one place.
Let's discuss an example, If we go back 10-20 years from now then we will find that there was no internet banking and no ATM cards were available. And in those days if someone wants to withdraw some money then they have to go to their bank where the account has been opened initially. Now think about you are in a different city and you are in need of urgent money.
In another way, if we talk about the present everything is available with ease and this is happening because multiple systems are working together to serve a purpose and this is nothing but an Integration.
Introduction to API
An API is an Application Programming Interface.
API is a document that provides information about how to communicate with a different software component. Defining the

Operations can be sending the data to a different machine ( software ) or fetching the data from different software or updating and deleting the data.
Inputs – Mainly representing the format of the request or response. Either the other software component accepts JSON or XML or any other formats to communicate.
Output
Response Structure JSON/XML data structure

API is a URL that is consumed by Machine ( System ) communicate between 2 or more bodies ( machines ).
API is nothing but it is what a developer code. You get the response that is already coded.
If you visit https://google.com then it is also an API and the browser is making a GET call to display the data
Check the below example to understand API.

As we have talked about that MuleSoft is an API management platform. Let's talk about what is an API Management platform.
Design APIs – This is the very first step when we start working with API. We can design the APIs using various ways but in MuleSoft we mainly use RAML to design the API. We can also say that designing API is equivalent to designing a blueprint for a house.
Develop APIs – Once we have completed the design phase of any API, now it is ready to be developed by a developer and when we work with MuleSoft we use MuleSoft AnyPoint studio to develop the API and in this phase, we can use the templates that we have completed in step #1.
Deploy APIs – Now, after the development of the API, we do testing to make sure that API is working as expected with the correct set of input, and also we do thorough testing with an incorrect set of parameters. Once this is done we do deploy the API to servers. We can deploy MuleSoft API to Cloudhub, On-Premise, or Hybrid Servers
Secure APIs – We can secure the API using the connected application, we can apply SLA like rate limit.
Reuse APIs – We can also reuse the API in the MuleSoft application for multiple customers. For Example, You have developed an API that gives you the order related to a customer. You can reuse this API for any other customer who is required to fetch the customer's orders.
From the above points, you can see that we can do every single thing that needs to be completed or performed to work with API from designing to reusing the API.
API Led Connectivity –
As we have talked that MuleSoft is a tool by which we can develop and manage the API. So API-led connectivity lets the company design the APIs in three different phases so that developing and managing is easy. API Led connectivity is also known as 3 layered API Led Connectivity.
Using this approach any business can design the API in three different phases.
System API
Process API
Experience API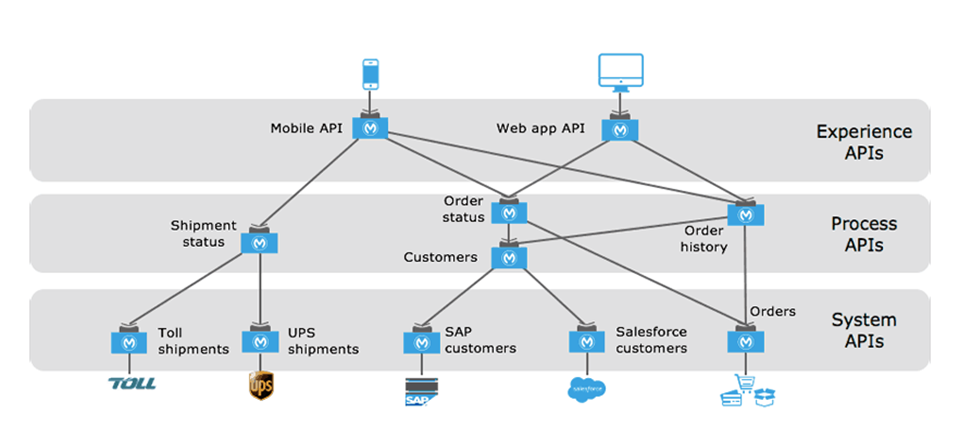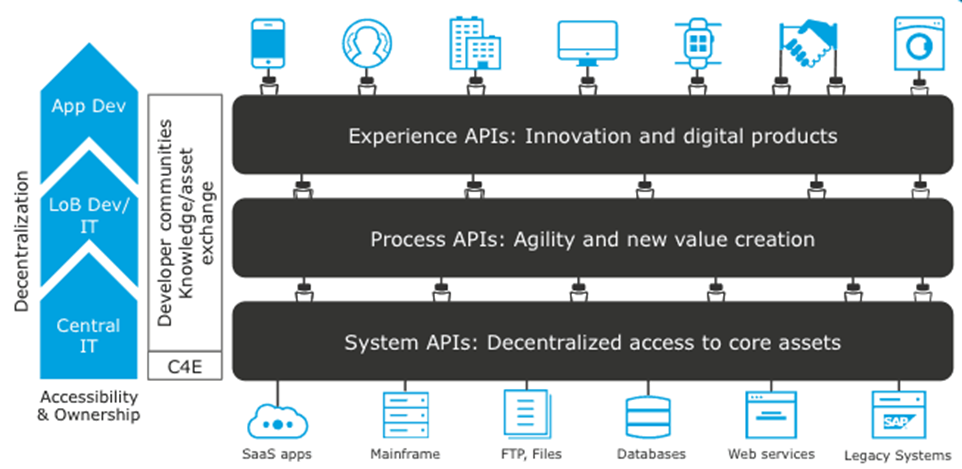 System API
System APIs are built to connect through underlying systems (Any system which contains the raw data).
System API contains Sensitive information as it contains raw data.
Should never be exposed for public use.
Example:- APIs which connect to Databases, Salesforce, SAP systems, Hadoop systems, etc.
Process API
Process API's are built to compose or combine two or more System API's
Usually to do any kind of transformation or to implement any kind of business logic or shape the data out of system APIs.
It may perform aggregation/splitting/routing of the data.
Process APIs must be private and should not be exposed to the public for use.
Example:- Aggregating Customer Data and Product Data that comes from 2 system APIs where Actual data is originated, to provide Order Status.
Experience API
These are API's which are a kind of a wrapper either to Process APIs (if present ) or to System API's so that Client/Consumers can use them.
Client/Consumers will not have exposure or contact with direct Raw Data.
We can have minimal Data Transformation like the final result to be in JSON or XML or whatever the consumer wants to have.
Remember, if there is any change in System API, we do not need to modify or change anything in Process or Exp API.
What are API Specifications?
An API specification provides an understanding of how an API behaves.
What kind of Request does it accept?
What kind of Response does it return?
What are Mandatory fields / Data Types etc?
For Example,
Building construction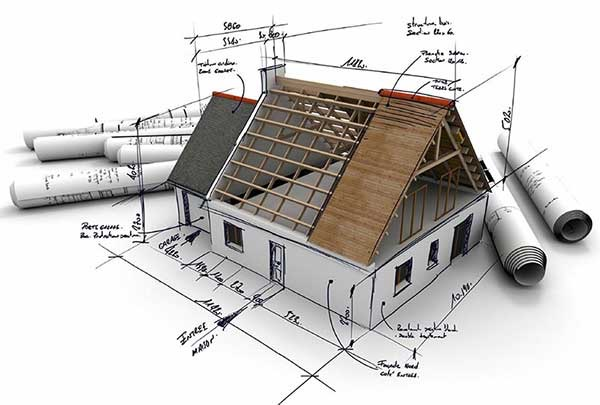 Thanks for reading 🙂