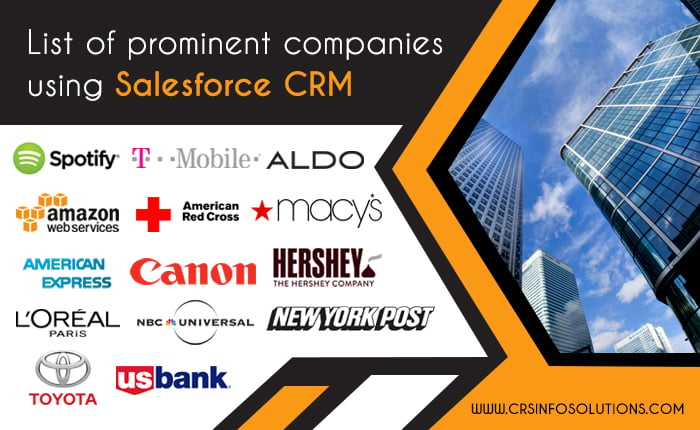 Top 12 companies are using Salesforce CRM in USA
Top 12 companies are using Salesforce CRM in USA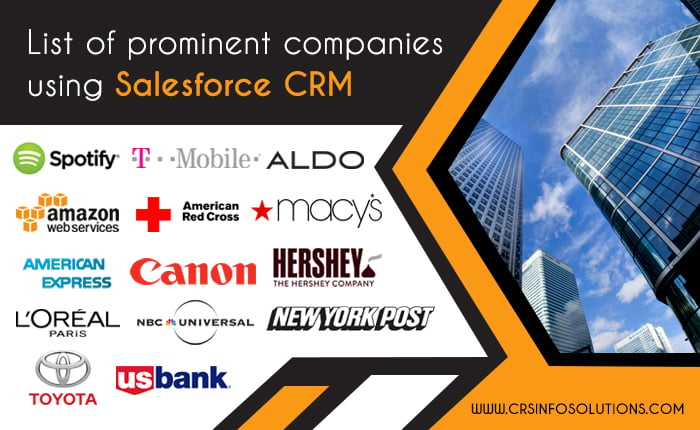 Do you know, What companies rely on Salesforce Customer Relationship Management (CRM)?
List of prominent companies rely on Salesforce:
Spotify
Amazon Web Services
U.S. Bank
Toyota
Macy's
T-Mobile
Aldo
The New York Post
American Express
Canon
TheAmerican Red Cross
L'Oréal Americas
NBCUniversal, and
The Hershey Company
Kick start Salesforce training with our career building program and experienced instructors.
As per a private company survey the following count shows statistics.
Some of these companies include technologies companies have installed the following technologies. Here are current counts we has as of 14/11/2014.
Salesforce: 5100+ Companies are using
Oracle: 14,000+ Companies
PHP: 7,000+ Companies
PeopleSoft: 6000+ Companies
Hubspot: 4100+ Companies
New Relic: 8000+ Companies
Quick update for 10/11/2016 – this now includes International companies.
Salesforce: 9700+ Companies are using Salesforce CRM by Nov. 10th, 2016. There is 200% growth in CRM installations.
Oracle: 16,000+ Companies
PHP: 7,000+ Companies
PeopleSoft: 6000+ Companies
Hubspot: 5500+ Companies
Pardot: 4300+ companies
Desk.com: 3400+ Companies
*Updated 09/22/2017*
Salesforce: 15,500+ Companies
Oracle: 17,000+ Companies
PHP: 10,500+ Companies
PeopleSoft: 6500+ Companies
Hubspot: 7000+ Companies
Pardot: 6500+ companies
Desktop dot com 200+ Companies
Salesforce offers 6 core service offerings, all integrated on a single platform:
Sales Cloud: A platform for sales force automation
Service Cloud: A platform for customer service
Marketing Cloud: A platform for digital marketing (aka Pardot)
Community Cloud: It enables companies to engage directly with a specific group of people by giving them access to relevant information, apps and experts
Analytics Cloud: It's an App and platform for business intelligence
The Salesforce1 Platform: Is a cloud platform for developing apps