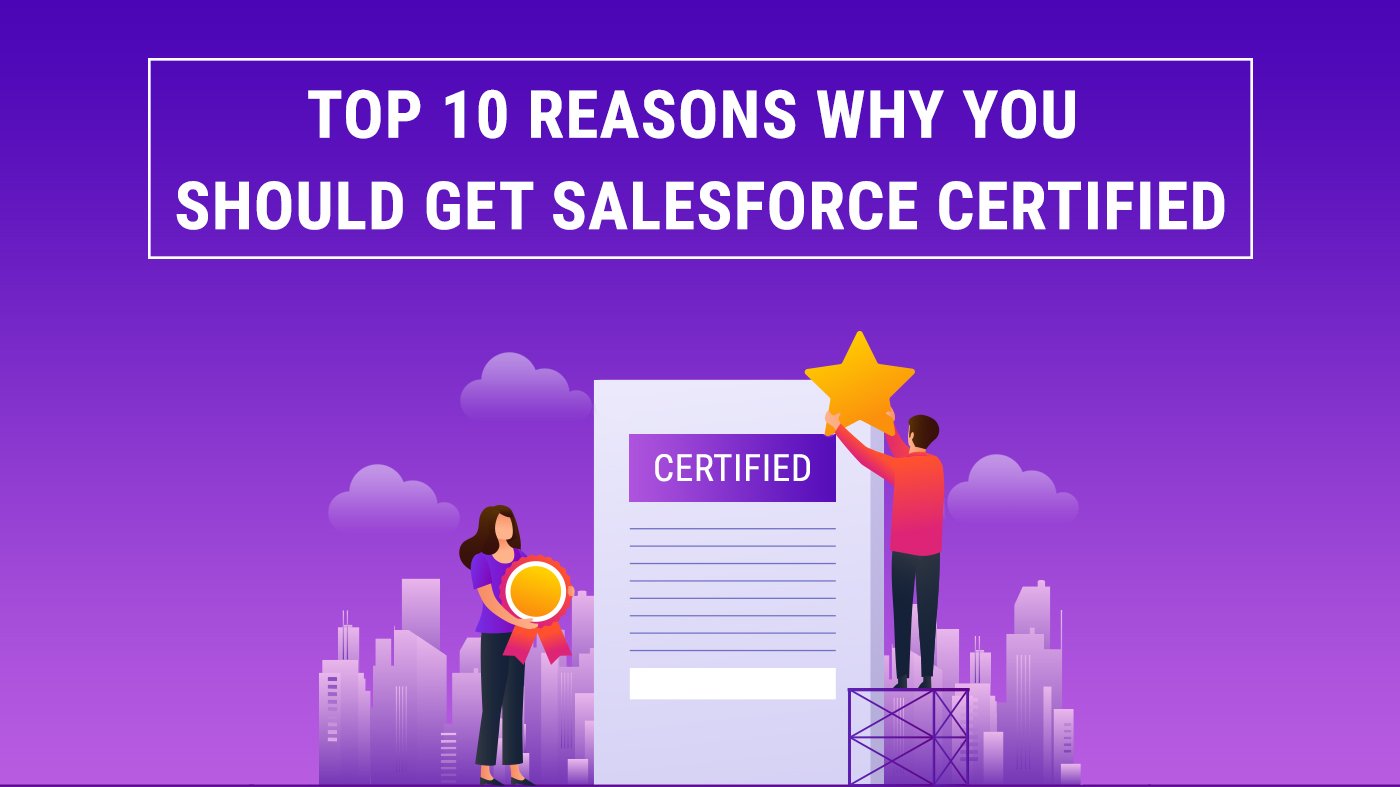 Top 10 Reasons Why You Should Get Salesforce Certified | Is it worth to learn Salesforce?
Salesforce certification has become one of the most in-demand professional qualifications in the business world. With close to 40 certificates available under different career paths, they teach you how to get the maximum out of customer relationship management using Salesforce products. We will is 'is it worth learning Salesforce in 2022?' and 'Why it is important to learn Salesforce?'.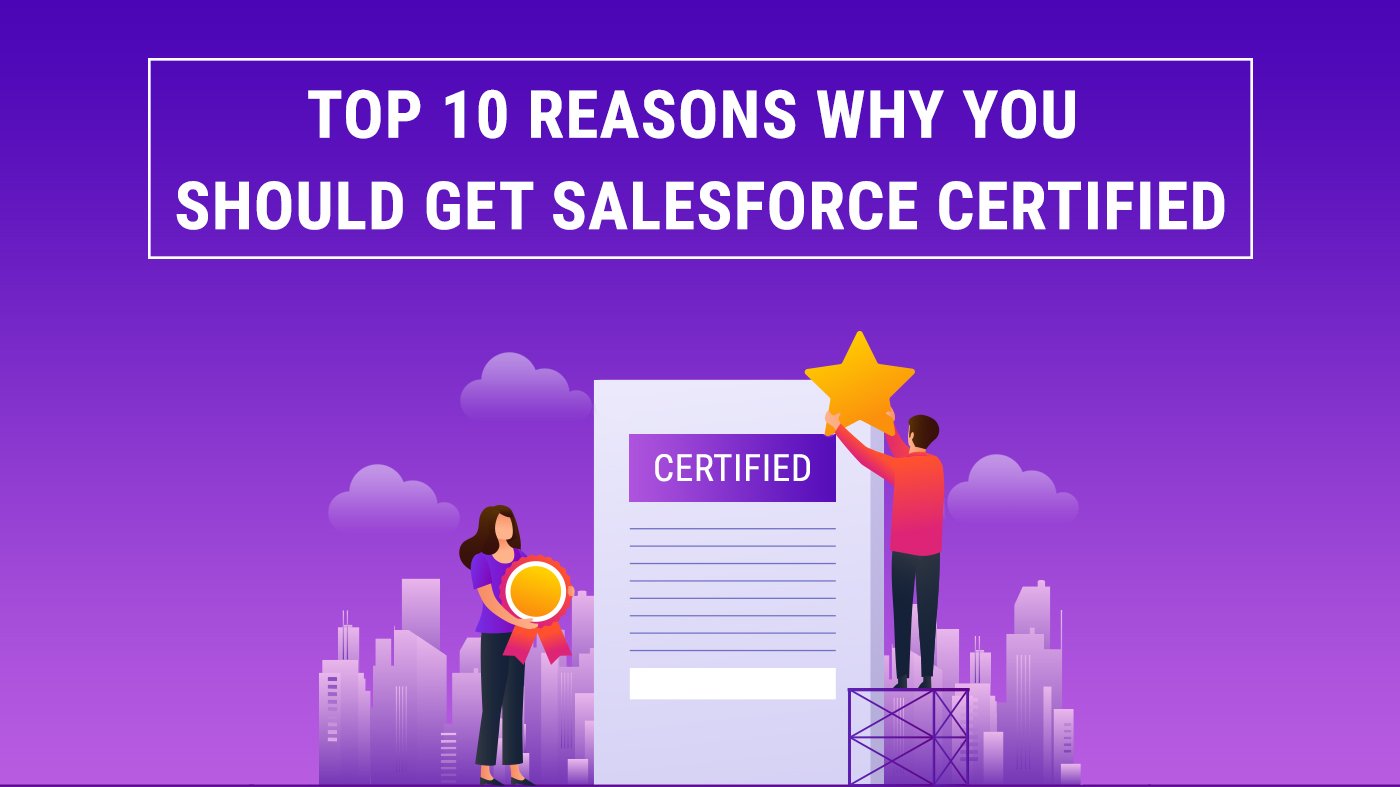 A survey conducted by Mason Frank in 2022 discovered that 85% of employees working with Salesforce had already acquired at least one certification. Another 15% were already on the way to earning their first.
When thinking about this height of popularity Salesforce certifications have achieved, we have to ask the inevitable question: why do people find getting Salesforce certified so important for their careers? Why it's worthy learn Salesforce? And could it help your career if you get Salesforce certified?
To answer these questions and clear any doubts you have on certifications, we thought to give you the top 10 reasons why you should be Salesforce certified in this post.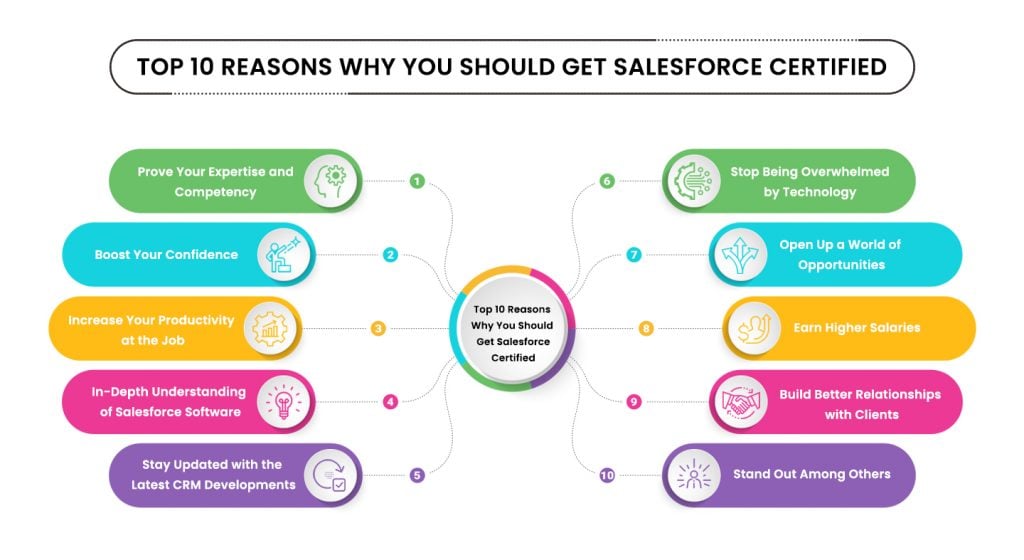 Prove Your Expertise and Competency
Having a certificate is proof that you have mastered working with Salesforce products which is 100% important to land into a good firm.
Whether it's an employer, customer, or colleague who wants to know how qualified you're for a job, getting certified is the fastest way to convince everyone that you have the skillset to get the job done. The credibility of Salesforce certification in the industry makes it much easier to shed doubts in anyone's mind about your expertise.
Boost Your Confidence
Having confidence in your skills is key to reaching your full potential as an employee. Salesforce certification can help you with this too.
According to the latest Value of IT Certification report by Pearson VUE, 91% of the survey respondents found a boost in their confidence after getting IT certified, hence we can say it is worth learning Salesforce Admin, Developer whatever the module you are ventured into. With Salesforce's credibility and rigorous certification process, it can indeed grow your confidence in providing CRM solutions and satisfying customer needs.
Increase Your Productivity at the Job
The Salesforce certification process introduces you to the ins and outs of its products, allowing you to get the maximum out of the tools at your hand. This enables employees to be more productive and efficient in their jobs by using the right tools for the right tasks.
You shouldn't just take our word for it. It's what the certified professionals are saying, too: 37% of Salesforce employees believe the certification has increased their productivity while 41% think it has made them more effective.
Get an In-Depth Understanding of Salesforce Software
Salesforce offers a vast range of features with its CRM software. Because of this, sometimes, even the people who've worked with these products for years are not aware of their full capabilities.
But during the Salesforce certification process, you get the opportunity to learn about the full range of features Salesforce provides with a structured learning program. It gives you an in-depth understanding of each Salesforce product Hence it's highly important to learn Salesforce and get certified. And you then get to use this knowledge to improve the quality and efficiency of the services you provide.
Stay Updated with the Latest CRM Developments
One specialty of getting Salesforce certified is that it doesn't let you forget everything you learned after a while. With Salesforce, being certified is a continuous process where you have to go through tests and renew your certification every year.
It also allows you to stay updated with the latest developments in CRM and Salesforce products. This renewing process goes hand-in-hand with Salesforce's feature upgrade releases that happen thrice a year. It necessitates learning the newest features introduced to the platform, never letting your certification become outdated.
Stop Being Overwhelmed by Technology
A career in Salesforce is heavy on using technology to gain the best out of customer relationships. If you're coming from a non-technical background, having to work with advanced technical tools can overwhelm you at first. Getting certified is an excellent solution that can save you from this fate.
It provides a gradually advancing, self-paced introduction to Salesforce tools, making the process less overwhelming and easier to grasp for people with any technical background.
So, if you feel overwhelmed by the technology and don't know where to start, the Salesforce certification and training process can provide a structured, step-by-step learning framework to help you get started.
Open Up a World of Opportunities
Many employers and clients actively seek Salesforce-certified professionals in the industry to work with. For this reason, whether you're looking for a new job, a promotion, or new clients, getting certified can make it easier for you to win their trust and open up a world of opportunities. According to the Mason Frank survey, 64% of Salesforce employees agree with this statement.
The improved marketability the certification gives you plays a key role in opening up these opportunities. It allows you to present yourself as a Salesforce expert to employers and customers alike with tangible evidence. This how how worthy learning Salesforce certification course.
Earn Higher Salaries
Getting Salesforce certified does have a considerable impact on your salary as 43% of Salesforce employees agree in the Mason Frank survey. This 43% who saw a salary increase had the chance to earn 25% more on average after acquiring their certification.
A certificate is proof of your experience and ability. It's also a measure of your seniority and the milestones you've passed in your career. All these reasons combine to drive your value in today's job market up, opening up opportunities to earn more and enjoy more benefits at your job.
Build Better Relationships with Clients
With in-depth knowledge of Salesforce products and using them to find high-quality solutions, you can increase the value of the services offered to your clients. This naturally leads to strengthening your relationships with them.
Maintaining good relationships with clients benefit you, your employers, and the clients at the same time which is agin proves that learning this awesome platform called Salesforce is worth spending time on it. As clients start to recognize the value of your services, it becomes easier for you to achieve more and go further in your career.
Stand Out Among Others
Salesforce certification lets you stand out among other CRM professionals in the job market. It vouches for your technical abilities and experience in providing CRM solutions with high-quality Salesforce software. Whenever you come up against another professional with the same experience level as you but no certifications, be it a promotion opportunity, job interview, or job offer, it gives you enough edge to become the first choice ahead of your competition.
How Does the Salesforce Certification Process Work?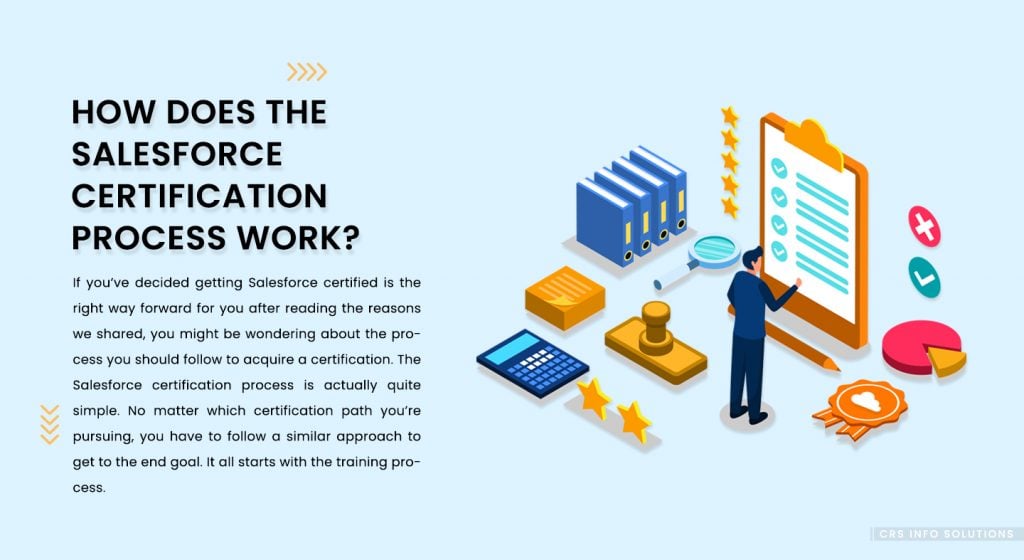 If you've decided getting Salesforce certified is the right way forward for you after reading the reasons we shared, you might be wondering about the process you should follow to acquire a certification.
The Salesforce certification process is actually quite simple. No matter which certification path you're pursuing, you have to follow a similar approach to get to the end goal. It all starts with the training process. In this step, you should dedicate your time to learn the material relevant to the specific certification you decide to follow.
Once you're confident with your knowledge level, you can register to take the certification exam for a cost that ranges from $200-$400. Usually, exams test your understanding with multiple-choice questions given under a set time limit. And you have to exceed a minimum score to acquire the certification.
As an example, the Salesforce Platform App Builder exam provides 60 multiple-choice questions to answer within 105 minutes. And you need a minimum score of 63% to pass the exam. You can check out the exam details relevant to each certification here.
If you fail the exam on your first try, you have the opportunity to retake it for an additional fee.
Involving in a good training program can help you minimize the chances of failure. They support you to prepare for the exam beforehand with simulated quizzes and questions.
At CRS Info Solutions, we offer Salesforce training programs for three different certification paths:
Salesforce Administrator
Our Salesforce Administrator course prepares you for the administrative side of CRM, which includes defining user requirements and customizing Salesforce software. Additionally, this path contains certificates that focus on CPQ (configure price quote) and app building using Salesforce Platform.
The administrator certification path includes three starter level certificates: Administrator, CPQ Specialist, and Platform App Builder. It also trains you for the Advanced Administrator certification, which you can start after the Administrator certificate.
Salesforce Platform Developer
Platform Developer training path prepares you to become a professional with skills for building custom apps using the Salesforce Platform. Our training program provides a combined learning path for completing the Platform Developer 1 & 2 certifications. Apart from the regular developer credentials, this path also includes a set of certificates to familiarize you with developing e-commerce applications.
Lightning Web Components (LWC)
Our LWC course teaches you to build faster and optimized applications on the Salesforce Lightning Platform using popular programming languages like Javascript and HTML. This training path focuses on earning the Javascript Developer 1 certification and Lightning Web Components Specialist superbadge. As one of the development areas becoming increasingly popular in Salesforce, completing this training program will help you stand out among Salesforce developers.
Working as a Salesforce Professional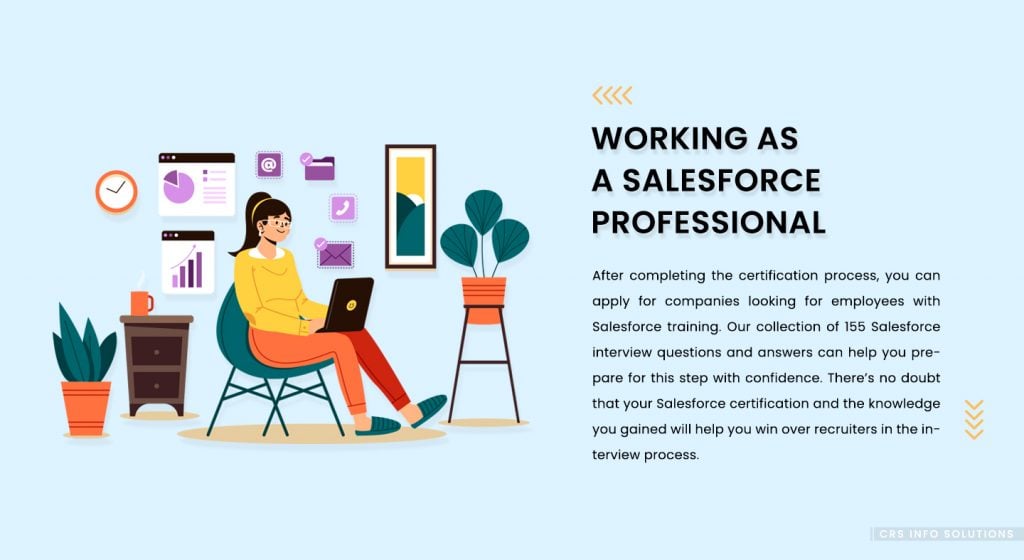 After completing the certification process, you can apply for companies looking for employees with Salesforce training. Our collection of 155 Salesforce interview questions and answers can help you prepare for this step with confidence. There's no doubt that your Salesforce certification and the knowledge you gained will help you win over recruiters in the interview process.
A question many people have about a career in Salesforce is, "How much would you get paid?" What's the answer to this question?
With the increased demand for Salesforce professionals in today's job market, working with Salesforce has become some of the best-paid jobs in the world. In the United States, Salesforce salary ranges are at the upper levels of the country's earning scale, averaging $117,071 a year.
Using the Mason Frank survey, we can draw an even better picture of how much this salary varies depending on your seniority and position. For example:
Junior Salesforce Administrator earns $87,500-107,200
Senior Salesforce Administrator earns $107,200-137,500.
Junior Salesforce Developer earns $96,600-121,800.
Senior Salesforce Developer earns $121,800-166,200.
| | |
| --- | --- |
| Role | Salary Range |
| Junior Salesforce Administrator | $87,500-107,200 |
| Senior Salesforce Administrator | $107,200-137,500 |
| Junior Salesforce Developer | $96,600-121,800 |
| Senior Salesforce Developer | $121,800-166,20 |
Salesforce Roles and Salary range
Wrapping Up
I hope this post cleared up any doubts you had on whether Salesforce certification is the right choice for the future of your career or not. If you have decided to pursue one of the certification paths, you can join hands with CRS Info Solutions and start our trusted training program.
As one of the leading institutes for getting IT certified, we have a highly experienced set of trainers who have worked in the industry for over ten years. Our carefully curated training program provides the most extensive course curriculum in the market. We offer you hundreds of materials to successfully complete the Salesforce certification process and get hired at your dream job for the lowest possible price. What we offer our students include:
Class notes, study material, and assignments, provided after every class.
The latest interview questions asked by big tech companies such as Google, Facebook, Tesla, Netflix, etc.
Practice questions and answers for certification exams
Special Q&A sessions
Recorded video sessions of every live class
Long-term access to 170+ hours of learning content
Simulation quizzes and mock interviews
Five real-time projects, including mini and major
Training completion certification.
Our hands-on practice-based approach to learning provides you the real-time experience necessary to work with Salesforce products and make you a "job-ready" person. That's why we call our training program a career-building program. We have seen how our past students opened up job opportunities in leading companies like Deloitte, Accenture, and Salesforce under our guidance.
You can read what our past students have to say about the training program on Trustpilot, Sitejabber, Quora, and Glassdoor.
CRS Info Solutions offer you not only a Salesforce certification program; it's a once-in-a-lifetime career-building opportunity that gives you the skills necessary to become a successful professional in the industry.