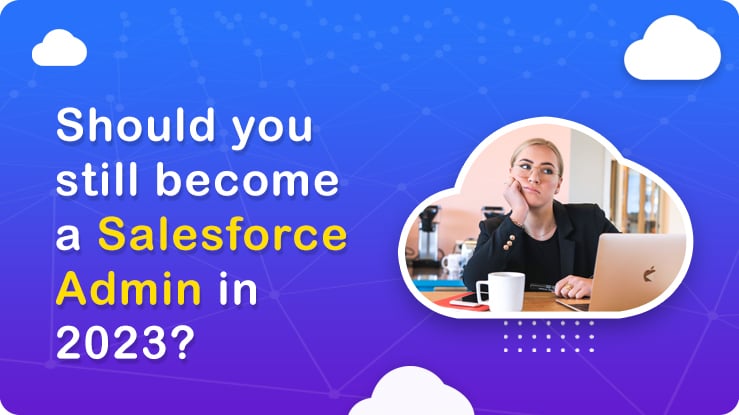 Should you still become a Salesforce Admin in 2023?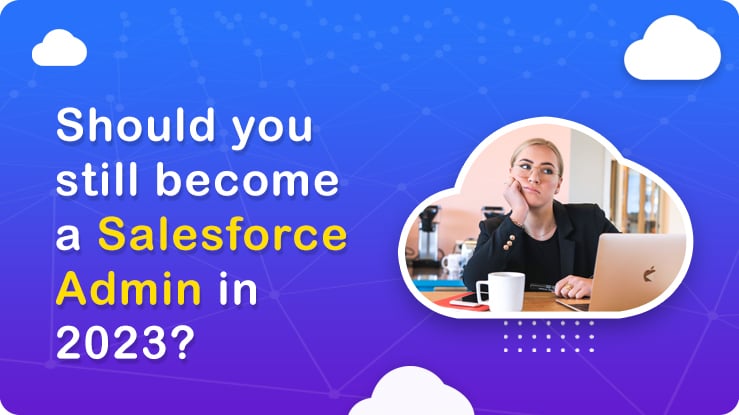 Salesforce is known as one of the most perspective career choices for quite a while already. Wherever you look, Salesforce careers are recommended as a lucrative opportunity to enter or advance in the IT job market.
Salesforce Admin is a particularly attractive profession as it allows one to start a career in Salesforce even for those who have little to no coding skills and knowledge of programming languages. Later on, Salesforce Certification and online training allow you to advance, gain new skills including coding, and build a career in any direction you want.
But the question that raises more and more often on various forums and social media is whether Salesforce Admin is still a perspective career choice as it was before. Isn`t the market oversaturated with yesterday`s Salesforce online training aspirants who are looking for jobs today?
In this article, we shall talk about the current situation in the Salesforce job market to help you decide whether Salesforce Admin is as good a career choice today as it was before.
Salesforce Admins are in high demand.
Salesforce keeps growing and offers advanced CRM solutions to all sorts of businesses and organizations. All those companies need professionals who will manage to introduce and implement those advanced Salesforce tools and solutions, customize them according to the company's need, train teams of various departments to use the relevant tools, and create tailored solutions according to the current demands and trends on the market.
All these and many more are the skills that only a Salesforce Admin can provide. While Salesforce will be expanding offering more and more sophisticated and efficient solutions, the demand for Salesforce Admins, especially those who hold Salesforce Certification will only grow.
Your entry ticket to the best job market
Salesforce Admin is considered an entry-level position that allows you to study all the ins and outs of the Salesforce universe and later on develop your career in any direction you want. You can go deeper into business analytics and become a consultant or get deeper into the technical aspect, learn programming languages, get coding skills, and explore the most lucrative careers and advanced technologies.
The foundation of your success
Salesforce Admin is a professional that combines many features and skills. They know the nature and principles of Salesforce and follow the latest developments with their Salesforce Certification. At the same, those are people with excellent communication skills, those who can train and educate personnel about the latest updates, collect the data, and translate current demands to the technical team. That is why the Salesforce interview questions and answers cover such a vast field of topics. At the end of the day, your experience as a Salesforce Admin sets the foundation for any further career development you choose.
Staying on the cutting edge.
Salesforce Admins who gain and maintain their Salesforce Certification are the profound experts every company will be happy to see in their team. Even if the Salesforce Admin position is not your current goal, the knowledge, and skills you receive and develops with the Admin Certification allow you to be the go-to professional in all aspects of customer relationship management.
A great networking opportunity
A Salesforce Admin career is your pass to one of the world`s best professional ecosystems. Salesforce managed to build a tight-knit community of like-minded professionals who benefit from communicating with each other, exchanging their experience, mentoring, and networking.
It is a way to find like-minded people to collaborate, work on new projects, discover new career perspectives, and a way to learn and upgrade under the guidance of some of the best-acknowledged Salesforce experts.
It is still the job of the future!
Although Salesforce Admins have been on the job market for a while, your Salesforce Admin online training is still an opportunity to get one of those jobs of the future. It means that by investing in your training today you may be sure that you are gaining the profession that will be in high demand in the future.
While in other fields and industries, human experts are being replaced with Artificial Intelligence or pressurized to seek new developments in order to keep up with the market trends, Salesforce Admins are the key experts that help Salesforce create and implement their new updates.
In other words, the more Salesforce develops and offers on the market, the more demanded and valued Certified Salesforce Admins become.
Final Thoughts
Salesforce Admin training is your pass into the world of endless career and financial perspectives. It is an opportunity to get marketable skills and stick to the system of Certifications that will guarantee that you remain on the cutting edge of CRM technologies and solutions.
Start you Salesforce Admin training today and soon enough you will find yourself in the middle of a dynamic candidate-driven job market with opportunities to work with the best employers, international companies, and aspiring startups from all over the world.