ServiceNow Training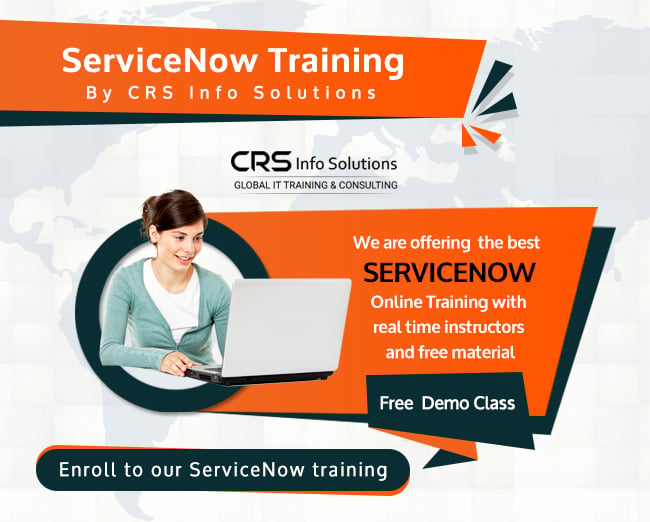 CRS Info Solutions offering professional ServiceNow Training program by real-time working consultants covering topics such as Content and Configuration Management, User Licenses, Provides cloud computing and Exporting the Data from ServiceNow, Offering forms-based workflow application development.
How to start?
Fill our contact form to get more information regarding our ServiceNow training details and course starting details.
What are the prerequisites to learn this course?
Learner should have basic knowledge on database tables and columns and learners should be able to design, test and troubleshoot java script.
Prerequisites
Certified System Administrator
Successful completion of JavaScript course is recommended
Scripting in ServiceNow is highly recommended
Servicenow Online Learning Course Benefits
Real time working professionals
Real time Scenarios
Resume Preparation
Interview Questions with answers
Detailed Study Material
Course Content
Introduction to Service-now  
What is Service-now?
What is SaaS?
What is PaaS?
Browser supportability
Logging in to Service-now
Introduction to Cloud
Basic Administration
User Administration
Granting Roles
Creating tickets and raising Requests
Crating Menus
Form Layouts and list layouts
Introducing Applications
Creating Modules
Customizing tables
 Dictionary Entries and Overrides
List Controls
Advanced Administration
UI Policies
UI Actions
Access Controls (ACLs)
Dictionary Entries
Email Notifications
Import sets
Data Polices
Business Rules
Client Scripts
Transform Maps
Scheduled jobs
Loading Data of different Formats
Creating incidents and change using record producers
Creating Order Guides.
Customization
Creating Custom Table
Creating custom application
Creating Fields and Menus
Creating Workflows
Approval Mapping
Using other workflow activities
Creating Service Catalog
Creating Service Level Agreements and Operational Level Agreements
Integrations
Basics of LDAP Integrations for User Import
Overview on Web Services
I) Direct Web Services
II) Transform Map Web Services
Overview on MID Server Installation
Reporting
Bar Charts, Pie Charts, List Reports, Pivot Tables
Scheduling Reports
Making Gauges
System Upgrades
Needs for cloning and ways to implement
New Releases
New Features
ITIL Process
Overview on Incident Management
Overview on Change Management
Overview on Problem Management
Overview on Knowledge Management
Overview on Service Catalog
Configuration Management
Classes in CMDB
Mapping Configuration Item to Asset Records
Relating Configuration items
Content Management
Introduction to CMS
Creating Sites
Creating Pages
Login Rules
 ITSM Modules experience
Incident Management
Problem Management
Change
Knowledge
SLA
Service Catalog
Customer Service Management
Project Portfolio
Contract Management
Governance and Risk Compliance
Demand Management
Survey Management
Service Portal
 Non ITSM Experience
Integrations experience :
Integration with Monitoring tools – Nim soft and CASOI integration
Data Migration Project : API or Manually data import
HPSM to Service now
Remedy to Service now
CA to Service now
LDAP and SSO Experience
Scripting:
Tables Creations
Field Creation
UI policies
Client scripts,
1)  OnLoad,
2)  OnSubmit
3) OnChange
4)  OnCellEdit
Glide Record
Glide System
Glide Form
Business Rules
I)  Before
2)  After
3)  Async
4)  Display
Data Policies, Access Control, Notification mail scripts,
Schedule jobs, Script Include, Creation of dynamic reference Qualifier
UI actions, Views , View Rules, catalog client script
catalog ui policy, workflows
catalog items, record producer, Inbound actions, Templates,
Relationships:
Dictionary override, defining field attribute
Business Rules, field styles.
Email to ticket conversion.
Self Preparation for Interviews