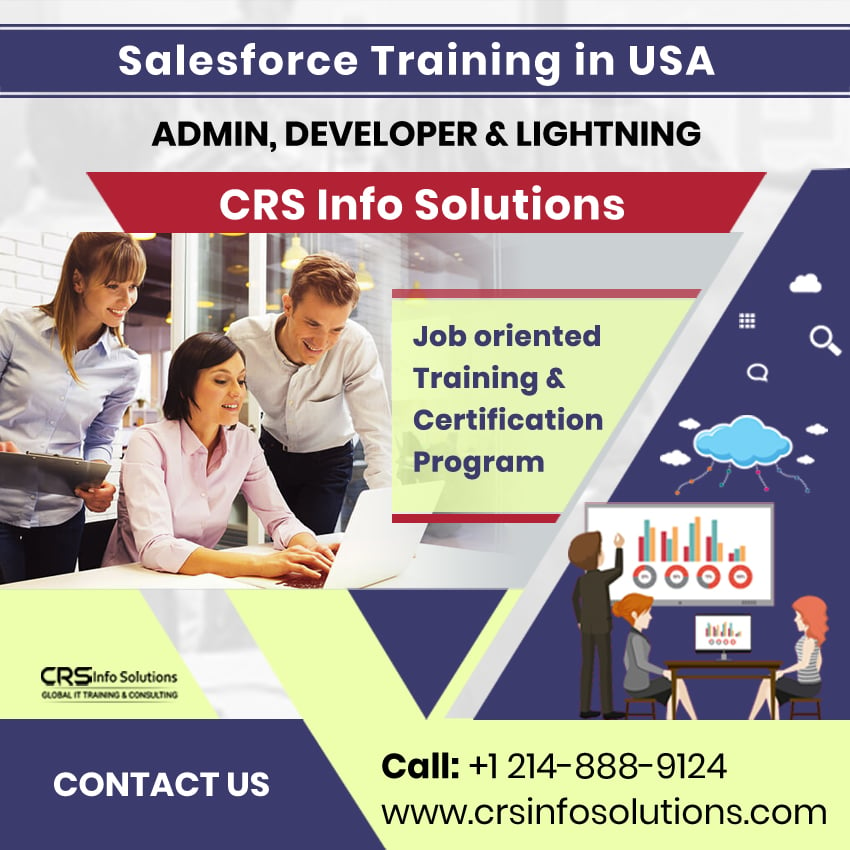 Salesforce Training in USA
Salesforce Certification Training in USA | 100% Money-back Guarantee
– Attend free demo class, join if you are satisfied, get 100% refund if you are not satisfied
– Know interesting facts about Salesforce
– Enjoy great learning experience
– Learn something challenging and fun
– Enroll for job ready classes
– Know how to pass certification
– Learn tough interview questions
– Achieve your learning goal with professional instructor guidance
– Learning Salesforce at CRS is fun and memorable, Kick start now!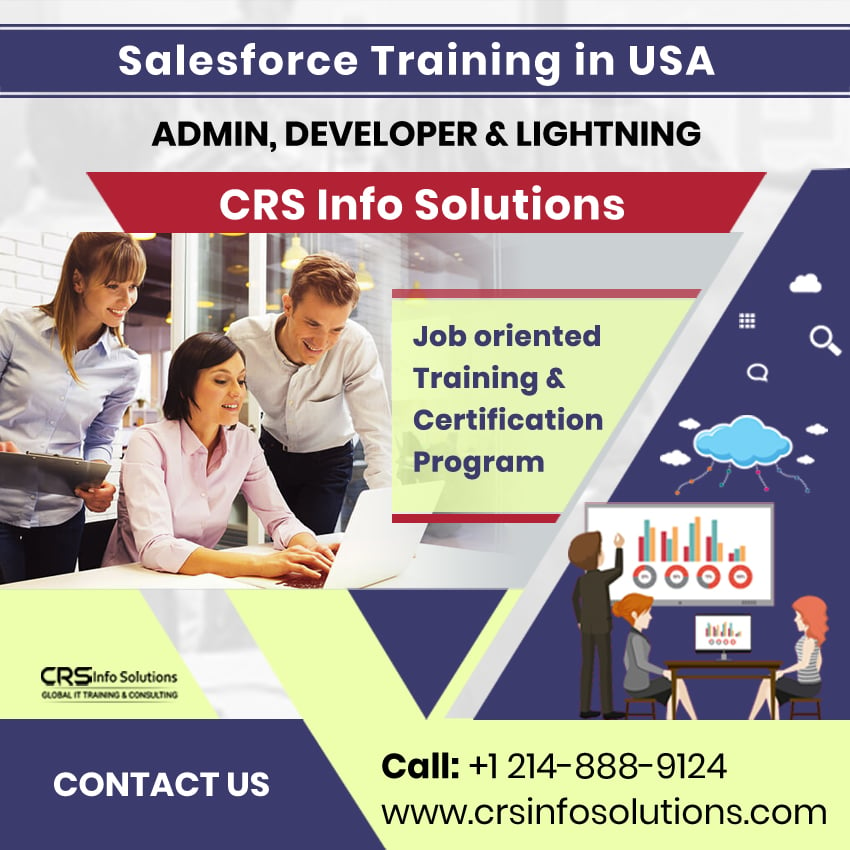 Our Salesforce CRM training classes in USA provides industry-based interview questions, salesforce admin course, salesforce development, salesforce lightning components online training videos and real time project based training and certification assistance to our participants. Enroll for this practical program by filling our contact form to achieve your learning goals.
What is the cost of Salesforce training in USA?
Our Salesforce CRM Training fee price in USA is affordable and we'll have part payment option also. Salesforce modules are Administration, Development, App Builder, Lighting Essentials, Sandbox (Please join our free demo class to know which module suites to you according to your experience and other factors. Our professional experts will give you best counselling in demo class.)
We are a leading Salesforce training institute which offers salesforce crm administration, development and lightning learning and certification program in USA. Get practical and project based salesforce course with scenario based interview questions and practical knowledge.
Register today! to get Webinar Invitation.
Explore the world of Salesforce CRM and get new job with 50-100% more salary pay and find the best salesforce training institute in USA. Find the best salesforce training in USA with professional certification based training in affordable cost.
About us
CRS Info Solutions is a leading Computer institute for software courses training and certification programs. We are a pioneer in offering Software training solutions in USA with a 10+ years of experienced working professional as instructor and included real time projects to get practical skills in USA. Our instructors makes learning fast, affordable and easy with industry based syllabus, scenario based interview questions and hands on learning experience along with useful material supply for free. For many years, our Trainers have helped participants, consultants, professionals, graduated aspirants, enthusiasts and software project managers – you may be from any background, we will improve your skill set and help you in certification programs in USA. Enroll for CRS Info Solutions practical and professional training programs by industry expert tutors and achieve your learning goals with our proven syllabus with real time projects and helpful interview questions.
Frequently Asked Questions
1. Do you help me with Salesforce certification in USA?
Yes, we will help you with Salesforce certification. We'll teach you certification questions with answers that will help you to pass the exams Admin 201, development 401 and lighting etc.,
Read salesforce admin certification topics and it gives an overview of salesforce certification exam pattern.
2. Is this salesforce training helps me with placement assistance and interview questions in USA?
We give a real-time project oriented Salesforce CRM training with 100% practicals, from day 1 you will learn practically. You will gain practical knowledge that will help you to face any interviews confidently. So, are you willing to learn SFDC online training to face any tough interviews, then join our free demo once.
3. What are the salesforce class timings?
Regular class timings will be announced at the time of online demo session. So don't miss our demo session to know more details.
4. Who are the instructors for this Salesforce training?
Our trainers have minimum 10+ years real-time experience and expertise in teaching Salesforce, they always put great efforts to convert complex topics into easily understandable modules. Experience the professional Salesforce training and certification program with hands on approach and elevate your skills in Salesforce Administration and Development modules.
5. What if I miss any class?
If you miss any class, you will get that class video recording, so that you don't lose any class in our Salesforce training.
6. Do you provide training for Salesforce Administration and Salesforce Development in this course?
Yes, we are providing the fully practicals based Salesforce Admin and Development online training in USA this course.
7. What are the topics covered in Salesforce online training?
We cover wide range of important concepts of Salesforce Administration, Development, chatter, sandbox and lightning essentials are covered in the Salesforce training. Few of the important topics include:
CRM concepts
Salesforce CRM administration
Workflow Process
Salesforce Deployment
Migration Strategies
Connection between setup and environment
Inbound and Outbound change set up
Packaged Deployment
Apex
Visualforce
Lightning Essentials
8. What can I learn through Salesforce training?
You will learn Salesforce concepts from basics to advanced using which you can create your own applications in sfdc platform. Our practical training helps you to manage Salesforce consultant duties in a company in USA.
9. I do not have any programming knowledge. Can I go for Salesforce training?
For sure anybody without any programming knowledge can learn Salesforce. Our course advantage is anybody can learn without having any coding experience, we'll teach from basics, that's our guarantee.