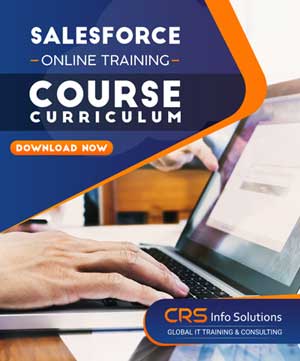 Salesforce Certification Training | Online Course
Salesforce Certification Training | Online Course | 9800+ completed [May 2021]
Select the demo dates below as per your convenience. Scroll down
Are you planning to change your career for a more lucrative IT job? Have you always been hesitant because you are a marketing graduate?
If yes, there's good news for you.
It's now possible for ANYONE to make a career change, even if you don't have a technical background or a beginner.
All you need is the zeal to learn something new, a internet connection and computer to undergo the revolutionary Salesforce administration and Platform developer training.
In fact, with Salesforce being the 7th most popular IT skill on internet job postings today, it's now the right time to make your change.
The typical Salesforce certification program at CRM Info Solution readies you to capture the cloud through real-time projects, industry-relevant curriculum, and much more.
Upcoming Demo Dates:
Please note the following dates are demo class or orientation only, actual batch starting details will be announced by our faculty at the time of demo class. Try to join our free orientation class by filling our contact form. We will try to arrange appropriate timings based on your flexible timings.
Timings not matching with your schedule?
Fill the
Contact form
, we will schedule a flexible Demo as per your convenience.
Why you should join CRS Info Solutions
With so many other CRM training options around, you will want to know why you should join CRS Info Solutions.
Well, here are our reasons:
100% money-back as per our Refund Policy
Daily practical tests
Free material supply
100% real-time project-based training
Lots of probable interview questions
Help with resume preparation
Option for partial payment flexibility
Great discount offers
Job assistance and career building program
Course Roadmap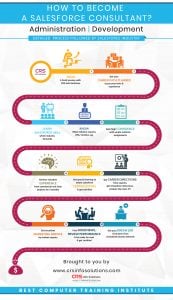 Course content:
Admin
Introduction on Cloud Computing
IAAS (Infrastructure as a Service)
PAAS (Platform as a Service)
SAAS (Software as a Service)
Introduction on CRM
History of Salesforce
Introduction on Salesforce.Com
Understanding Salesforce environment
Pricing
App logo
Global search
User menu
App menu
Recycle binSalesforce Database
Becoming Familiar with the Setup segments
Introducing Apps
Introducing Objects
Introducing Fields
Introducing Relationships
Lookup Relationship
Master Detail Relationship
Roll-up Summary fields
Hierarchy Relationship
Self Relationship
Many to many Relationship
User Management
Introduction Users
User management process
Features licenseSecurity and Sharing
IP Address restrictions
Activations
Audit Trials
Forceful password expiry
Session details
Organization-Wide Defaults
Profile
Permission Sets
Sharing Rules
Manual Sharing
Field Level Permissions
Public Groups
Queues
Public Group Vs Queue – Comparative analysis Approvals Process
Planning for Approval processes
Creating an Approval process
Creating Approval steps
Multi step Approvals
Final approval action
Final rejection action
Working on recalling
Delegate process
Multiple approvers Vs Single approver
Using Custom Workflow Processes
Workflow rules
Update Record
Create Task
Automate Emails
Outbound Message
Time dependent workflows
Time triggersDeep dive into Evaluation criteria
Use case of evaluation criteria
Limitations of Workflow rules
Record update
Workflow Vs Process Builder
Benefits of Process Builder
Record types
Record types with page layout
Record types with multiple page layout
Development
Basics of programming (for those who never did any coding before)
Variables
Operators
ExpressionsLooping Statement
Controlling Statement
Class
Objects
Functions
Basics of Salesforce programming
Architecture Apex / Force.com
Data Types in Salesforce
Collections
List
Set
Map
Debug process and methodology
Building logic through programming
APEX Class
Triggers in Salesforce
Invoking apex classes from Triggers
Trigger handlers
Trigger ScopeTrigger Types
Trigger Events
Best Practices Triggers
Best Practices APEX class
Understanding Trigger Context Variables in Salesforce
Trigger.New
Trigger.Old
Trigger.New Vs Trigger.Old
Trigger.NewMap Vs Trigger.OldMap
Testing in Salesforce
Understanding Test Classes in Salesforce
Building Test Classes and execution
Code coverage understanding
Annotations
Data Manipulation Language
Insert statement
Update StatementDelete Statement
Getting data from recycle bin
MVC pattern in Salesforce
Introduction to Visual Force
Enabling VF for your Organization and Execution Creating First VF page
Working on UI with Visualforce Pages
Building Page Block Table in VF page
Building Form in VF page
Apex:PageBlockSection and apex :PageBlockSectionItem
InputText
InputField
OutputLabel
Controllers
Types of Controllers
Standard Controllers
Custom Controllers
Controller ExtensionRerender
With sharing
Without sharing
VF page with multiple extension class
Best Practices Visualforce
Bulkification
Exceptions
Query Languages
Query formation in SOQL
Intro to SOSL
Query formation in SOSL
DML statements in Salesforce
SOQL Vs SOSL
Aggregate functions
SOSL transformation
Relationship query
Query on parent to fetch child data
Query on child to fetch parent data
Batch class
Using Start()
Using Execute()
Using Finish()
Batchable interface
Understanding BatchableContext
Schedule Class
Schedulable interface
Calling batch from schedule class
Scheduling using CRON job
Lightning and Bonus Topics
Frequently Asked Questions
What is the cost of Salesforce Online Training?
We'll give best discount offers in the market so talk to our representative to know our discount offers. Our Salesforce CRM online Training fee is affordable and we have part payment option also. Feel free to contact us, we are there to help you. So please make a call +91-7013283324 or Fill our contact form.
Do CRS charge any advance payment?
We do not charge single penny in advance from our participants. In case if you don't like our training service, then it will be a problem for you , that is the reason we don't charge any advance payment from you. Join our free demo class, experience the quality. If you really trust our quality and service, then only enroll and pay for the course.
Do CRS provide refund or Money-back Guarantee?
We want to be transparent with our learners. As a part of that, we will offer 100% Money-back Guarantee. In fact we don't charge anything without experiencing our training quality. Personally check our quality then only enroll. If a cancellation is done by a candidate within 2 days after enrollment, then full refund of training fees will be given. Regarding this if you have any question, feel free to contact us. We are always ready to help you. Please make a phone call.
What is the Course Duration?
It will take 8-10 weeks for Admin + Development modules, we have included real-time project also in our training program. Real-time project duration depends on your practice. We'll have Q&A sessions also. Please contact our support team to know demo flexible timings.
What will be included in demo class?
Salesforce Course Overview
Current CRM market Analysis
Course Curriculum
FAQs on Salesforce
Instructor Experiences
Q&A session and
New batch timing
Note: Don't miss our free live interactive demo class which will be sent through email (Prefer to share gmail because it's easy to share our free material, we'll supply free material to you).
Do CRS help me with Salesforce certification?
Yes, we will help with Salesforce certification in our online training. We'll teach admin and platform developer exam certification questions with answers that will help our participants to pass the exams Admin 201, development 401 and lighting etc., For more info Fill our contact form.
Is this training helps me to get job?
We give a real-time project oriented Salesforce CRM administrator and Platform Developer training with 100% practicals, from day 1 you will learn practically. Gain practical knowledge that will help you to face any interviews confidently. So, are you willing to learn SFDC online training to face any tough interviews, , So please join our free demo once.
What are the class timings?
We'll have morning and evening batch as per your convenience and flexibility. Regular class timings will be announced at the time of online demo session. So don't miss our demo session to know class timing details.
Who are the instructors for this training?
Our trainers have minimum 10+ years real-time experience and expertise in teaching Salesforce online, they always put great efforts to convert complex topics into easily understandable modules. Experience the professional Salesforce training and certification program with hands on approach and elevate your skills in Salesforce Administration and Platform Developer 1 modules from expert trainers.
What if I miss any class?
If you miss any class, you will get that class video recording, so that you don't lose any class in our Salesforce training. Participants can watch our video library anytime and practice. Our trainer will help students in solving your queries while practicing while email communication.
Do CRS provide training for Administration and Development?
Yes, we are providing the fully practicals based Salesforce Administration (code: 201) and Platform Developer 1 Online training in this course which are starting step to enter into Salesforce CRM. If you want to become a Salesforce professional then you need to start with Administration and development.
What are the topics covered in Salesforce online training?
We cover wide range of important concepts of Salesforce Administration, Platform Developer 1, chatter, sandbox and lightning essentials are covered in the Salesforce training. Few of the important topics include:
CRM concepts
Salesforce CRM administration
Workflow Process
Salesforce Deployment
Migration Strategies
Connection between setup and environment
Inbound and Outbound change set up
Packaged Deployment
Apex
Visualforce
Lightning Essentials
What can I learn through this course?
You will learn Salesforce concepts from basics to advanced using which you can create your own applications in SFDC platform. Our practical training helps you to manage Salesforce consultant duties in a company. Our intent is to make you a job ready person with this training. Please make a phone call.
I don't have any programming knowledge. Can I learn this course?
For sure anybody without any programming knowledge can learn Salesforce Administration and platform developer 1. Our course advantage is anybody can learn without having any coding experience, we'll teach from basics, that's our guarantee. There are Students from MBA, HR, sales, marketing who are fully non coding background. Talk to our representative to clear your queries, Please Call us.
Why should I prefer Salesforce CRM course?
Salesforce is no. 1 in CRM segment and it's a fortune 500 software company with best employee benefits. Google, Apple, Facebook all these companies are customers to Salesforce. So, you can imagine how strongly established company Salesforce is. It's going to create million jobs in coming times.
Is Salesforce training expensive?
Our Salesforce training fee is quite affordable, you can pay in installments also and you can retrieve it once you get a job, so it will be valuable investment in your career. There is 100% worth and ROI(Return on Investment) on Salesforce CRM.
Is it necessary to have technical background?
No need to be from technical or software background in order to become a Salesforce consultant. Many of the students in our training are from non-IT background, marketing, graduates, MBA etc., So these are the live example that anybody can learn and become Salesforce consultant.
Is this course suitable for working professionals?
Our course is designed to suitable for working professionals. If you are a working professional and willing to learn Salesforce then it is the best program designed for you. Feel free to make a call to us. We are here to help you.
Is it suitable for those who give some gap?
If you gave some gap after marriage or some other issues, then Salesforce is the best course for you. Our representatives will guide you and help you all the way. Feel free to make a call to us. We are here to help you.
I have few years gap due to personal reasons…?
I have few years gap due to personal reasons, is Salesforce training helps me to start my career again?
Yes, of course, you can restart your career undoubtedly with Salesforce training, this will surely gives you a better career opportunities. Just talk to our team once, they will help you. Feel free to Call us.
What other features CRS offer in this course?
The following features participants will get in our training program:
2-3 Real time Projects
Live project use cases
Ample hands on
One to one attention
Interview preparation
Resume preparation
Certification preparation
Exposure to live environment
Why CRS is best place for Salesforce training?
Our training is a 100% real time training program by profound instructors who has real experience will give more practical knowledge rather than academic, so CRS Info Solutions is the best institute for practical based Salesforce online training and placement assistance.
Which country students are taking up this course?
We provide Salesforce CRM Online Training for aspirants from various parts of the world. We have students almost all countries. Salesforce is a global company, so participants can learn and work from any part of the globe. Whatever the small doubt you have, please feel free to make a call, we are always there to help you.
Still you have any questions? Feel free to WhatsApp them on the number showing top of the website.
We provide professional salesforce certification online training program to our participants, attend from any part of the world to learn sf course virtually. We help you to reach your learning goals with 100% Practical approach and Industry based scenarios.
CRS Info Solutions is a leading institute for CRM online classes and Certification program in India and USA and we have students from all over the world includes Australia, UK, Singapore, Europe, Dubai. Enroll for our sfdc crm Online course and become a Certified CRM Consultant in Hyderabad, Bangalore, Chennai, Pune, Mumbai, Noida, Jaipur and Delhi. We offer CRM learning program and Certification under the guidance of experienced and knowledgeable instructors who assist you with Certification Programs and Interview Questions that helps to win new opportunities.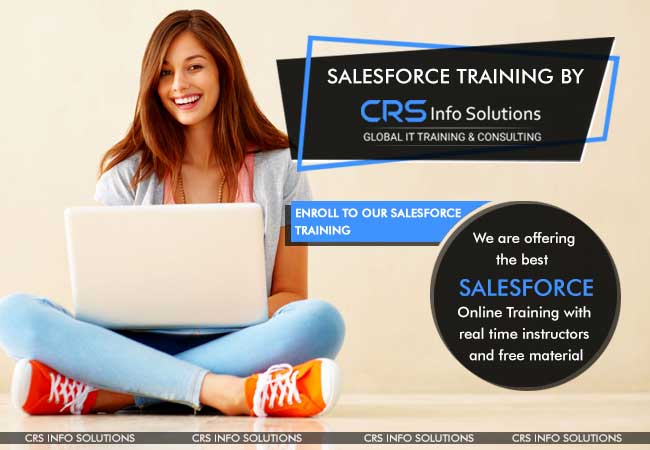 Reviews
May 6, 2020
Highly professional training
I have enrolled for Salesforce Admin and development online course at CRS info solutions. It's really the best training i have ever taken and syllabus is highly professional and included practical concepts very well. I found CRS is having the best trainer to teach these topics from fundamentals. I got the excellent training from this institute and I would highly recommend this for you.
May 3, 2020
Job Oriented training
Trainer is highly experienced and teaching style is so nice, we can easily get into subject with his simple way of explanation. I have Learnt admin, dev, sandbox, migration, lighting essentials and entire salesforce crm online training is the best in the market. I am very happy with the trainer and the way he take us to practical approach and real world scenarios and I'll give 5 out of 5.