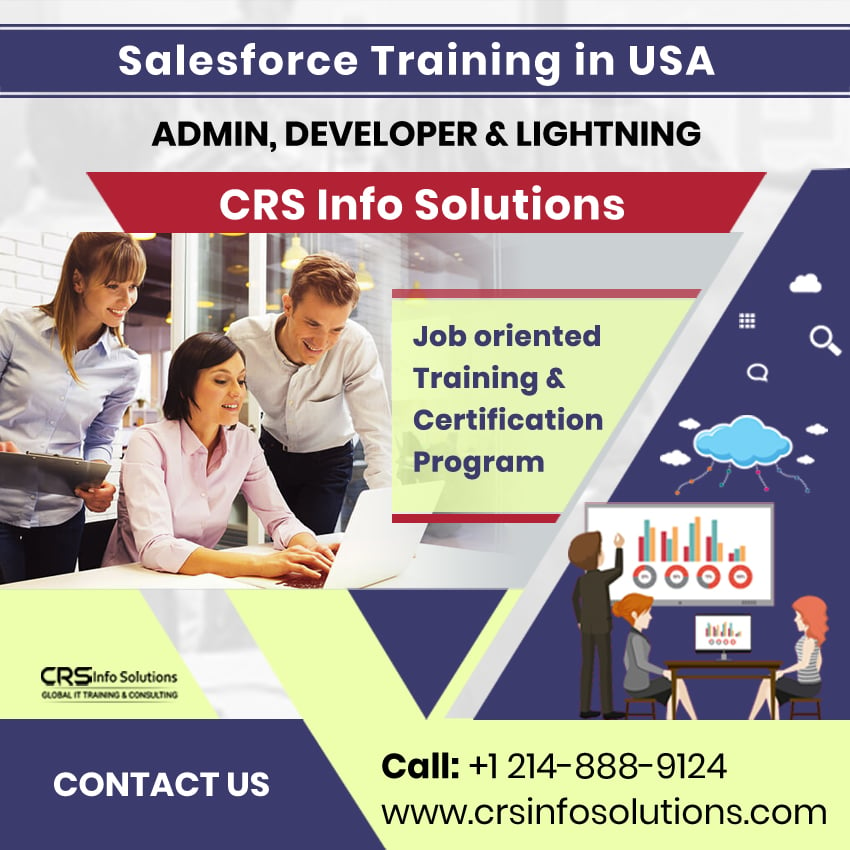 Salesforce certification classes in New York for Beginner | Admin, Developer course [2023]
Find the interview-ready Salesforce certification training institutes in New York City, New York with highly experienced faculty. Instructor-led interview-ready Salesforce certification course in New York City, New York that helps you with interview preparation, resume preparation and real-time project experience.
Salesforce Admin, Developer Certification Training in New York | Job oriented, interview-ready hands-on real-time instructor-led LIVE bootcamp in NYC, USA
Find a real-time hands-on Salesforce Administrator, Developer training from real time tutors in New York City, New York. Get a professional Salesforce Admin, Developer and Lightning web components, Integration professional training in New York City, New York and become a successful certified Salesforce consultant in New York City, New York. It's a great certification and career building program for beginners who wants to learn Salesforce Admin certification and Developer lessons in NY and NJ.
Enroll for Demo
Upcoming Demo Dates:
Please note the following dates are demo class or orientation only. Our faculty announces actual batch starting details at the time of demo class. Fill contact form and try to join our free orientation class. We will try to arrange appropriate timings based on your flexible timings.
Timings not matching with your schedule?
Fill the
Contact form
, we will schedule a flexible Demo as per your convenience.
Course Content
We will give you 100% money-back guarantee and full support from experienced mentor till you get a job in New York City, New York as Salesforce Administrator, Salesforce Developer, Salesforce Java Script Developer, Salesforce Analyst, Salesforce Tester, Salesforce Consultant roles you can apply.
See our Salesforce aspirants reviews, join our free demo session and interact with our instructors and learn how Salesforce helps your career to up-skill your talent and become a professional Salesforce certified professional.
Admin
Introduction on Cloud Computing
IAAS (Infrastructure as a Service)
PAAS (Platform as a Service)
SAAS (Software as a Service)
Introduction on CRM
History of Salesforce
Introduction on Salesforce.Com
Understanding Salesforce environment
Pricing
App logo
Global search
User menu
App menu
Recycle binSalesforce Database
Becoming Familiar with the Setup segments
Introducing Apps
Introducing Objects
Introducing Fields
Introducing Relationships
Lookup Relationship
Master Detail Relationship
Roll-up Summary fields
Hierarchy Relationship
Self Relationship
Many to many Relationship
User Management
Introduction Users
User management process
Features licenseSecurity and Sharing
IP Address restrictions
Activations
Audit Trials
Forceful password expiry
Session details
Organization-Wide Defaults
Profile
Permission Sets
Sharing Rules
Manual Sharing
Field Level Permissions
Public Groups
Queues
Public Group Vs Queue – Comparative analysis Approvals Process
Planning for Approval processes
Creating an Approval process
Creating Approval steps
Multi step Approvals
Final approval action
Final rejection action
Working on recalling
Delegate process
Multiple approvers Vs Single approver
Using Custom Workflow Processes
Workflow rules
Update Record
Create Task
Automate Emails
Outbound Message
Time dependent workflows
Time triggersDeep dive into Evaluation criteria
Use case of evaluation criteria
Limitations of Workflow rules
Record update
Workflow Vs Process Builder
Benefits of Process Builder
Record types
Record types with page layout
Record types with multiple page layout
Development
Lightning and Bonus Topics
Our Salesforce Administrator training classes in New York provides industry-based interview questions, salesforce admin course, salesforce development, salesforce lightning components online training videos and real time project based training and certification assistance to our participants. Enroll for this practical program by filling our contact form to achieve your learning goals.
What is the cost of Salesforce training in New York and New Jersey?
Our Salesforce CRM Training fee price in New York (NY) and New Jersey (NJ) Admin course cost is $250 and Developer cost $250. If you purchase both courses then you will get great discount and great reduction in final pricing. We'll have part payment option also.
We are a leading Salesforce training institute which offers salesforce administration, development and lightning learning and certification program in New York.
Register today! to get Webinar Invitation.
Explore the world of Salesforce Admin developer and get new job with 50-100% more salary pay and find the best salesforce training institute in New York and New Jersey. Find the best salesforce training in NY with professional certification based training in affordable cost.
Frequently Asked Questions
1. Do you help me with Salesforce certification in NY, Salesforce training in New Jersey?
Yes, we will help you with Salesforce certification. We'll teach you certification questions with answers that will help you to pass the exams Admin 201, development 401 and lighting etc.,
Read salesforce admin certification topics and it gives an overview of salesforce certification exam pattern.
2. Is this salesforce training helps me with placement assistance and interview questions in NY and NJ?
We give a real-time project oriented Salesforce CRM training with 100% practicals, from day 1 you will learn practically. You will gain practical knowledge that will help you to face any interviews confidently. So, are you willing to learn SFDC online training to face any tough interviews, then join our free demo once.
3. What are the salesforce admin, developer, integration and lightning classes timings in NY?
We have morning and evening batches, regular class timings will be announced at the time of online demo session. So don't miss our demo session to know more details.
4. Who are the instructors for this Salesforce Administrator, Developer, Lightning JavaScript bootcamp for beginner?
Our trainers have minimum 10+ years real-time experience and expertise in teaching Salesforce, they always put great efforts to convert complex topics into easily understandable modules. Experience the professional Salesforce training and certification program with hands on approach and elevate your skills in Salesforce Administration and Development modules.
5. What if I miss any class, do you provide backup videos for this Salesforce course in NY NJ?
If you miss any class, you will get that class video recording, so that you don't lose any class in our Salesforce training.
6. Do you provide training for Salesforce Administration and Salesforce Development in this course?
Yes, we are providing the fully practicals based Salesforce Admin and Development online training in New York this course.
7. What are the topics covered in Salesforce course in NY as Beginner how it helps me?
We cover wide range of important concepts of Salesforce Administration, Development, chatter, sandbox and lightning essentials are covered in the Salesforce training. Few of the important topics include:
CRM concepts
Salesforce CRM administration
Workflow Process
Salesforce Deployment
Migration Strategies
Connection between setup and environment
Inbound and Outbound change set up
Packaged Deployment
Apex
Visualforce
Lightning Essentials
8. What can I learn through this interview-ready Salesforce Developer certification training program?
You will learn Salesforce concepts from basics to advanced using which you can create your own applications in sfdc platform. Our practical training helps you to manage Salesforce consultant duties in a company in New York.
9. I do not have any programming knowledge. As a beginner can I start learning Salesforce Admin?
For sure anybody without any programming knowledge can learn Salesforce. Our course advantage is anybody can learn without having any coding experience, we'll teach from basics, that's our guarantee.