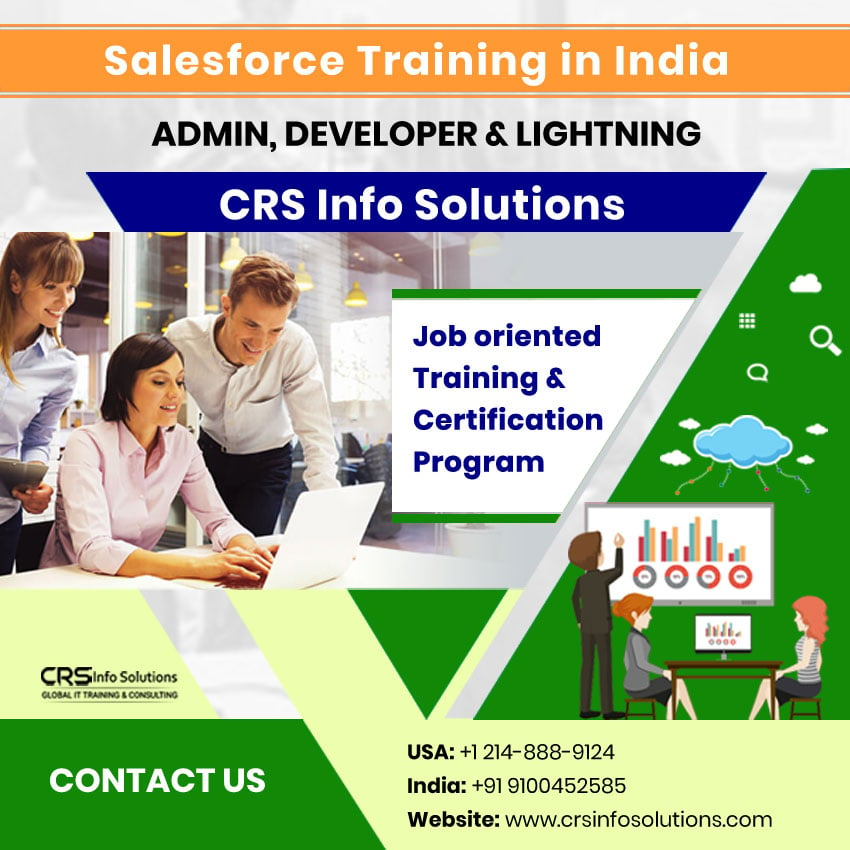 Salesforce Training Course in India [2023] | Salesforce institute
CRS Info Solutions offers a comprehensive online course on Salesforce Administration and Development in India, scheduled for the year 2023. The course is conducted using a virtual platform, allowing participants to access the content remotely. This Salesforce certification course encompasses several topics related to application customization, such as an introduction to cloud computing, workflow rules, record updates, email automation, pricing, tab bar configuration, relationship management, roles and profiles, as well as dashboard creation.
Enroll for Demo
Upcoming Demo Dates:
Please note the following dates are demo class or orientation only. Our faculty announces actual batch starting details at the time of demo class. Fill contact form and try to join our free orientation class. We will try to arrange appropriate timings based on your flexible timings.
Timings not matching with your schedule?
Fill the
Contact form
, we will schedule a flexible Demo as per your convenience.
Course Content
Admin
Introduction on Cloud Computing
IAAS (Infrastructure as a Service)
PAAS (Platform as a Service)
SAAS (Software as a Service)
Introduction on CRM
History of Salesforce
Introduction on Salesforce.Com
Understanding Salesforce environment
Pricing
App logo
Global search
User menu
App menu
Recycle binSalesforce Database
Becoming Familiar with the Setup segments
Introducing Apps
Introducing Objects
Introducing Fields
Introducing Relationships
Lookup Relationship
Master Detail Relationship
Roll-up Summary fields
Hierarchy Relationship
Self Relationship
Many to many Relationship
User Management
Introduction Users
User management process
Features licenseSecurity and Sharing
IP Address restrictions
Activations
Audit Trials
Forceful password expiry
Session details
Organization-Wide Defaults
Profile
Permission Sets
Sharing Rules
Manual Sharing
Field Level Permissions
Public Groups
Queues
Public Group Vs Queue – Comparative analysis Approvals Process
Planning for Approval processes
Creating an Approval process
Creating Approval steps
Multi step Approvals
Final approval action
Final rejection action
Working on recalling
Delegate process
Multiple approvers Vs Single approver
Using Custom Workflow Processes
Workflow rules
Update Record
Create Task
Automate Emails
Outbound Message
Time dependent workflows
Time triggersDeep dive into Evaluation criteria
Use case of evaluation criteria
Limitations of Workflow rules
Record update
Workflow Vs Process Builder
Benefits of Process Builder
Record types
Record types with page layout
Record types with multiple page layout
Development
Lightning and Bonus Topics
Frequently Asked Questions
What is the pricing structure for Salesforce Training in India?
The Salesforce administration course is priced at ₹15,000, while the development course also costs ₹15,000. Enrolling in the whole online course provides the opportunity to avail discount deals, which encompass other topics such as Lightning Web Components (LWC).
Is there an upfront payment required for CRS Salesforce training in India?
There is no upfront fee required from our participants. If you are dissatisfied with our training service, it may be a challenge for you. Consequently, we have chosen not to request any upfront money from you. We cordially invite you to participate in our complimentary demonstration class, where you will have the opportunity to personally witness the exceptional quality we offer. Enrollment and payment for the course should only be pursued if there is a genuine confidence in the quality and reliability of our services.
Does CRS Info Solutions provide a refund or a money-back guarantee?
Our aim is to maintain a high level of transparency with our learners. As an integral component of our service, we shall provide a 100% money-back guarantee. In reality, we refrain from imposing any charges onto you prior to your firsthand experience of the excellence of our instruction. It is advisable to personally assess the quality before proceeding with enrollment. In the event that a candidate initiates a cancellation within a period of 48 hours following enrollment, a complete reimbursement of the training expenses will be provided. If you have any inquiries or concerns, please do not hesitate to reach out to us for further clarification or assistance. We are consistently prepared to provide assistance to you.
What is the duration of this Salesforce training program?
The estimated duration for completing the Admin + Development modules is 8-10 weeks. This timeframe accounts for the inclusion of a significant real-time project within our training program. The length of real-time projects is contingent upon one's level of practice. Additionally, there will be question and answer sessions. To obtain information on the demonstration of flexible times, please reach out to our support staff.
What will be included in live demo class?
The following is the Agenda of our free live demo class.
Salesforce Course Overview
Current CRM market Analysis
About Course Curriculum
FAQs on Salesforce Jobs
Instructor Experiences
Q&A session and
New batch timings
We kindly request your attendance at our complimentary live interactive demonstration session, which will be conveniently delivered to your email address. We recommend providing a Gmail account for seamless sharing of our complimentary resources, since we will be providing you with complimentary materials. Please feel at liberty to engage in conversation with our representatives, as they are readily available to provide assistance.
Do you provide assistance in obtaining certification?
Certainly, we are able to provide assistance with Salesforce certification in the country of India. We offer comprehensive instruction on certification examination topics, including the Admin 201, Development 401, and Lighting examinations. Our program includes a thorough review of relevant questions and their corresponding answers, designed to enhance your chances of successfully passing these tests. The Certification content we offer has the potential to be beneficial on a global scale. We kindly invite you to participate in our live orientation session in order to get knowledge about this subject matter. To obtain further information, Please complete the contact form provided.
Does this training program enhance my employability?
We provide a Salesforce CRM training program that focuses on real-time projects and emphasizes practical application. From the very beginning, students will engage in experiential and applied learning, acquiring practical knowledge and skills. By participating in this program, you will get practical information that will enhance your ability to approach interviews with confidence. Are you interested in acquiring SFDC online training in order to effectively prepare for challenging interviews? If so, we invite you to participate in our complimentary demonstration session. We are consistently prepared to provide assistance to you.
Could you please provide information on the schedule of classes?
We provide both morning and evening batches for our Salesforce training in India, allowing for convenience and flexibility according to your schedule. The schedule for regular class times will be communicated during the online demonstration session. Please ensure that you attend our demonstration session in order to obtain information on class timings.
Who are the individuals responsible for delivering instruction in this training program?
The trainers has a minimum of 10+ years of practical experience and skill in instructing Salesforce. They consistently exert significant efforts to simplify intricate subjects into simply comprehensible modules. Gain valuable expertise in Salesforce Administration and Development modules with our comprehensive and hands-on professional training and certification program in India. Our qualified trainers will guide you through a practical approach, allowing you to enhance your abilities in Salesforce.
What if I miss any class?
In the event of a missed class, students will be provided with a video clip of the session to ensure that they do not miss any content during the training program. The video collection is accessible at any time, allowing users to engage in practice activities. Our trainer will provide assistance in resolving any inquiries that may arise throughout the practice of email communication.
Do you provide training programs for individuals in admin and development roles?
Indeed, we provide comprehensive Salesforce Administration (code: 201) and Development (code: 401) training courses in India. These courses serve as an initial gateway for anyone seeking to enter the Salesforce CRM field. The training focuses on practical application and hands-on experience. To embark on a career as a Salesforce expert, it is essential to start by acquiring proficiency in both administration and development aspects.
What are the lessons addressed in this training program?
WThe Salesforce course encompasses a comprehensive array of significant ideas, including Salesforce Administration, Development, Chatter, Sandbox, and Lightning Essentials. Several significant themes include:
CRM concepts
Salesforce CRM administration
Workflow Process
Salesforce Deployment
Migration Strategies
Connection between setup and environment
Inbound and Outbound change set up
Packaged Deployment
Apex
Visualforce
Lightning Essentials
Get professional salesforce training and certification assistance in India. Feel free to get our assistance, we are there to help you.
What knowledge and skills may be acquired via the completion of this course?
In this course, participants will get a comprehensive understanding of Salesforce ideas, ranging from fundamental principles to advanced techniques. By leveraging this knowledge, individuals will be equipped to develop their own applications inside the Salesforce platform. The practical training program offered aims to provide individuals with the necessary skills and knowledge to effectively fulfill the responsibilities of a Salesforce consultant within an organizational setting. The objective of this training program is to provide individuals with the necessary skills and knowledge to become well-prepared for employment opportunities. In order to participate in the complimentary demonstration Please complete the contact form provided.
I lack proficiency in programming. Is it possible for me to acquire this training?
Certainly, those lacking programming expertise have the capacity to acquire proficiency in Salesforce Administration and development. The majority of our learners consist of persons who do not possess technical backgrounds or have recently completed their undergraduate studies. We invite you to avail yourself of the opportunity to participate in our real-time Salesforce training program in India. The primary benefit of our course is its accessibility to anyone without prior coding expertise. We are committed to providing comprehensive instruction starting from fundamental concepts, ensuring that all participants can acquire the necessary skills. There are students enrolled in MBA, HR, sales, and marketing programs that possess a non-technical background with no prior coding experience.
What are the reasons for prioritizing Salesforce training?
SSalesforce, a prominent software firm, has the leading position in the customer relationship management (CRM) industry. Additionally, it is recognized as a Fortune 500 corporation, known for providing exceptional employee perks. Salesforce has established itself as a provider of services to prominent firms such as Google, Apple, and Facebook. The level of establishment of the firm Salesforce is considerable. In the foreseeable future, it is anticipated that a significant number of employment opportunities will be generated.
Is the cost of Salesforce training in India considered high?
The cost of our Salesforce training program at our institute in India is competitively priced. The option to make installment payments and the ability to reclaim the investment upon securing employment render it a financially prudent decision with potential long-term benefits for one's professional trajectory. Salesforce CRM offers a significant value proposition and return on investment (ROI) of 100%.
Is possessing a technical background a must for this endeavor?
It is not a prerequisite to possess a technical or software background in order to pursue a career as a Salesforce consultant. A significant proportion of the students enrolled in our training program from diverse academic backgrounds, including marketing, business administration, and non-IT disciplines. This serves as a compelling illustration that individuals from other fields may acquire the necessary skills and knowledge to pursue a career as a Salesforce consultant.
Is this course suitable for working professionals?
Our course is designed to suitable for working professionals. If you are a working professional and willing to learn Salesforce then it is the best program designed for you. We designed our curriculum and program in such a way which is suitable for working professionals. In fact we have so many working professionals in our training program. Please Feel free to make a call to us. We are here to help you.
Is it suitable for those who give some gap?
If you gave some gap after marriage or some other issues, then Salesforce is the best course for you. We have such students with lot of gap in job life and happily started again their career with our Salesforce training in India. Do not hesitate to talk to us, we are here to guide you. Our representatives will guide you and help you all the way.
I have few years gap due to personal reasons..?
I have few years gap due to personal reasons, is Salesforce training helps me to start my career again?
Yes, of course, you can restart your career undoubtedly with Salesforce training, this will surely gives you a better career opportunities. There are so many people in our training program from different countries, who has lot of gap. So if you have any such doubts, please feel free to contact us. We will help you.
What other features offering in this training?
The following features you will get in our training program:
2-3 Real time Projects
Live project use cases
Ample hands on
One to one attention
Interview preparation
Resume preparation
Certification preparation
Exposure to live environment
Why CRS is best place for SFDC training in India?
Our training is a 100% real time training program in India by profound instructors who has real experience will give you more practical knowledge rather than academic, so CRS Info Solutions is the best institute for practical based Salesforce online training. Experience our quality, attend to our free live demo class. Call now or Fill our contact form.
Which country aspirants are taking up this course?
We provide Salesforce CRM job oriented Online Training in India for aspirants from various parts of the world. We have students from almost all countries. Salesforce is a global company, so you can learn and work from any part of the globe. Whatever the small doubt you have, please feel free to make a call, we are always there to help you.
Kindly complete the registration process at your earliest convenience. To obtain a demonstration invitation.
Students Testimonials Gautam Reddy
Senior Consultant Deloitte
I have enrolled for Sales force Admin and development online course at CRS info solutions. It's really the best training i have ever taken and syllabus is highly professional and included practical concepts very well. I found CRS is having the best trainer to teach these topics from fundamentals. I got the excellent training from this institute and I would highly recommend this for you. Yasmin
Project Lead, Accenture
Trainer is highly experienced and teaching style is so nice, we can easily get into subject with his simple way of explanation. I have Learnt admin, dev, sandbox, migration, lighting essentials and entire crm online training is the best in the market. I am very happy with the trainer and the way he take us to practical approach and real world scenarios and I'll give 5 out of 5. Srikanth Reddy
CRM Developer IBM
Trainer explained me each and everything, it was like a complete overview of sales force world. Then I immediately joined the course. I had completed my course from CRS Info Solutions. Now I am working as Developer in a very good company with excellent package. This is the best for software Online Training. Karthik Ganeshan
Sales force Developer Infosys
I am satisfied with the teaching style and joined the course. Training was really helped for me. Only thing is it was in the morning times 6AM batch hard for me because waking up early in the morning for class, oh my god, those days are still remember but this course is useful for me. Pooja Singh
Senior Consultant TCS
I was worried before starting course. But while started attending it was really so friendly and I really enjoyed it. I joined in this Online Training, trainer is very experienced and very friendly in helping all the time. It was really good coaching at CRS Info Solutions. Swathi Rathode
Project Lead Tech Mahindra
If you are looking to learn professional tricks and real time hands on project related issues then it is the best way to join in CRS Info Solutions Sales force Online Training, because here trainers are really good and very focused, worth for each penny. I will give 5 Stars from my side to their dedication, followup and good training. Deepti Sharma
Project Lead at Accenture
I completed this Online Training from this CRS Info Solutions. It's a well structured online training organization for online training, From the introduction to portal design they explained me in detail. All the topics all are covered by one by one. The trainer highly experienced in the domain and very cooperative. I really happy am with CRS training. Suzy Johnson
Project Manager
I was searching for the best informatica online training institute. I attended to so many free demos and saw many videos but still something is haunting. My search was ended with this CRS Info Solutions. I found the right solution point here and you will also get the answer, that's all i can say. Nivedita Tripathi
IBM Consultant
This online software course explains most of what I needed to know. Trainer covers all the important and relevant topics comprehensively. Trainer is very supportive no question remain unanswered. Janette Williams
Software Consultant - PwC Atlanta
CRS Info Solutions is excellent institute for online training and it is proved with my experience, completed online training at CRS Info Solutions. The instructor is very knowledgeable and patient in answering my numerous questions and guided me through the class. Instructors supplied Good course material and structured modules in each course. I am very impressed with the CRS Info Solutions software online training. Diana Bender
Software Consultant - Fortworth Dallas
Instructor is a genius in explaining the HCM concepts HCM Fundamentals, Core Concepts and navigation, organizations, stf models, jobs and positions, compensation, security groups, defining business processes, transactions, report writing, calculated fields, EIB, cloud connectors. You can interact with trainer in the live session and clear your questions. Andrew Wakerly
Software Consultant - Accenture Bay Area
CRS Info Solutions software course is well structured right from course syllabus content, teaching, interactive sessions, PowerPoint, daily material, interview questions and exercises. In each class instructor will tell us the important interview questions and clearly explains about their significance. Razia Khan
Admin Capgemini
Great software Online Training with Helpful instructor even during the class / off-the class help. Good blend of business examples / technical content in the slides. I would highly recommend CRS Info Solutions for the CRM Admin and Dev online training. Robert J. Marion
Software Consultant - Deloitte NYC
I enrolled for Software Training at CRS Info Solutions. The instructor seems to be very technically sound in their subject and bring a lot of real-life scenarios during the sessions which makes it very easy to relate. He explained core concepts with easy to understand examples and supplied useful material. Charlotte Martin
Software Consultant - Accenture Houston
Great place to learn Software Course. Good thing about the trainer is that it he is available to you for life time, you can always return and also request for help or guidance. He helped me a lot in resume preparation. I was working on IBM Tool which is not in demand. So many people in my circle suggested to learn this software course. I contacted CRS Info Solutions then joined in their Online Training. I am happy with the training material and online classes. Especially trainer is very experienced and very insightful teaching and support from admin also very friendly. Sandeep Chattarjee
Consultant at UK
Enrolled in CRS Info Solutions for Software Online Training. Trainer used Quotes of good examples in the usage of technical concepts in a real-time scenario. It is 100% interactive which I like the most. I suggest CRS Info Solutions to my friends who are looking for Software training.
Students from various places like Allahabad, Bhubaneswar, Ghaziabad, Guntur, Indore, Kochi, Meerut, Mangalore, Mysore, Nagpur, Siliguri, and Vadodara are actively engaged in our salesforce certification program. They are provided with daily assignments and project activities to enhance their learning experience.