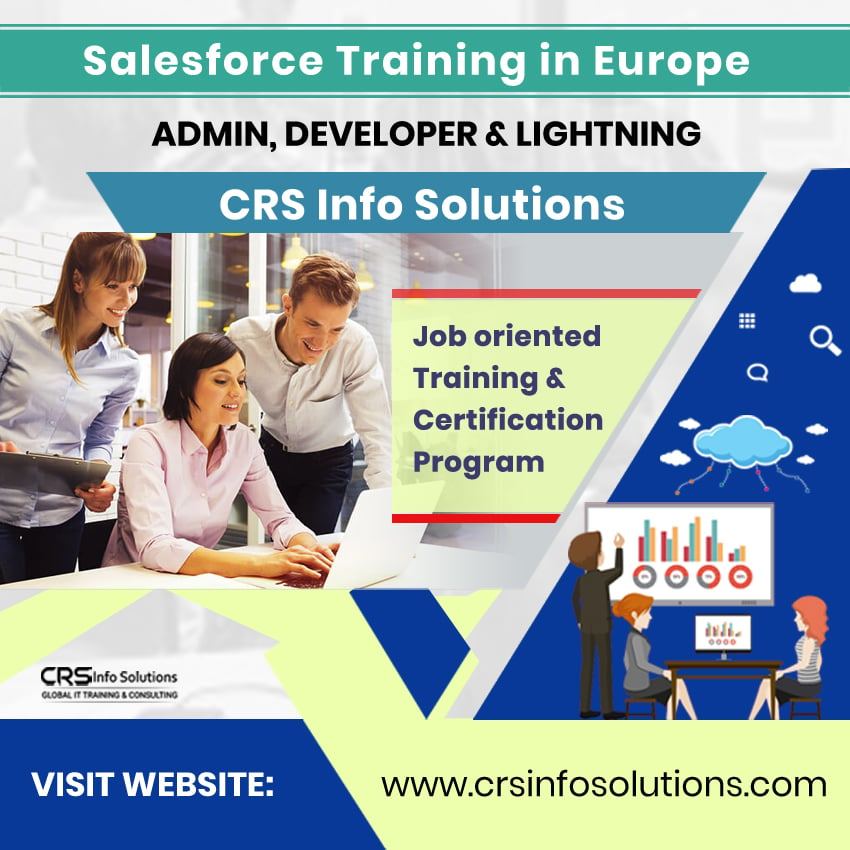 Salesforce Training Europe
Salesforce Training in Europe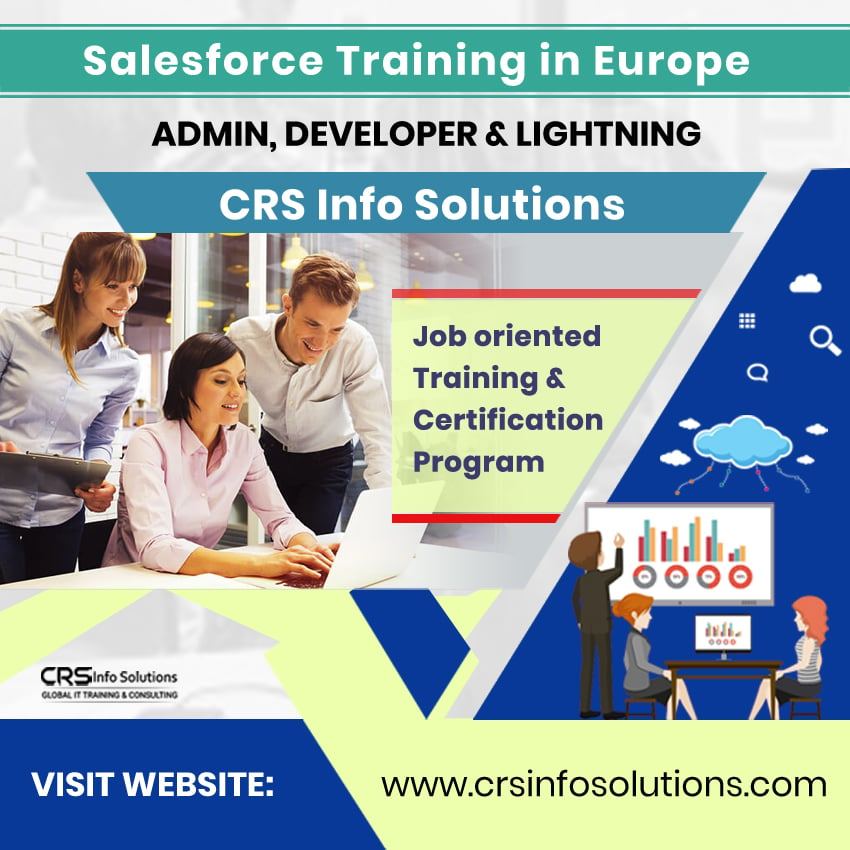 CRS Info Solutions in Europe provides Online Salesforce training course materials for Salesforce Certification with securing a practice org, database terminology, admin and user interface navigation and custom fields creation, reports & analytics, security, customization, automation and web to lead forms. Our Salesforce training classes in Europe provides industry-based interview questions and real time project based training and certification assistance to our participants, enroll to Salesforce admin, developer and lighting components training program to achieve your learning goals. Get the professional and real time salesforce course in Europe under the guidance of experienced and expert instructors in Europe.
We are a leading Salesforce training institute which offers salesforce crm admin, developer and lightning learning and certification program in Europe. Get practical and project based salesforce course in Europe with scenario based interview questions and practical knowledge. Become a professional salesforce consultant by learning in-depth concepts that are designed to make you perfect and expert to deal with day to day activities in an organization. Salesforce certification and training tutorial in Europe, a course designed by experts and supplies useful material, interview questions and resume preparation assistance that will be helpful to get a better job in CRM industry in Europe.
Key Highlights
Find the best Software training institute in Europe, join the class nearby you to attend classroom and online training
Our Salesforce learning methods are Classroom and Interactive Online by Salesforce trainers
You'll learn from the Industry-based modules, real-time solutions taught by Salesforce instructors located in Europe
Job oriented CRM training and Hands on course syllabus and training program for Salesforce learners in Europe
Get Salesforce video tutorials and Salesforce course useful materials provided by tutors in Europe
Talk to our Learning Consultants in Europe for course details and batch information, Fill the form.
Salesforce CRM Training Modules in Europe
We are a pioneer in offering salesforce training solutions in Europe with a 10+ years of experienced working professional as instructor and included real time projects to get practical skills. Enroll today to get free access to our live demo session which is a great opportunity to interact with the trainer directly.
Salesforce CRM Training and Certification program in Europe designed by experts to achieve your learning goals on Admin(201) and Developer(401) Modules and real time project based classes by knowledgeable instructors, we are a leading software classes institute for professional software courses training and tutorials in Europe.
About our instructor: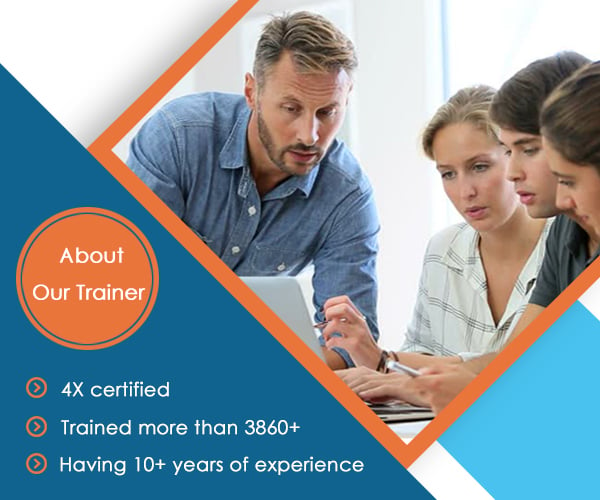 Our trainer is Real-time Working professional as a Salesforce Consultant.
He has over 10+ years industry experience
Trained more than 3860+ participants on Salesforce CRM.
Teaching Corporate and Classroom Trainings.
4X Certified in Salesforce CRM
Popular Salesforce Trainer in Europe
A cogent speaker and a lucid communicator
Expert in giving practical assignments along with training
Expert at giving real time examples and practical scenarios
Helpful in assisting Classroom to solve problems
Possess positive attitude and ability to meet customer requirements
Helps in Job Support, Resume Preparation and Interview Questions.
Key Features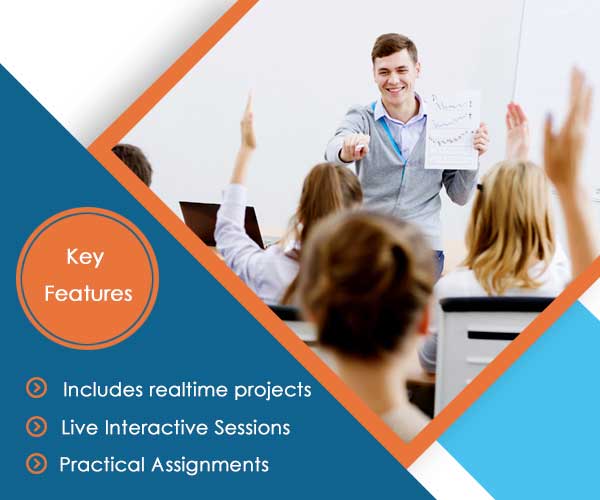 Very in depth course material with Real Time Scenarios for each topic with its solutions in Salesforce CRM.
Well-Experienced and Real Time Trainers
Real time case studies and project integrated into the Curriculum
Provide Best Support from our learning consultants
Salesforce Expert based Certification in Europe
Real-time Industry-based Case Studies provided by CRS Info Solutions, Europe
Course Material and Lab guides for students reference
We do Schedule the sessions based upon your comfort by our Highly Qualified Trainers and Real time Experts.
Training for Certification is provided during your Salesforce Training.
Resume Preparation & Interview questions
About the Course
Salesforce Certification Training in Europe will make you an expert in all the concepts related to administration and declarative development options. It will also help you prepare for Salesforce Certification (both SFDC Admin 201 & App Builder Certification).
Who can Attend?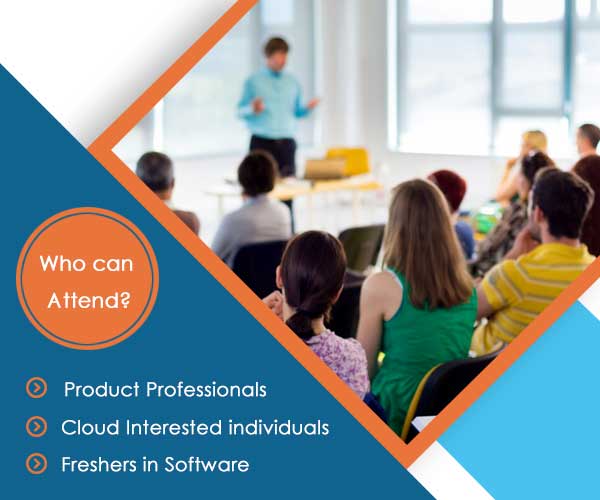 This Salesforce Certification training is suitable for all professionals who are passionate about CRM and cloud computing. But typical profiles, but not limited to, who go for salesforce training are:
Siebel and other CRM products professionals
Experienced professionals who are looking to have an exciting career in the leading Cloud Computing platform
Functional consultants who are looking to switch to lucrative career called Salesforce
Freshers who are looking to get a jump start to their careers in Cloud computing
Lateral developers who have worked in Java, mainframe and C# and are looking for a boost to their career from legacy platform at least 50-100% more pay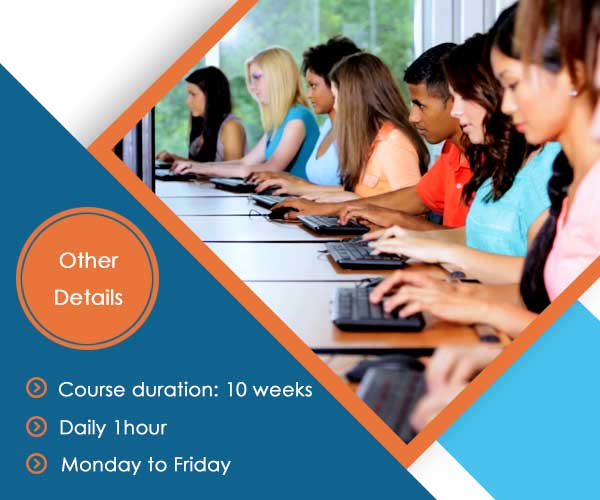 Available batch timings:
Morning / Evening / Weekend
Duration: Daily 1 hour
Days: Monday to Friday
Venue: Online webinar
Register today! to get Webinar Invitation.
Explore the world of Salesforce CRM and get new job with 50-100% more salary pay and find the best salesforce training institute in Europe. Find the best salesforce training in Europe with professional certification based training in affordable cost. Get salesforce certification admin and developer in CRM domain to become saleforce consultant with better career opportunities.
Salesforce Training Course Overview:
CRM FUNDAMENTALS
Introduction to CRM
Introduction to Sales Cycle
Understanding the terminologies of CRM
Introduction to SFDC
Understanding the workflow of SFDC with a real time example
SFDC BASICS AND DEVELOPMENT Understanding the terms in SFDC

Introduction to SFDC Editions
Creating Objects, Tabs and Apps in SFDC
Creating layouts and applying hierarchy
Creating roles and profiles
Creating workflow rules
Creating Tasks and Events
Understanding the SFDC admin system
Creating relationships between the objects
SFDC ADVANCED DEVELOPMENT
Invoking Apex
Creating Apex Classes and triggers
Customization using Apex programming
Integration to third party systems using SFDC AP
Introduction to Visual Force
Creating Visual Force pages
Creating Packages
Deploying SFDC
Using Visual Force in a real time scenario
Creating Reports and Dashboards
How CRM is useful in Hospitality, Healthcare, Manufacturing etc
SALESFORCE CRM TRAINING COURSE OVERVIEW:
Cloud Computing Fundamentals
Introduction to the Cloud Computing
Evolution of Cloud Computing
Comparisons with other computing techniques fetchers
Key characteristics of cloud computing
Advantages/Disadvantages
Classification of Cloud Computing
1. Based on as a service model
SAAS (Software as a service)
PAAS (Platform as a service)
IAAS (Infrastructure as a service
2. Based on deployment or access model
Public Cloud
Private Cloud
Hybrid Cloud
SALES FORCE CRM CONCEPTS
What is CRM?
How CRM can help?
Sales force CRM Navigation terminology
Compare Salesforce.com CRM with other CRM products
Customization in sales force .com CRM
Introduction to sales force CRM Setup tool
Personal Setup
App Setup
Admin Setup
SALESFORCE.COM CLOUD OVERVIEW
Sales Cloud
Service Cloud
Collaboration Cloud
PROJECT DEVELOPMENT LIFE CYCLE
SALES FORCE EDITIONS
APEX DATA LOADER
ORGANIZATION ADMINISTRATION
Set your organization's language & locale
Manage currency
CUSTOMIZATION
Create custom profiles & custom fields
Define dependent pick list
Customize lookup fields
Customize validation & formulas
Customize page layouts
Customize standard related lists
Use field-level security
WORKFLOW
Define workflow
Set up workflow rules
Set up workflow tasks & alerts
WORKFLOW APPROVALS
Plan approvals using workflow
Use the approval wizard – standard vs. jump start
Create workflow approvals
Create & Manager Users
Set organization-wide defaults
Learn about record accessed
Create the role hierarchy
Learn about role transfer & mass Transfer functionality
Profiles, Login History
DATA UTILITIES
Importing overview
Learn about import solutions & Custom Object records using the data loader
User mass delete
EXTENDING SALESFORCE CRM
Learn about custom objects
Learn about custom tabs
Learn about custom web tabs
THE APPEXCHNAGE
The AppExchange
Install an app
Delete an app
VISUAL FORCE
Introduction and Tools
Purpose of Visualfoce
MVC Architecture
CONTROLLERS
Variables and Formulas
Standard Controllers and Standard List Controllers
Custom Controllers and Controller Extensions
Using static resources and custom components
Styling VF pages
Overriding buttons, links and tabs with VF
Using JavaScript in VF Pages
Advanced examples
APEX
Introduction to Apex
Pupose of Apex
APEX FUNDAMENTALS
APEX SCHEDULING
OBJECTS AND THE DATABASE
What is an sObject
SOQL and SOSL Queries
REAL TIME ROLES IN CLOUD COMPUTING:
1. SALESFORCE ADMINISTRATOR
2. SALESFORCE DEVELOPER
(so YOU can apply for job as a ADMINISTRATOR or DEVELOPER if you finish COURSE here, no worry WE LL MAKE CV WITH PROJECTS, MOCKINTERVIEWS)
1.SALESFORCE ADMINISTRATOR
CRM Overview & SaaS
Salesforce Applications (Marketing, Sales, Service) Overview
Configuration Basics Overview

Application Elements Overview (Tabs, App, Links, HomePage Component)
Salesforce Building Blocks Overview (Objects, Page Layouts, Related List, Fields, Buttons etc)
Workflow Rules Overview

Personal Customization (Password Reset, Login Access, Calendar Sharing etc)
System Administration

Roles
Profiles
User Setup
Login History
Queues vi.Groups

Advanced System Administration (Security Controls)

OWD
Sharing Settings
Password Policies
Audit Trail
Communication Templates
Data Loader
Mass Update/Transfer Records
Storage Advantage
Monitoring Logs & Jobs
x. Concluding Session with Q&A
2. SALESFORCE DEVELOPER – CONFIGURATION TRACK
CRM Overview
Salesforce Architecture (SaaS, PaaS, On Demand)
Salesforce Applications (Marketing, Sales, Service) Overview
Advanced Configuration

Application Elements (Tabs, App, Links, HomePage Component)
Salesforce Building Blocks & Configuration ( Objects, Page Layouts, Related List, Fields, Buttons, Formula Fields, Relationship fields, Lookup Master Detail, Cross Object, reference Workflows and Approvals, Workflow actions: Email, Tasks, Outbound etc )
Workflow Rules & Approval Processes
Time Dependent Workflows

Personal Customization (Password Reset, Security Token Login Access, Calendar Sharing etc)
System Administration Basics

User Setup
Login History
Queues
Groups

Apex Development Basics

Apex Classes
Apex Triggers
VF Pages

Concluding Session with Q&A
3. SALESFORCE DEVELOPER – CUSTOMIZATION TRACK
CRM Overview
Salesforce Architecture (SaaS, PaaS, On Demand)
Advanced Configuration

Application Elements ( Tabs, App, Links, HomePage Component )
Salesforce Building Blocks & Configuration ( Objects, Page Layouts, Related List, Fields, Buttons, Formula Fields, Relationship Fields, Lookup Master Detail, Cross Object Reference, Workflows and Approvals, Workflow actions: Email, Tasks, Outbound etc )
Workflow Rules & Approval Processes
Time Dependent Workflows

Personal Customization ( Password Reset, Security Token Login Access, Calendar Sharing etc )
Apex Development Building Blocks

Apex Classes
VF Pages
Apex Trigger
SOQL
SOSL
Debugging
System Log

Apex API Programming

SOQL & SOSL
Batch Apex
Writing Apex Classes as Web Services
Email API

Visual Force Programming

SOQL & SOSL
Standard Controller
Custom Controller
List Controller
Controller Extensions

Apex Triggers

Trigger Events
Design Pattern
Bulk Trigger
About us
CRS Info Solutions is a leading Computer institute for software courses training and certification programs. We are a pioneer in offering Software training solutions in Europe with a 10+ years of experienced working professional as instructor and included real time projects to get practical skills in Europe. Our instructors makes learning fast, affordable and easy with industry based syllabus, scenario based interview questions and hands on learning experience along with useful material supply for free. For many years, our Trainers have helped participants, consultants, professionals, graduated aspirants, enthusiasts and software project managers – you may be from any background, we will improve your skill set and help you in certification programs in Europe. Enroll for CRS Info Solutions practical and professional training programs by industry expert tutors and achieve your learning goals with our proven syllabus with real time projects and helpful interview questions.
Frequently Asked Questions
1. Do you help me with Salesforce certification in Europe?
Yes, we will help you with Salesforce certification. We'll teach you certification questions with answers that will help you to pass the exams Admin 201, development 401 and lighting etc.,
Read salesforce admin certification topics and it gives an overview of salesforce certification exam pattern.
2. Is this salesforce training helps me with placement assistance and interview questions in Europe?
We give a real-time project oriented Salesforce CRM training with 100% practicals, from day 1 you will learn practically. You will gain practical knowledge that will help you to face any interviews confidently. So, are you willing to learn SFDC online training to face any tough interviews, then join our free demo once.
3. What are the salesforce class timings?
Regular class timings will be announced at the time of online demo session. So don't miss our demo session to know more details.
4. Who are the instructors for this Salesforce training?
Our trainers have minimum 10+ years real-time experience and expertise in teaching Salesforce, they always put great efforts to convert complex topics into easily understandable modules. Experience the professional Salesforce training and certification program with hands on approach and elevate your skills in Salesforce Administration and Development modules.
5. What if I miss any class?
If you miss any class, you will get that class video recording, so that you don't lose any class in our Salesforce training.
6. Do you provide training for Salesforce Administration and Salesforce Development in this course?
Yes, we are providing the fully practicals based Salesforce Admin and Development online training in Europe this course.
7. What are the topics covered in Salesforce online training?
We cover wide range of important concepts of Salesforce Administration, Development, chatter, sandbox and lightning essentials are covered in the Salesforce training. Few of the important topics include:
CRM concepts
Salesforce CRM administration
Workflow Process
Salesforce Deployment
Migration Strategies
Connection between setup and environment
Inbound and Outbound change set up
Packaged Deployment
Apex
Visualforce
Lightning Essentials
8. What can I learn through Salesforce training?
You will learn Salesforce concepts from basics to advanced using which you can create your own applications in sfdc platform. Our practical training helps you to manage Salesforce consultant duties in a company in Europe.
9. I do not have any programming knowledge. Can I go for Salesforce training?
For sure anybody without any programming knowledge can learn Salesforce. Our course advantage is anybody can learn without having any coding experience, we'll teach from basics, that's our guarantee.
Still you have any questions? Feel free to WhatsApp them on the number showing top of the website.
Students Testimonials Gautam Reddy
Senior Consultant Deloitte
I have enrolled for Sales force Admin and development online course at CRS info solutions. It's really the best training i have ever taken and syllabus is highly professional and included practical concepts very well. I found CRS is having the best trainer to teach these topics from fundamentals. I got the excellent training from this institute and I would highly recommend this for you. Yasmin
Project Lead, Accenture
Trainer is highly experienced and teaching style is so nice, we can easily get into subject with his simple way of explanation. I have Learnt admin, dev, sandbox, migration, lighting essentials and entire crm online training is the best in the market. I am very happy with the trainer and the way he take us to practical approach and real world scenarios and I'll give 5 out of 5. Srikanth Reddy
CRM Developer IBM
Trainer explained me each and everything, it was like a complete overview of sales force world. Then I immediately joined the course. I had completed my course from CRS Info Solutions. Now I am working as Developer in a very good company with excellent package. This is the best for software Online Training. Karthik Ganeshan
Sales force Developer Infosys
I am satisfied with the teaching style and joined the course. Training was really helped for me. Only thing is it was in the morning times 6AM batch hard for me because waking up early in the morning for class, oh my god, those days are still remember but this course is useful for me. Pooja Singh
Senior Consultant TCS
I was worried before starting course. But while started attending it was really so friendly and I really enjoyed it. I joined in this Online Training, trainer is very experienced and very friendly in helping all the time. It was really good coaching at CRS Info Solutions. Swathi Rathode
Project Lead Tech Mahindra
If you are looking to learn professional tricks and real time hands on project related issues then it is the best way to join in CRS Info Solutions Sales force Online Training, because here trainers are really good and very focused, worth for each penny. I will give 5 Stars from my side to their dedication, followup and good training. Deepti Sharma
Project Lead at Accenture
I completed this Online Training from this CRS Info Solutions. It's a well structured online training organization for online training, From the introduction to portal design they explained me in detail. All the topics all are covered by one by one. The trainer highly experienced in the domain and very cooperative. I really happy am with CRS training. Suzy Johnson
Project Manager
I was searching for the best informatica online training institute. I attended to so many free demos and saw many videos but still something is haunting. My search was ended with this CRS Info Solutions. I found the right solution point here and you will also get the answer, that's all i can say. Nivedita Tripathi
IBM Consultant
This online software course explains most of what I needed to know. Trainer covers all the important and relevant topics comprehensively. Trainer is very supportive no question remain unanswered. Janette Williams
Software Consultant - PwC Atlanta
CRS Info Solutions is excellent institute for online training and it is proved with my experience, completed online training at CRS Info Solutions. The instructor is very knowledgeable and patient in answering my numerous questions and guided me through the class. Instructors supplied Good course material and structured modules in each course. I am very impressed with the CRS Info Solutions software online training. Diana Bender
Software Consultant - Fortworth Dallas
Instructor is a genius in explaining the HCM concepts HCM Fundamentals, Core Concepts and navigation, organizations, stf models, jobs and positions, compensation, security groups, defining business processes, transactions, report writing, calculated fields, EIB, cloud connectors. You can interact with trainer in the live session and clear your questions. Andrew Wakerly
Software Consultant - Accenture Bay Area
CRS Info Solutions software course is well structured right from course syllabus content, teaching, interactive sessions, PowerPoint, daily material, interview questions and exercises. In each class instructor will tell us the important interview questions and clearly explains about their significance. Razia Khan
Admin Capgemini
Great software Online Training with Helpful instructor even during the class / off-the class help. Good blend of business examples / technical content in the slides. I would highly recommend CRS Info Solutions for the CRM Admin and Dev online training. Robert J. Marion
Software Consultant - Deloitte NYC
I enrolled for Software Training at CRS Info Solutions. The instructor seems to be very technically sound in their subject and bring a lot of real-life scenarios during the sessions which makes it very easy to relate. He explained core concepts with easy to understand examples and supplied useful material. Charlotte Martin
Software Consultant - Accenture Houston
Great place to learn Software Course. Good thing about the trainer is that it he is available to you for life time, you can always return and also request for help or guidance. He helped me a lot in resume preparation. I was working on IBM Tool which is not in demand. So many people in my circle suggested to learn this software course. I contacted CRS Info Solutions then joined in their Online Training. I am happy with the training material and online classes. Especially trainer is very experienced and very insightful teaching and support from admin also very friendly. Sandeep Chattarjee
Consultant at UK
Enrolled in CRS Info Solutions for Software Online Training. Trainer used Quotes of good examples in the usage of technical concepts in a real-time scenario. It is 100% interactive which I like the most. I suggest CRS Info Solutions to my friends who are looking for Software training.