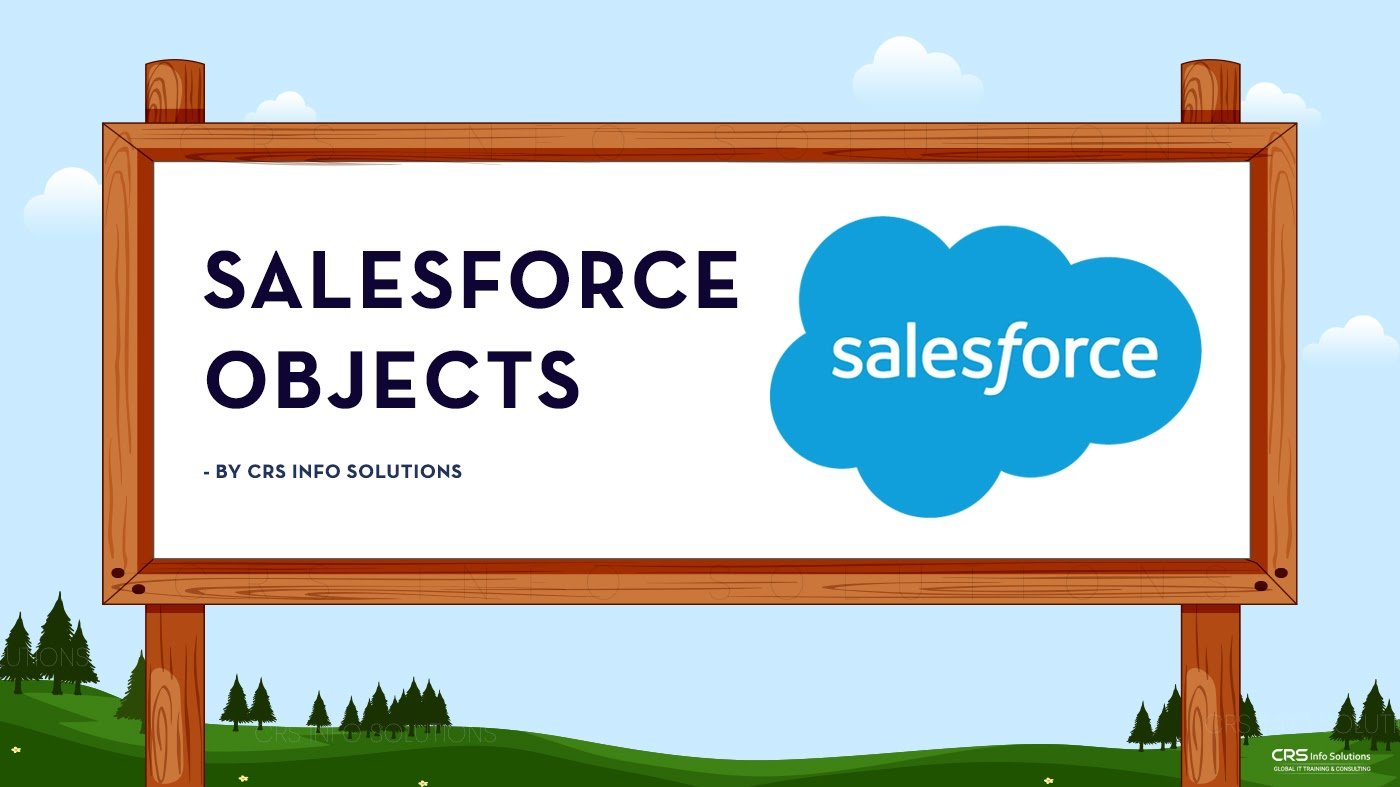 Salesforce Objects – Salesforce Admin Tutorial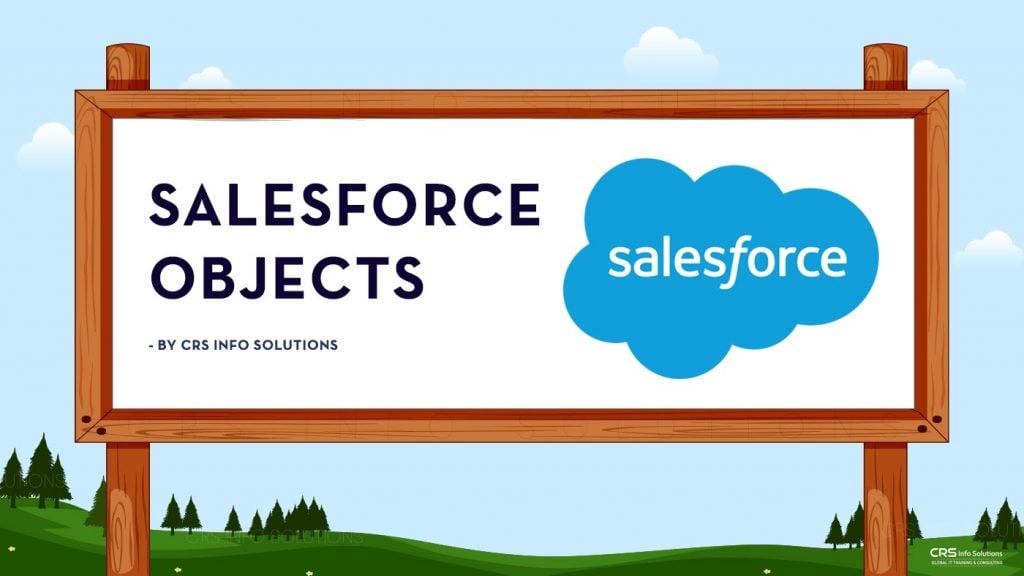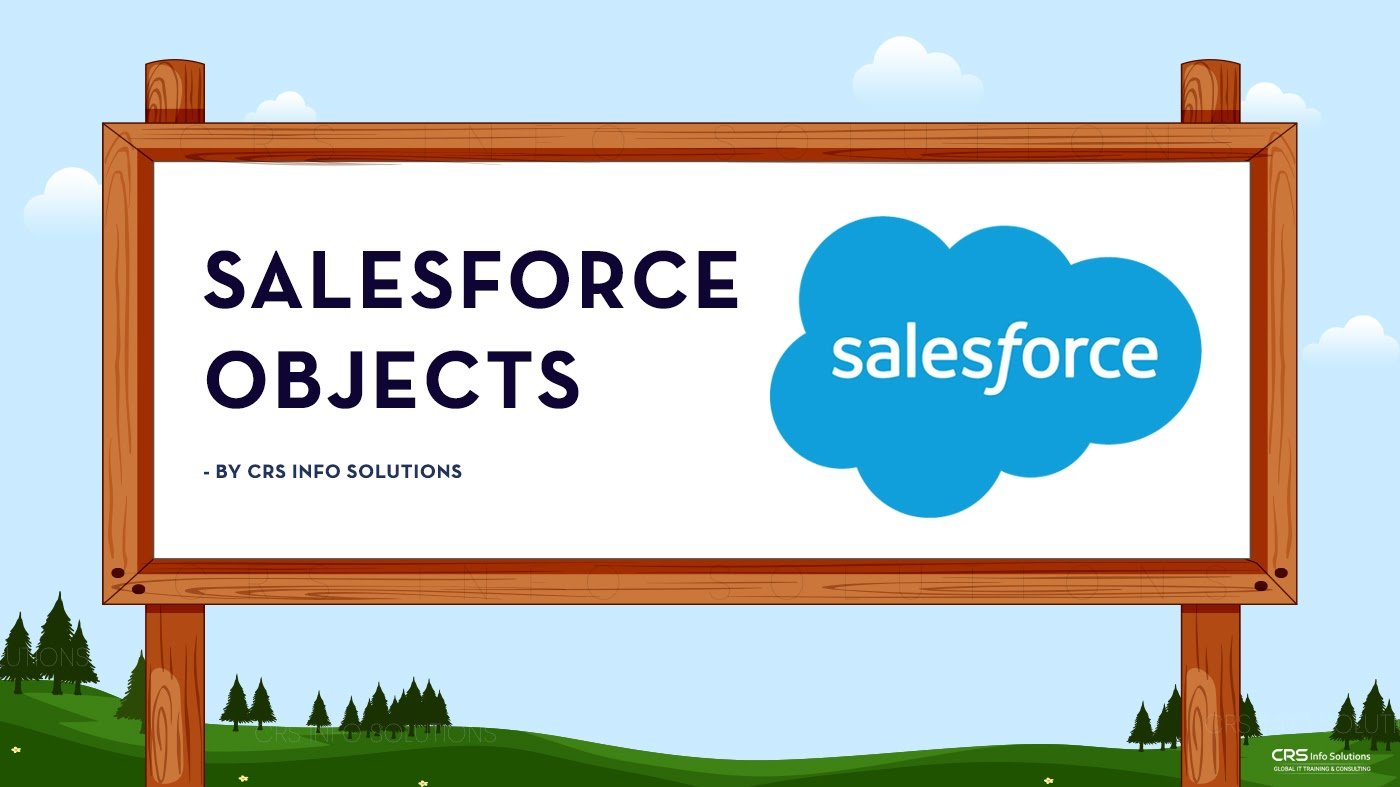 Overview of Objects
Types of objects

Standard Objects
Custom Objects
Overview of objects
Data is stored in the database tables generally represented in the form of rows and columns just like a spreadsheet. In salesforce, these database tables are referred to as Objects and we can consider Columns as "Fields" and Rows as "Records".
For example, if we have a STUDENT database/table containing Name, Roll number and Age as follows:

Then, the Student table will be called a Student Object, Columns like Name, Roll Number, etc will be called as "Fields" and students' data will be called as "Records" in Salesforce.
Types of Objects
There are several types of objects in salesforce like standard objects, custom objects, external objects, big objects, etc. We will majorly discuss the commonly used objects: Standard Objects and Custom objects.
Standard Objects
Standard objects are those objects that are pre-defined or that are already built-in salesforce. Objects like Account, Contact, Lead, Opportunity, Task are examples of Standard Objects.
Custom Objects
Custom objects are those objects that we create in our Salesforce instance in order to extend the out-of-the-box data model in order to support additional requirements as per our organisation's data architecture and business processes.

Steps to create Custom Object

Click on the gear icon in the top-right corner of the page. It will launch the set-up
Click on the tab "Object Manager". (It will display the list of all standard and custom objects)
Click "Create" in the top-right corner and Select "Custom Object".

For the field Label, Enter the name of the object, say "Student" (Object Name field will be auto-populated)
For the field Plural Label, enter its similar plural name say "Students"
Review the other sections and make the changes as per the needs or keep it as default.
Click Save

External objects
External Objects are just like the custom objects other than the fact that they are used to map to the data that is stored outside the salesforce instance.
Fields
Fields can be classified as standard and custom fields. Standard fields are the inbuilt fields present on the standard objects or the fields that are automatically created on the creation of custom objects like created date, created by, last modified date, etc.
On the other hand, Custom fields are the fields that we create either on standard objects or custom objects in order to capture data as per business processes.
Steps to create Custom Fields
From Setup menu under customize select any of the object.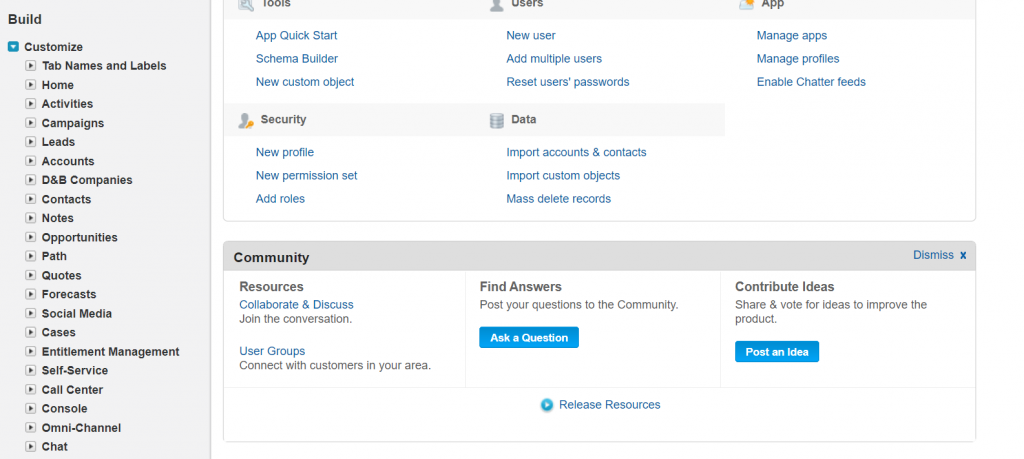 Under the Custom Field section Click New button.

On next screen choose the type of the field.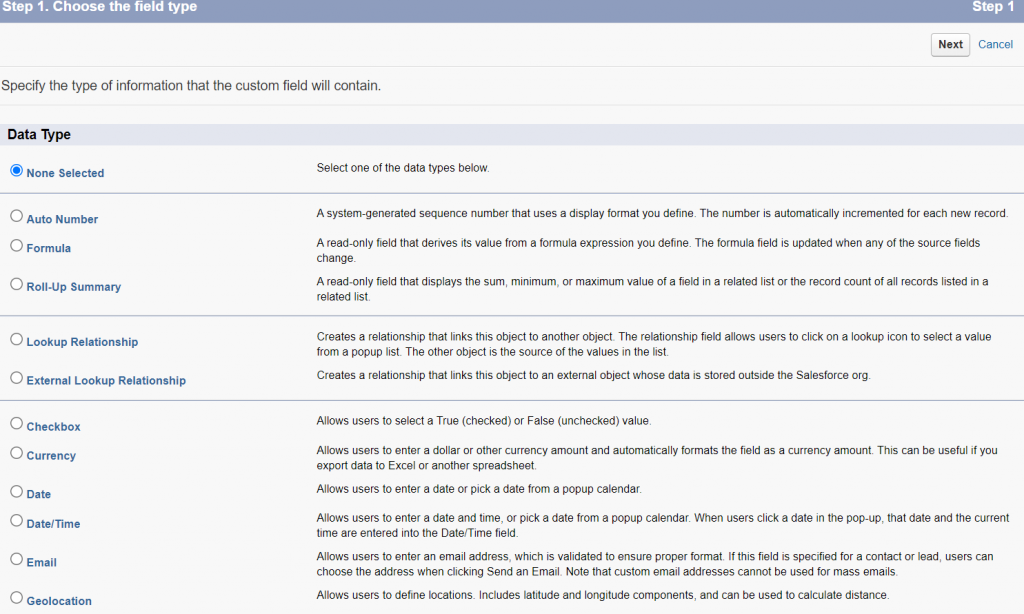 Fill the Required parameters and click on Next button.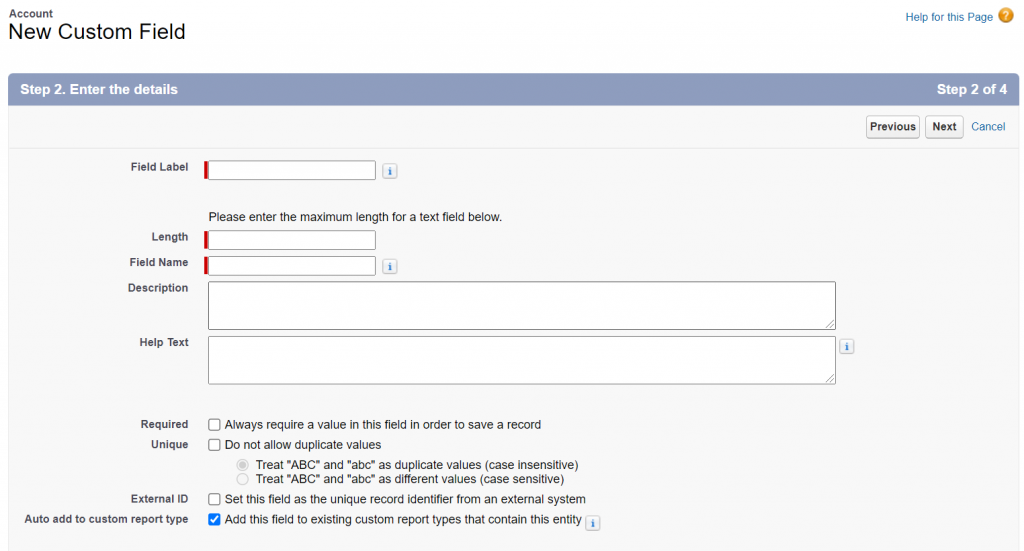 Check for Field level security i.e. permission for the profiles to see the field.
On next screen check for the page layouts where the new field should be added. Click on save after the selection.