Salesforce Lightning Online Training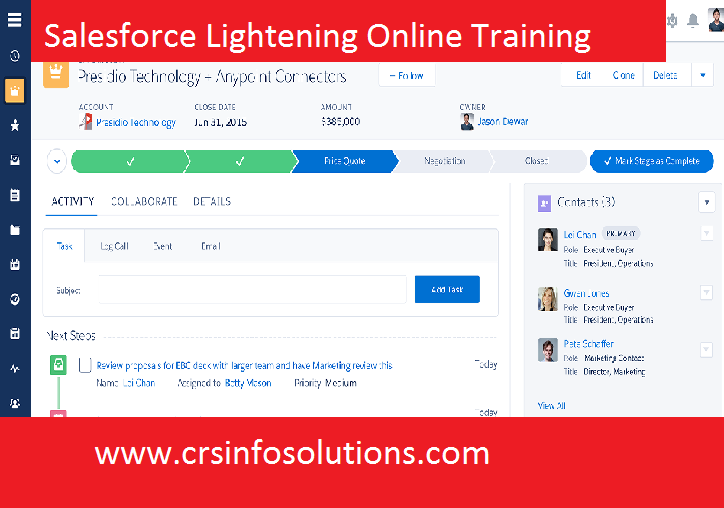 Master Salesforce Lightning skills from our experienced instructors who are working in real-time environment.
Course Topics:
What is Salesforce Lightning?
Why Use the Lightning Component Framework?
Components
Events
Open Source Aura Framework
Browser Support Considerations for Lightning Components
Using the Developer Console
Interested to learn Admin + Developer modules, then please visit salesforce crm online training page.
| | |
| --- | --- |
| TOPICS | SUB TOPICS |
| Lightning Experience | Introduction to Lightning Experience |
| | Lightning Component Framework |
| | Introduction to aura framework |
| | |
| Migration Assistance | Enabling and Disabling of Lightning Experience for your organization |
| | Migrating from Classic to Lightning Experience Vice-Versa |
| | |
| Domain Management | What is Domain Management? |
| | Creating Custom Domain for organization |
| | Configuring Custom Domain |
| | Configuring Authentication Setting for your Domain |
| | |
| Debugging in Lightning Experience | Lightning Inspector |
| | Installing Lightning Inspector Extension |
| | Enabling of Debug mode in Lightning Components |
| | |
| Static Resource | What is Static Resource? |
| | Steps for Creating Static Resource |
| | Stylesheet Creation using Static Resource |
| Lightning Component | Using Lightning Component for embedding Static Resource |
| | ltng:require |
| | |
| CSS | What is CSS? |
| | Types of CSS |
| | Inline Stylesheets |
| | Internal Stylesheets |
| | External Stylesheets |
| | |
| Namespace | Creating Namespace for your organization |
| | |
| Lightning Resource | Creation of Lightning Resource using Console |
| | Lightning Application |
| | Lightning Component |
| | Lightning Interface |
| | Lightning Event |
| | Lightning Tokens |
| | |
| Lightning Component Bundle | Steps for creating Lightning Component |
| | Component |
| | CSS Styles |
| | Controller |
| | Design |
| | Documentation |
| | Rerender |
| | Helper |
| | SVG File |
| | |
| Component IDs | Local IDs |
| | Global IDs |
| | |
| Expressions | Value Providers |
| | Global Providers |
| | Global ID |
| | $Browser |
| | $Label |
| | $Locale |
| | $Resource |
| | |
| Custom Labels | What is Custom Labels? |
| | Steps for Creating Custom Labels |
| | Getting Label in Javascripts |
| | Setting Label using Parent Attributes |
| | |
| Component Documentation | Creating Component Documentation |
| | |
| | |
| | |
| | |
| Design | Designing in lightning Experience |
| | |
| | |
| | |
| Lightning Application Bundle | Steps for creating Lightning Application |
| | Application |
| | Controller |
| | Helper |
| | Style |
| | Documentation |
| | Renderer |
| | SVG |
| | Adding Lightning Component to application |
| | |
| SVG | Adding of SVG resource to Component Bundle |
| | |
| Tabs and App Launcher | Adding of lightning components to custom tab(lightning tab) |
| | Adding of lightning page to custom tab(lightning page tab) |
| | Adding of lightning components to app launcher |
| | |
| SALESFORCE1 | What is Salesforce1? |
| | Installing of Salesforce1 Simulator |
| | Adding of Custom Tabs to Salesforce1 |
| | |
| Actions | Overriding Standard Actions |
| | |
| Lightning Experience | Lightning Pages |
| | Lightning App Builder |
| | Adding Lightning Components to Lightning Page |
| | |
| VisualForce Pages | Displaying of Lightning Application in Visualforce Page |
| | |
| | |
| Events | What is Event? |
| | Creating Custom Component Event |
| | |
| | Registering an Event |
| | |
| | Handling Component Event |
| | |
| | |
| DML OPERATIONS | Insertion of data into object |
| | Retrieving Data from particular object |
| | |
| AURA FRAMEWORK | INPUT COMPONENTS |
| (USER INTERFACE) | ui:inputCheckbox |
| | ui:inputCurrency |
| | ui:inputDate |
| | ui:inputDateTime |
| | ui:inputDefaultError |
| | ui:inputEmail |
| | ui:inputNumber |
| | ui:inputPhone |
| | ui:inputRadio |
| | ui:inputRichText |
| | ui:inputSecret |
| | ui:inputSelect |
| | ui:inputSelectOption |
| | ui:inputText |
| | ui:inputTextArea |
| | ui:inputURL |
| | |
| | OUTPUT COMPONENTS |
| | ui:outputCheckbox |
| | ui:outputCurrency |
| | ui:outputDate |
| | ui:outputDateTime |
| | ui:outputEmail |
| | ui:outputNumber |
| | ui:outputPhone |
| | ui:outputRichText |
| | ui:outputText |
| | ui:outputTextArea |
| | ui:outputURL |
| | |
| Lightning Components | lightning:avatar |
| | lightning:badge |
| | lightning:button |
| | lightning:buttonGroup |
| | lightning:buttonIcon |
| | lightning:buttonMenu (Beta) |
| | lightning:card |
| | lightning:container |
| | lightning:formattedDateTime (Beta) |
| | lightning:formattedNumber (Beta) |
| | lightning:icon |
| | lightning:input (Beta) |
| | lightning:inputRichText (Beta) |
| | lightning:layout |
| | lightning:layoutItem |
| | lightning:menuItem (Beta) |
| | lightning:select |
| | lightning:spinner |
| | lightning:tab (Beta) |
| | lightning:tabset (Beta) |
| | lightning:textarea |
| | |
| Force Components | force:closeQuickAction |
| | force:createRecord |
| | force:editRecord |
| | force:navigateToObjectHome |
| | force:navigateToRelatedList |
| | force:navigateToSObject |
| | force:navigateToURL |
| | force:recordSave |
| | force:recordSaveSuccess |
| | force:refreshView |
| | force:showToast |
| | |
| Other Components | aura:attribute |
| | aura:application |
| | aura:component |
| | aura:dependency |
| | aura:interface |
| | aura:method |
| | aura:set |
| | ui:actionMenuItem |
| | ui:button |
| | ui:checkboxMenuItem |
| | ui:menu |
| | ui:menuItem |
| | ui:menuItemSeparator |
| | ui:menuList |
| | ui:menuTrigger |
| | ui:menuTriggerLink |
| | ui:message |
| | aura:expression |
| | aura:html |
| | aura:if |
| | aura:iteration |
| | aura:renderIf |
| | aura:template |
| | aura:text |
| | aura:unescapedHtml |
| | auraStorage:init |
| | |
| Lightning Interface | clients:hasEventContext |
| | clients:hasItemContext |
| | flexipage:availableForAllPageTypes |
| | flexipage:availableForRecordHome |
| | forceCommunity:availableForAllPageTypes |
| | force:hasRecordId |
| | force:hasSObjectName |
| | force:hasHostable |
| | force:lightningQuickAction |
| | force:lightningQuickActionWithoutHeader |
| | |
| SOQL & SOSL | What is SOQL? |
| | SOQL Syntax |
| | DML Operations |
| | Insert |
| | Update |
| | Delete |
| | Select |
| | Upsert |
| | Working with Date Functions |
| | Working with Logical Operators |
| | Working with Relational Operators |
| | Working with Conditional Operators |
| | Parent to Child Relationship query |
| | Limitation for Parent to child Query |
| | Child to Parent Relationship query |
| | Limitation for child to parent query |
| | Limitation / governor limits for SOQL |
| | |
| | What is SOSL? |
| | SOSL syntax |
| | Usage of SOSL |
| | Methods in SOSL |
| | Limitations of SOSL |
| | Difference between SOQL and SOSL |