Salesforce Developer Training and Certification Course
Salesforce Developer Training and Certification Course
Where can I get Salesforce Developer Training?
How to get Salesforce Developer Certification?
How to become Salesforce developer?
What is the best Institute for Salesforce Training in USA and India?
What is the future of Salesforce Developer Consultant?
What are the interview questions of Salesforce CRM developer?
We'll answer your questions, you arrived at the correct place where you will get Solution.
[su_tabs]
[su_tab title="Overview"] [su_animate type="fadeInUp"]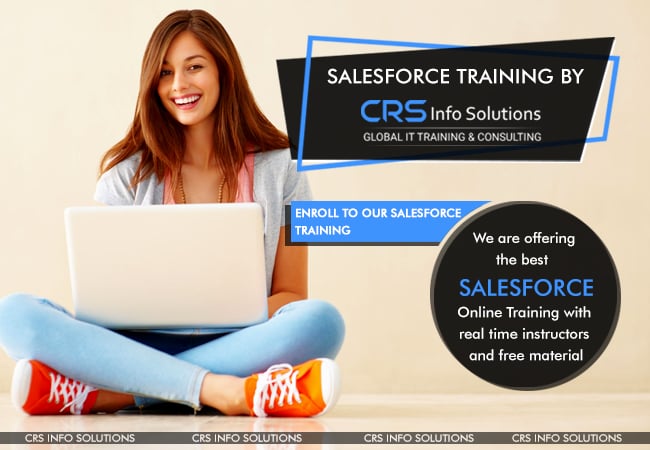 CRS Info solutions is one of the leading institute for Salesforce CRM Developer training and Certification program. We provide Professional Salesforce Developer Training program to our participants around the globe, attend from any part of the world to learn this course. We help you to reach your learning goals with 100% Practical approach and industry based scenarios. Enroll for our Salesforce Developer Training program and become a Certified Salesforce Developer Consultant. We offer CRM Training and Certification under the guidance of experienced and friendly instructors who assist you with Software Certification Programs and Interview Questions.
Course Fee:
Salesforce Admin: Rs. 14,000/- ($250)
Salesforce Developer: Rs. 14,000/- ($250)
Developer Course Duration:
4 weeks for Developer
You can fill the contact form. Our senior consultant will come in touch with you and invite you to Free Demo on Salesforce Developer Course with our instructor.
In Live Demo you will see the following:
– Course Overview
– Current CRM job market Analysis
– Course Curriculum
– FAQs
– Instructor Experiences
– Q&A session and
– Upcoming batch timings.
Benefits of Salesforce CRM as Career.
Learn Salesforce Admin (201) and Developer(401) Online Training to become a certified professional with high salary in USA, UK, Australia and Indian IT companies.
Higher adoption rate
Better job opportunities
Career growth
Cloud computing: Cloud computing has robust performance and highly scalable.
We provide daily notes, course material and real time projects, affordable fee, multiple payment options, Industry standard course curriculum, extensive support in our Salesforce CRM Developer Training. So, are you interested to join in FREE Salesforce Developer Training Webinar interactive session, fill the contact form. Get Free DEMO invitation to your today!
Salesforce is going to create 3.3 million new jobs by 2020 – IDC survey
What companies are using Salesforce CRM?
What are the features of Salesforce CRM?
What are the uses of Salesforce CRM?
Salesforce Developer Training Certification
We are offering genuine salesforce certification after your Developer training in our institute. We are the popular training institute for salesforce online training in India, contact us to know more details about the schedule and course duration.
Salesforce Developer training institutes in India
We offer the job oriented Salesforce CRM Developer training, which is equal to the knowledge 3+ years experienced working person's knowledge. So, if you trainer under CRS info solutions, you will gain practical knowledge, job interview questions and certification related questions. Are you interested to master skills in salesforce technology. Then ours is the right institute to join and master this new technology.
Salesforce Developer Training
India is a fastest growing economy in the world with best growth rate in information technology and software services. Salesforce customer relationship management software has tremendous opportunities in USA and India, a famous analyst Gartner has released in it's recent article that salesforce has good growth compare to other software technologies. So if you are looking for a Best Salesforce Development Training in India, then CRS will be your first choice as Best Software Training Institute India. Come and ask us how we can help you in getting salesforce certification and to become a salesforce expert.
[/su_animate] [/su_tab]
[su_tab title="Course Content"] [su_animate type="fadeInUp"]
COURSE CONTENT:
Our salesforce Developer online training includes both Admin and Development sections. So you can ask your queries, trainer will answer you because there will be very less people in our online class where there is more scope for interaction with trainer.
SFDC Basics and Development
Understanding the terms in SFDC
Introduction to SFDC Editions
Creating Objects, Tabs and Apps in SFDC
Creating layouts and applying hierarchy
Creating roles and profiles
Creating workflow rules
Creating Tasks and Events
Understanding the SFDC admin system
Creating relationships between the objects
SFDC Advanced Development
Invoking Apex
Creating Apex Classes and triggers
Customization using Apex programming
Integration to third party systems using SFDC AP
Introduction to Visual Force
Creating Visual Force pages
Creating Packages
Deploying SFDC
Using Visual Force in a real time scenario
Creating Reports and Dashboards
How CRM is useful in Hospitality, Healthcare, Manufacturing etc
Our Salesforce developer course material will regularly update, you need to contact our support team to get the latest course content.
Please fill our contact form, to get full document of Salesforce Course content (Admin + Dev) and don't miss our demo session.
[/su_animate] [/su_tab]
[su_tab title="Duration"] [su_animate type="fadeInUp"]

Course Details:
Duration :
Dev (401):
4 weeks
Weekdays:
Monday to Friday, daily one hour session.
What if I miss any class?
If you miss any class, you will get that video recording, so that you don't lose any session.
What are the Session Timings:
Regular class timings will be announced at the time of online demo session. So don't miss our demo session to know more details.
Are you interested in joining Salesforce Lightning Training, please contact us or visit web page.
[/su_animate] [/su_tab]
[su_tab title="Trainer"] [su_animate type="fadeInUp"]
About Trainer:
Our trainers are real time working professionals in salesforce technology as admins and developers. Our salesforce trainers are very experienced, they are having vast experience, minimum 10+ years in salesforce world. All our salesforce instructors are certified and trained many people in the past.
Our trainer's Special Features are as follows:
Two Real time Projects
Live project use cases
Ample hands on
One to one attention
Interview preparation
Resume preparation
Certification preparation
Exposure to live environment
Our salesforce trainers are very friendly and patient in solving participants problems and queries. Our primary teaching motto is to make a student perfect in that technology which he is learning with us.
Fill our contact form to reach us, we will share more information.
[/su_animate] [/su_tab]
[su_tab title="Benefits"] [su_animate type="fadeInUp"]
You are going to get following benefits from our training:
Assignments and Practical activities
One to one service
Interview preparation
Resume preparation
Certification preparation
2 Real time Projects
Live project code
Exposure to live environment
We are the leading Salesforce Developer training institute in Bangalore, India with realtime working and knowledgeable instructors. Get Best Salesforce Developer training in Hyderabad from certified trainers and certification assistance event. Attend Sales force certification Training training conducted by CRS Info Solutions which is hands-on and informative coaching and achieve your leading goals. Find the Salesforce Software Training Institute near Mumbai who can give excellent curriculum and professional education on CRM technology.
[/su_animate] [/su_tab]
[su_tab title="Feedback"] [su_animate type="fadeInUp"]
Abhishek Singh
Senior Consultant Deloitte
I have enrolled for Salesforce Admin and development online course at CRS info solutions. It's really the best training i have ever taken and syllabus is highly professional and included practical concepts very well. I found CRS is having the best trainer to teach these topics from fundamentals. I got the excellent training from this institute and I would highly recommend this for you.
Yasmin Sultana
Project Lead, Accenture
Trainer is highly experienced and teaching style is so nice, we can easily get into subject with his simple way of explanation. I have Learnt admin, dev, sandbox, migration, lighting essentials and entire salesforce crm online training is the best in the market. I am very happy with the trainer and the way he take us to practical approach and real world scenarios and I'll give 5 out of 5.
Srikanth Reddy
Salesforce Developer IBM
Trainer explained me each and everything, it was like a complete overview of salesforce world. Then I immediately joined the course. I had completed my course from CRS Info Solutions. Now I am working as Developer in a very good company with excellent package. This is the best for Salesforce Online Training.
Karthik Ganeshan
Salesforce Developer Infosys
I am satisfied with the teaching style and joined the course. Training was really helped for me. Only thing is it was in the morning times 6AM batch hard for me because waking up early in the morning for class, oh my god, those days are still remember but this course is useful for me.
Swathi Rathode
Project Lead Tech Mahindra
If you are looking to learn professional tricks and real time hands on project related issues then it is the best way to join in CRS Info Solutions Salesforce Online Training, because here trainers are really good and very focused, worth for each penny. I will give 5 Stars from my side to their dedication, followup and good training.
Razia Khan
Admin Capgemini
Great Salesforce Online Training with Helpful instructor even during the class / off-the class help. Good blend of business examples / technical content in the slides. I would highly recommend CRS Info Solutions for Salesforce CRM Admin and Dev online training.
Read more reviews
[/su_animate] [/su_tab]
[/su_tabs]