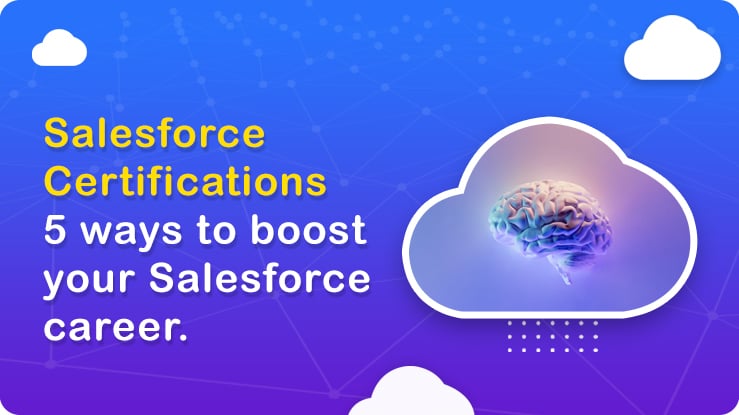 Salesforce Certifications – 5 ways to boost your Salesforce career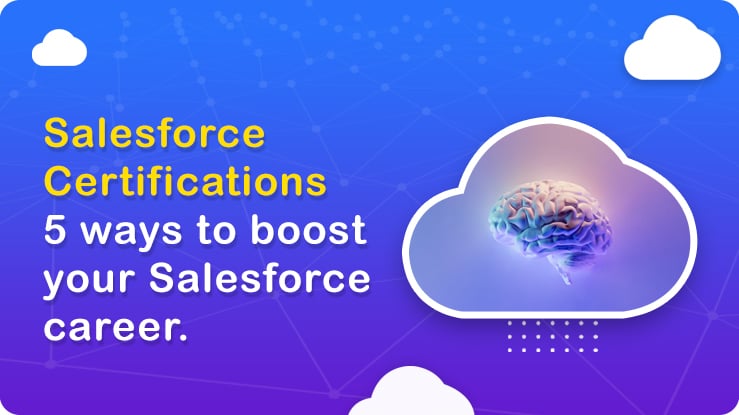 Salesforce Certifications have always been and remain one of the most debated topics when it comes to Salesforce training, getting a Salesforce job, or upgrading your career in Salesforce.
Unlike with some other positions where certificates don`t really prove any practical skills and professional advancements, the whole system of Salesforce Certification is built in a way that really humbles a Salesforce Admin and Salesforce Developer as they prepare for the exam and maintain their Certification once in several months. Moreover, a valid Salesforce Certificate is proof for an employer that this Salesforce Admin or Developer know all the latest Salesforce updates and innovations and can apply it to help their company succeed.
Not to mention that the fact that a Salesforce Admin or Salesforce Developer invested additional time, money, and effort in the Salesforce Certification proves that they are serious, dedicated professionals who should be taken seriously and paid accordingly.
Let`s dive deeper into the world of Salesforce Certification to understand how this system works and why you want to start preparing for your Salesforce Certification test with the best Salesforce training institute.
The outline of Salesforce Certification
Salesforce Certification is a prolonged process that ensures that you are a qualified Salesforce professional whose knowledge and skills in Salesforce CRM are aligned with the latest updates and requirements of the Salesforce ecosystem.
It means that obtaining your Salesforce Certificate once does not do the whole job. It is necessary to maintain your Certification by taking regular tests once in several months and renewing the Certification process if you missed the maintenance period for some reason.
The idea of Salesforce Certification is that Salesforce as the provider and owner of all the technology and tools shares the latest updates and most relevant technologies and guidelines that allow Salesforce professionals to study and implement them in practice. In exchange, Certified Salesforce professionals excel in their job and provide the best Salesforce solutions and services to their employees, and customers of Salesforce.
You can do all your Salesforce training online, easily combining the studies and work schedule. Moreover, you can even take the Salesforce Certification test online as well provided that you can follow the requirements such as installation of a webcam and tracking software to eliminate the risk of cheating.
Except for being a perfect way to keep up with the latest Salesforce trends, certification is also a great opportunity to advance in your career, gain and prove new skills and knowledge and prove yourself as a profound expert.
How does Salesforce Certification help in your career?
There are many ways Salesforce Certification (or lack of it) can affect your career. Here are the 5 main reasons Salesforce professionals and their employers take Salesforce Certification seriously today.
#1 Updated information
When you applied for your Salesforce job, answered all the Salesforce interview questions, and became part of the team, your employer was sure that your knowledge and skills allow them to enjoy all the latest solutions and tools Salesforce CRM has to offer.
However, Salesforce is a very dynamic system, and technologies that worked perfectly a year ago may appear irrelevant today. Salesforce Certification is the guarantee for your employer that you have the latest updated knowledge of Salesforce and can implement it in your job.
#2 Promotion
Like any other career, your Salesforce path may stumble upon many things. There are new Salesforce Admins and Salesforce Developers with fresh knowledge and attitude released from Salesforce training courses. And if you don`t show any interest in learning new skills and discovering new tools Salesforce has to offer, your employer will rather hire a fresh professional with updated knowledge than give you a promotion. If you don`t lose your job eventually, without Salesforce Certification, you risk to stuck in the same place without any promotion perspectives.
#3 Better career perspectives
No matter how attractive your Salesforce position might have looked when you finished your Salesforce training and applied for the job, someday you will feel that you grew out of it and need some new perspectives.
Salesforce Certification is your way to develop as a professional and be able to cover new career perspectives, explore new Salesforce professions, and apply to a larger range of employers including the world`s leading companies.
#4 Better salaries
Statistically Certified Salesforce Admins and Salesforce Developers earn at least 20-25% more than their non-certified colleagues in the same positions.
It is because employers understand that a Certified Salesforce professional can provide them with the most advanced Salesforce solutions and therefore make their business get ahead of competitors. That is why they aim to encourage and stimulate certified Salesforce team members with higher salaries and other benefits.
#5 Mentorship and networking opportunities.
Among many other benefits, Salesforce is famous for its advanced professional community, a unique ecosystem where like-minded people communicate, share ideas and experience and constantly find new opportunities for promotion and development.
Becoming a certified Salesforce expert opens the door to this amazing community, introduces you to the most advanced learning and communication opportunities, and invites you to Salesforce events that often provide amazing networking and promotion perspectives.
Final thoughts
Salesforce has endless career perspectives, high-level salaries, and a tight-knit community of aspired professionals. All these factors attract aspirants of Salesforce training institutes and encourage them to apply for Salesforce positions. However, it is the Salesforce Certification that turns a Salesforce Admin or Developer into a truly successful and financially independent professional.