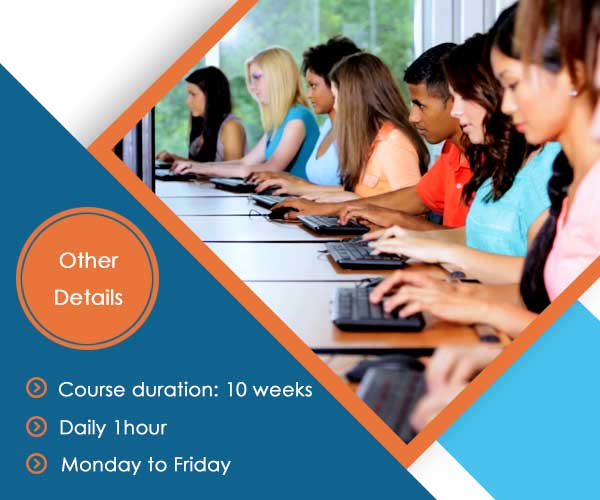 Salesforce CRM Using Apex And Visualforce Training
Salesforce CRM Developer Using Apex And Visualforce Training
CRS Info Solutions designed the Salesforce CRM development using Apex and Visualforce Certification course allows participants to customize applications programmatically on the Force.com platform. Read more information on how to learn apex and visual force in salesforce training and certification by CRS Info Solutions, a leading computer training and software institute.
Programmatic development using Apex and Visualforce
Course Overview:
The Programmatic development using Apex and Visualforce Certification course allows you to customize applications programmatically on the Force.com platform. In this course, students gain knowledge on the core of the Apex programming language and Visualforce markup.
Enroll in this course, to maximize your deployment victory by learning the Salesforce Professional Edition features. Your role as an Admin is important for your organization and this certification course will make it happen.
This course enables you to achieve hands-on experience in building data objects and helps you programmatically retrieve, manipulate and store the data associated with the objects. You can write custom logic using Apex triggers and classes. This course enriches your skills on designing solutions in Apex using conventional technique and allows your code to interact with declarative customizations on the platform.
The advantages of gaining this certification are your knowledge gain at the end of the course in using visual force pages for customizing your user interface and using visual force controllers to modify the behavior of the controller behind the interface.
What you will learn?
During this course, you will learn to:
Use declarative interface to create objects
Use Apex triggers and classes to write business logic customizations
Perform SOQL and DML customizations
Design programmatic solutions
Customize user interface using visual force markup and code
Why get enrolled in this course?
Enroll in this course to:
Gain knowledge of the Visualforce controllers and markup
Develop your skill set in Apex code
Ensure proper designing methods
Understand customization of objects, fields, and records
Course Offerings:
Live/Virtual Training in the presence of online instructors
Quick look at Course Details, Contents, and Demo Videos
Quality Training Manuals for easy understanding
Anytime access to Reference materials
Gain your Course Completion Certificate on the Topic
Guaranteed high pay jobs after completing certification
Course Benefits:
Use declarative interface to create and modify objects
Use Apex triggers and classes to set up and customize business logic
Deploy SOQL and DML for customizations
Learn basic designing
Design programs on a multitenant platform
Customize the user interface using visual force markup and code
Audience:
Program Developers
Any developer who wants to customize and write programs for business logic and user interface layers using Apex and Visualforce
Prerequisite:
Solid understanding of basic concepts of Salesforce and their functions is required
One year experience using Java or Object oriented programming
Basic data modeling for relational databases
Basic knowledge of SQL
Basic understanding of HTML
Basic knowledge of JavaScript
Course Content:
Lesson 1: Overview of Objects and Fields
This chapter introduces you to custom objects and fields. Data stored in your application modeled by the components are the Custom objects. The custom object is composed of several fields. Custom fields are fields you define to store specific pieces of information that are unique to your application. Relationship field is a custom field present an object record, and this field contains a link to another record.
Class 1:
Objects and their capabilities on the Force.com platform
Create a custom object
Class 2:
Develop custom fields
Create relationship fields
Lesson 2: Use Custom Objects and Fields effectively
This experience teaches you to work with custom objects and fields efficiently. Roll-up summary fields are very practical as they allow you to summarize data from a set of detailed records and display this output in a master record. Roll-up summary fields help you display sum, minimum, or maximum value of a field or the record count of all records from the related list.
Class 1:
Create formula fields
Create roll-up summary fields
Identify the capabilities of record types
Lesson 3: Programming with Apex
This session includes a complete overview of Apex programming, its advantages from other languages, why to use Apex transactions, and the method to execute simple apex programs.
Apex programming language allows developers to add business logic and allows to initiate apex code using Web service requests and to use triggers on objects.
Important aspects of Apex compared to Java and c#
Why use Apex transactions and consider governor limits?
Executing simple Apex code
Use the object data type, the primitive data types, and basic control statements
Lesson 4: Use SOQL to Query Data
SOQL queries are like SQL queries, but SOQL uses relationships and not joins for navigation of data. This section teaches you to write query using SOQL, process them and create query dynamically at run time
Class 1:
Use SOQL to write a basic query
Processing Query result in Apex
Create a query at run-time
Lesson 5: Use SOQL to Query Parent-Child Relationships
Relationship Query in SOQL is a query that traverses the relationships between objects to identify and return results. Parent-to-child syntax is different from child-to-parent syntax in SOQL queries. Class 1:
What is a Relationship query in SOQL
Query traversing a child-to-parent relationship
Query traversing a parent-to-child relationship
Lesson 6: Essentials of Data Manipulation Language
Data Manipulation Language allows you to insert, update, delete or restore data in the database. Modification of records one at a time or in groups of multiple records is possible using DML operations.
Class 1:
Methods to invoke DML operations
Write Apex code to invoke DML operations
Methods to handle DML errors
Lesson 7: Trigger Essentials
This lesson describes you all about Trigger.A trigger is an Apex code, and this gets executed either before or after any Data Manipulation Language (DML) events occur. For example, the trigger occurs before any records are inserted into a database or after few records are deleted.
Class 1:
What is a Trigger?
Uses of Trigger
Syntax of a Trigger Definition
Using context variables in a Trigger
Lesson 8: Classes
Apex Class is a template or blueprint from which Apex objects get created. Classes consist of other classes, user-defined methods, variables, exception types, and static initialization code. In most of the cases, Apex classes get modeled on their counterparts in Java.
Class 1:
Definition of Apex Class
Uses of Apex classes
Determine access to the data by an Apex class
Lesson 9: The Save Order of Execution and Apex Transactions
Apex Transactions are a set of operations that get executed as a single unit. This chapter gains you knowledge on the order of execution, Apex lifecycle, and memory lifecycle
Class 1:
Key points in the Order of Execution
Impact on triggers by order of Execution
Class 2:
Lifecycle of an Apex Transaction
Memory lifecycle for static variables
Lesson 10: Testing Essentials
To develop error free code, you need to perform create and execute unit tests using Apex code. Unit testing confirms the right working of the system. Salesforce user interface determines the available test execution methods.
Class 1:
About Apex's testing framework
Create test data
Write and run an Apex test
Lesson 11: Testing Strategies
This lesson makes you understand all the testing strategies applicable in Apex and use DML to query the database.
Class 1:
Learn natural methods to write code and execute
Create Triggers and Classes
Class 2:
Use DML for testing code
Write code for database querying
Lesson 12: Strategies for Designing Efficient Apex Solutions
The most effective designing methods using Apex solutions and best practices are taught in this course.
Class 1:
Determine your code coverage percentages
Create tests using best practices
Lesson 13: Trigger Design Strategies
This section explains the mechanisms involved with Declarative and programmatic solutions.
Class 1:
List declarative mechanisms for implementing complex business logic
Identify declarative methods for improving programmatic solutions
Lesson 14: Visualforce pages
Visualforce pages are fascinating framework available in Salesforce. The Visualforce pages allow you to create User Interface using the Visualforce controllers. Salesforce provides a standard controller for all standard and all custom objects with the "standard Controller" attribute.
Class 1:
Creating visual force pages
Use standard controller
Class 2:
Use custom button to launch visual force page
Display data in a Visualforce page
Lesson 15: Visualforce View and Controller
Class 1:
Create a Visualforce page
Display related data
Invoke standard controller actions
Lesson 16: Custom Controllers
Custom controllers allow you to create your customization using the Apex class whereas standard controllers support only built in standard functionality. Controller extensions are extensions to existing Apex class.
Class 1:
Creating controller extensions
Creating a custom controller
Class 2:
Using Properties
Using Page References
Invoking custom methods in Visualforce pages
Class 3:
Working with List Controllers and SOSL Queries
Using a standard list controller in a Visualforce page
Class 4:
Using SOSL query
Creating custom list controller
Lesson 17: Visualforce Development
Class 1:
Analyzing requirements of visual force
Governor limit issues and security concerns
Visualforce strategies
Lesson 18: Testing the Visualforce Controllers
The fields, components, and controller state are all available in the view state of the visual force controller.
Class 1:
Interaction of the Visualforce controller with the view
Write tests for controller constructors
Write tests for action methods, getters, setters, and properties
FAQs:
1.What will I gain taking this certificate course?
At the end of this training, you will be able to perform most commonly requested customizations, the ability to apply your course knowledge on the job, ability to present your skills and knowledge to others for career development.
2. Why is Apex used in Salesforce?
Apex is a strong typed Object Oriented Programming Language. Apex is employed in Salesforce as it provides good web service support and integrates well with the database.
Apex language provides a powerful and productive environment to create functionality and logic, allowing developers to focus just on other elements specific to their application.
3. What are the uses of Apex?
Use Apex to
Create Web services
Create Email Services
Perform complex validation over multiple objects
Create complex business process
Create custom logic to another Application
4. What is the importance of Objects?
Objects are the important key to this object-oriented design. Object oriented analysis and design requires identifying the object efficiently. What is Salesforce?
5. What are the principles of Object Orientation?
Abstraction, Encapsulation, Modularity, and Hierarchy are the principles of Object Orientation.
6. Why is there a need to use user interface?
An interface provides a connection between an object and method and ensures a behavior by an object. Interfaces are necessary as they reduce the number of lines of code and abstract an algorithm from data.
7. Identify the differences between SOQL and SOSL?
SOQL is Salesforce Object Query Language which allows us to search objects only one at a time and query on all fields of any data type. SOQL can be used in Triggers and classes and perform DML operation on query results.
SOSL is Salesforce Object Search Language which allows you to search many objects at a time and query on fields whose datatype is text, phone, and email. SOSL can be used in classes but not in Triggers and cannot perform DML operation on query results.
8. What is meant by Visual force?
At the end of this training, you will be able to perform most commonly requested customizations, the ability to apply your course knowledge on the job, ability to present your skills and knowledge to others for career development.
9. Why is Apex used in Salesforce?
Visualforce markup provides user interface components to be added on the page, and control the way of appearance.
10. What are Visual Force Controllers?
A set of instructions that describes the action occurring when the user interacts with the components associated with the visual force markup is called Visualforce Controllers.
Visualforce Controllers provide access to the data to be presented on a page and modify component behavior.
11. What are the advantages of using Custom Controllers?
Benefits of using Custom Controllers are
Override existing functionality
Create your functionality
Customize Navigation
Use HTTP Callouts and Web Services
Control the access of information