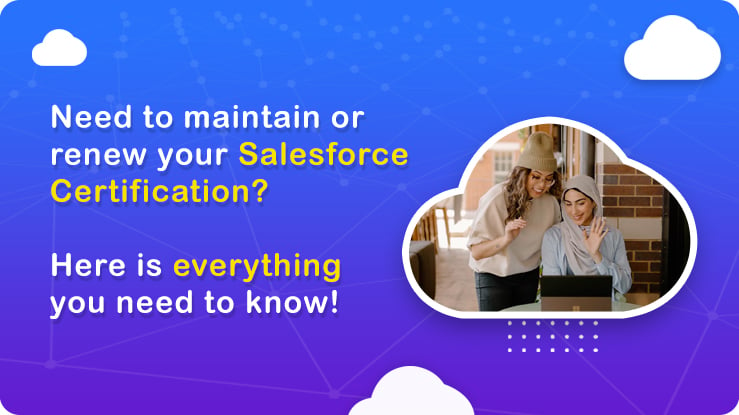 Need to maintain or renew your Salesforce Certification? Here is everything you need to know!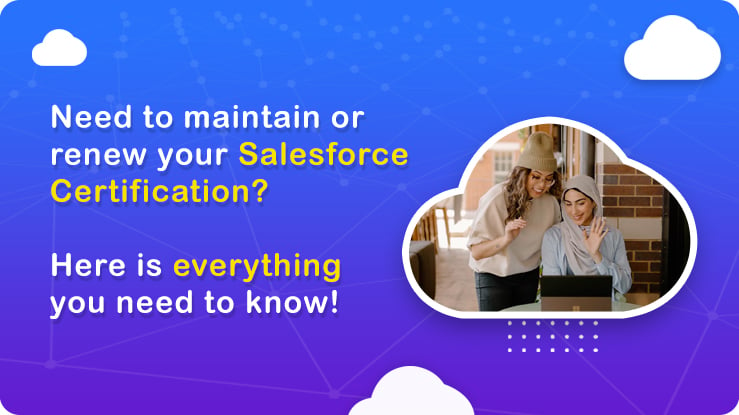 Salesforce is one of the most perspective career choices o the modern market. Not only it allows you to find a job in any industry or market segment since all sorts of companies and organizations are seeking Salesforce CRM solutions, but Salesforce also offers a convenient and efficient tool for Salesforce Admins, Salesforce Developers, and other professionals to advance and develop their careers. We are talking about Salesforce Certification.
If you are reading this article, you have probably already finished your Salesforce training, got some practical experience working with Salesforce, and even got your first Salesforce Admin or Salesforce Developer Certificate.
However, we all know that Salesforce is a career where you never really stop learning, and to remain a highly-valued Salesforce professional you need to maintain your Salesforce Certification. And if for any reason you had to take a break from your Salesforce Certification, you need to renew it in order to get on with your career again.
That is why in this article we shall not talk about the benefits and necessity of the Salesforce Certification itself, you probably know all that already. But now we would like to guide those who want to keep on with their Salesforce Certification, maintain or renew it as soon as possible.
Why maintain Salesforce Certification?
Salesforce is a complex and constantly developing platform that releases new solutions and updates all the time. In order to keep up with the pace of those updates and be able to provide your employer with the best CRM solutions Salesforce has to offer, you need to maintain your Salesforce Certification. It is the only way to keep up with the latest updates and remain on the cutting edge of Salesforce solutions.
Here is what you know about Salesforce Certification Maintenance:
Plan your studies – once again, you need to study for the new Salesforce Certification test as if you have never done any testing before. Build your schedule according to your preferences and learning pace, but keep in mind that it is best to set deadlines and milestones for your Salesforce studies and not to pull the preparation for too long;
Sick to the plan – whether you addressed a Salesforce training platform for your studies or prepare on your own, create a plan and stick to it thoroughly;
Salesforce mentorship – it is always best to use the guidance and experience of certified Salesforce experts. Address a Salesforce training course, use their Salesforce questions and answers, participate in webinars and study groups;
Be a part of the Salesforce community – Salesforce is famous for its vast international community and unique ecosystem. Seek professional forums, social media, and resources where you will find like-minded people, fellow aspirants, and aspiring mentors.
Here is what to do if you need to renew your Salesforce Certification.
In order to maintain your Salesforce certification, you need to take the Certification test 3 times per year. Once you miss the Certification period or fail to maintain the Salesforce Certificate for any other reason, you will have to renew the Certification to get back on track with your Salesforce career.
Technically, to renew a Salesforce Certification means to get Certified from the scratch. However, once you have already passed the test before, it will definitely be easier for you to renew the status as you are already familiar with the training and testing routine.
Here are some basic rules to observe once you decide to renew your Salesforce Admin Certificate:
Know what you are preparing for – Salesforce Certification exams are changing constantly and the fact that you took it before does not mean that you know everything and can take it again without any thorough preparation. Make sure that you know everything about the relevant Certification format, the exam structure, demands, and conditions in order to plan your studies;
Use guidance – Salesforce platform releases a Salesforce Certification exam guide that can help aspirants plan their preparation. However, it is always best to address a Salesforce training platform, where you can get the latest updates, assistance, and feedback about the study process;
Use Q&A Checklists – your Salesforce training program will contain Salesforce questions with answers checklists. You can find those online as well, but in this case, there won't be any guarantee that you are using relevant study materials;
Use the potential of study groups and webinars – online webinars and study groups are not only the best way to get instant answers and clarifications but also a chance to network, find like-minded colleagues, and boost your Salesforce career.
Stay updated and develop your Salesforce career
As we have already mentioned, Salesforce is an incredibly dynamic platform, and staying updated is the only way to keep up and develop your career as a Salesforce Admin or Salesforce Developer. Salesforce Certification is the best way to make sure that your career won`t stall and that you will achieve all your goals in Salesforce.
However, it is essential to stay updated even in between the certification sessions. Here is how to make sure that you are aware of the latest developments in Salesforce:
Follow Salesforce events – by attending Salesforce events you become a part of a unique community, get a chance to establish new connections, boost your career, and seek mentorship from the world`s leading experts. Never miss a Salesforce event if you get a chance to attend it;
Salesforce blogs and social media – there are loads of professional profiles on various platforms like YouTube, LinkedIn, or any other social media, where you can learn from the leaders of the Salesforce community, find some free training materials and learn about the latest updates and solutions announced by Salesforce.
Final Thoughts
Salesforce Certification is the demonstration of your professionalism and a guarantee that your employer will receive the latest and best Salesforce CRM solutions. That is why in return Certified Salesforce Admins receive at least 20% higher salaries than their non-certified colleagues.
To maintain or renew your Salesforce Certification, you will have to work hard, seek mentorship, join the online community and study groups and invest a fair amount of your time and effort into the process. However, this investment instantly pays back with a career boost and financial rewards that are definitely worth the effort.