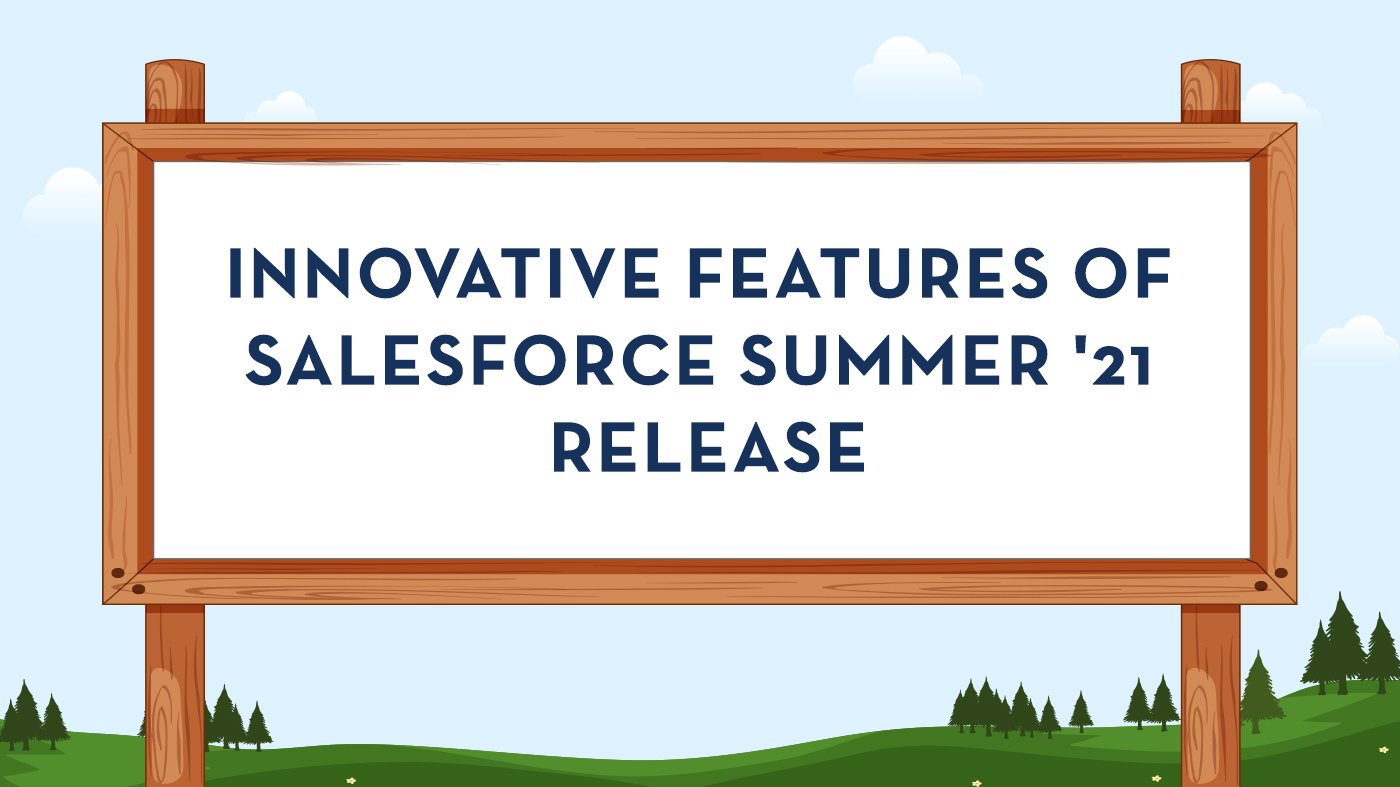 Innovative features of Salesforce Summer '21 Release
Salesforce has three major releases every year. Recently, Salesforce has launched its summer 21 release with some innovative and cool features. The new releases come up with new features for the admins and the developers in the backend and the UI enhancement for the end-users. Let's deep dive into some of the major features of the summer 21 release.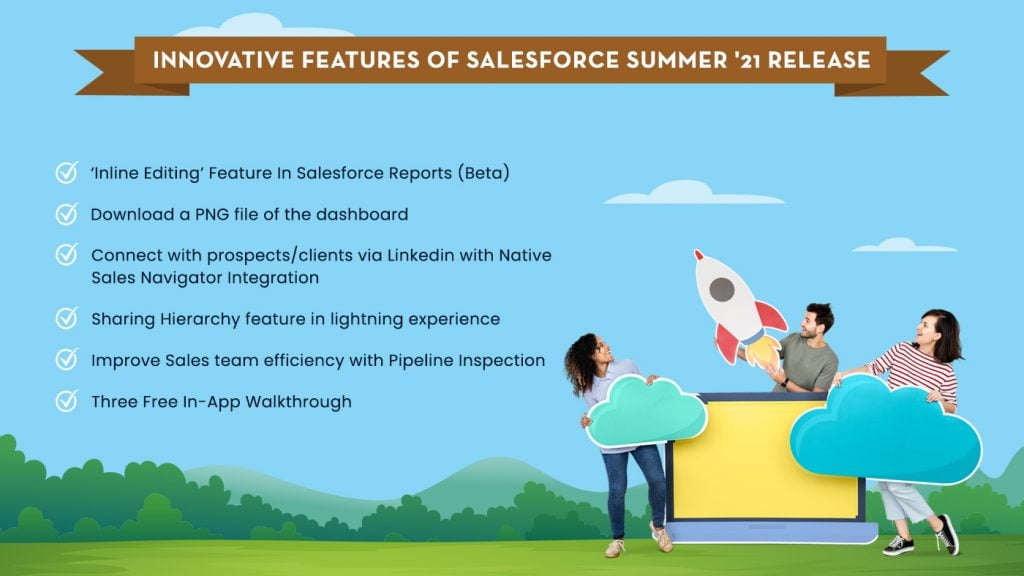 'Inline Editing' Feature In Salesforce Reports (Beta) :
Salesforce introduced an 'Inline Editing' feature in Reports. You can now update some fields (text, numeric, and checkbox) in a record without leaving the report view, for example, a sales rep can edit the Probability field on an Opportunity report while viewing the report and the report will refresh automatically. This feature is rolled out in lightning experience only. Following are the steps to enable inline editing in the reports.

Request the Salesforce customer support to turn on the inline editing feature in your org.
Go to setup and enter 'Reports and Dashboards Settings' in the quick find box.
Select Enable Inline Editing in Reports (Lightning Experience only) and click save.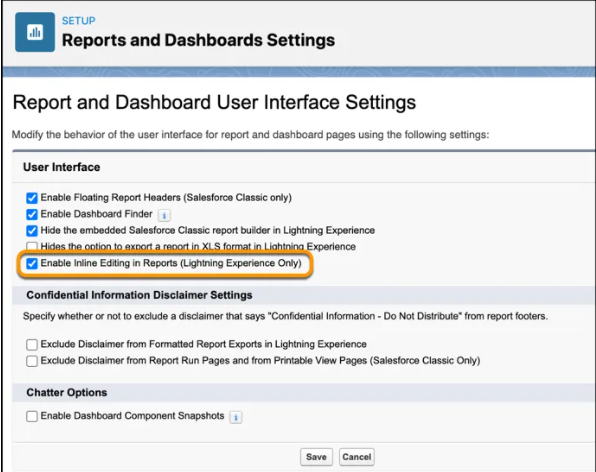 Inline editing is not available for the following fields and the field types.
Task and event object fields.
System fields such as Record ID and Created Date.
Compound fields, including name and address fields.
Picklists, Custom date/time fields, Encrypted text fields, Formula fields.
Standard fields of type date/time, auto number, roll-up summary, record type, master-detail, long text area, rich text, or hierarchy.
Fields where editing is not permitted because of page layout or record type restrictions.
Download a PNG file of the dashboard:
In the past, dashboard images could only be captured using screen-capture applications but now the dashboard can be downloaded as a PNG file that can be used in a document, presentation, or wherever you want. This feature is rolled out in Lightning Experience only. Following are the steps to download a dashboard as a png file.
Go to the Dashboard tab from the app launcher and open a dashboard.
From the buttons, click on the Download button, and the dashboard will be saved to the specified location in PNG format.
Connect with prospects/clients via Linkedin with Native Sales Navigator Integration:
LinkedIn Navigator integration was previously available as an AppExchange Application but Salesforce has launched native Sales Navigator integration in the Summer '21 release. The native integration allows sales reps to connect to the customers in more ways and with more information. With native components, sales representatives can view LinkedIn profiles through the Lead, Contact, Opportunity and Account pages. They can also use native Lightning actions to send InMails and connection requests. These changes apply to lightning experience in Enterprise, Professional, and Unlimited editions. This feature is only available to users licensed as Sales Navigator Team or Enterprise on LinkedIn. Following are the steps to enable this integration.
Add the LinkedIn Sales Navigator (Native) components to the lead, contact, opportunity, and account pages through Lightning App Builder.
Add the InMail and Connection Request Lightning actions to the same pages.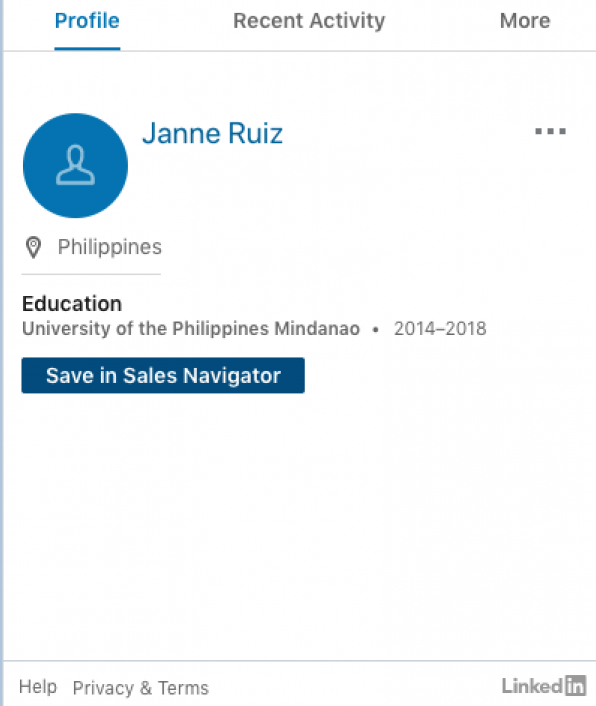 Sharing Hierarchy feature in lightning experience:
Why does a user have access to a record? Is it because of their role? As a result of a sharing rule? From the Record Sharing Hierarchy in Lightning Experience, you can now view why a user has the access they do. Previously, to view this information, you had to switch to Salesforce Classic. Sharing Hierarchy is now available from the action menu, rather than just the Share window.


Improve Sales team efficiency with Pipeline Inspection:
Pipeline Inspection provides sales teams with a consolidated view of their pipelines, complete with key metrics, opportunities, and weekly changes in close dates, amounts, stages, and forecast categories. With these insights, sales teams can concentrate on the most important opportunities, and sales managers can devote more time to coaching reps on how to close more deals. This modification is applicable to Sales Cloud in Lightning Experience in Performance and Unlimited editions. This feature will be available in production soon after all instances have been upgraded to the Summer '21 release. Run Match Production License or request a refresh after the feature is available in production to see it in sandboxes. To use Pipeline Inspection, users must have the Pipeline Inspection permission set. Following are the steps to enable this feature.
Go to setup and enter Pipeline Inspection in the Quick Find box and click Pipeline Inspection Setup.
Turn on Pipeline Inspection
Verify that historical trending is enabled and configured for opportunities.
Add the Pipeline Inspection button and assign the Pipeline Inspection permission set to the users.
Once enabled, users can access Pipeline Inspection from the Opportunities tab.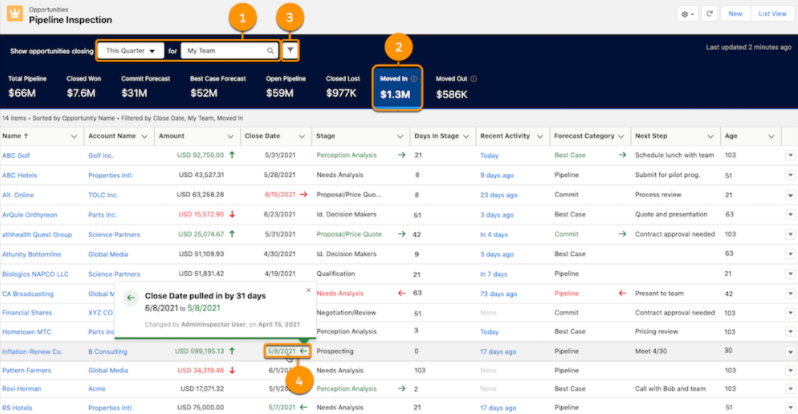 Three Free In-App Walkthrough:
You will receive 3 free Walkthroughs with the Summer '21 release of MyTrailhead. Previously, Walkthroughs were a paid feature.
Through a walkthrough, you can provide new or existing users with a step-by-step explanation of a feature or the onboarding process. Check out the link to get detailed information on walkthroughs.