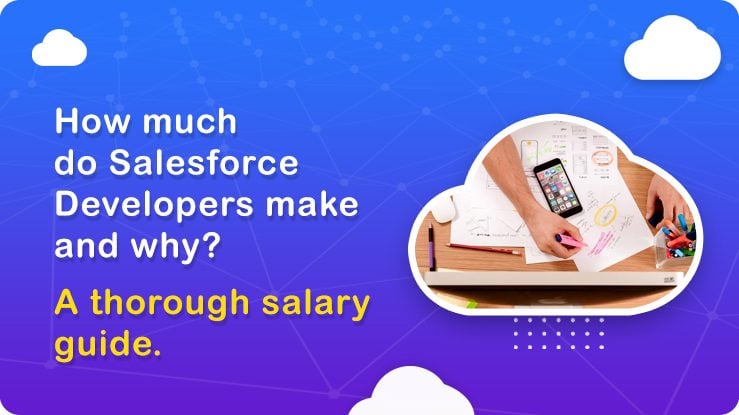 How much do Salesforce Developers make and why? A thorough salary guide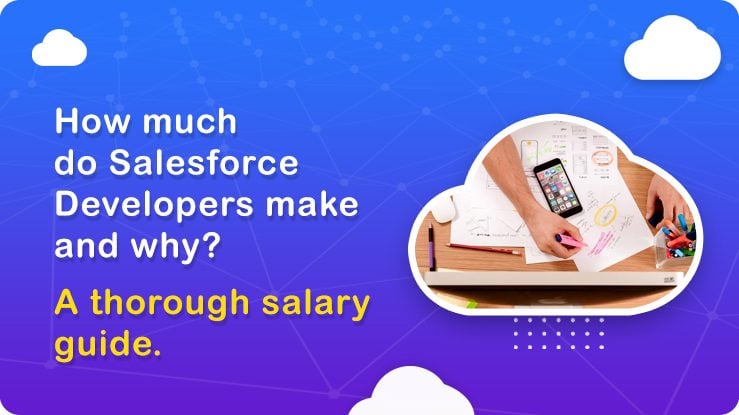 Various professionals decide to build their careers in Salesforce for different reasons. Some are attracted by career growth and development perspectives, while others look for the perfect work-life balance that the Salesforce ecosystem has to offer. There are those who see Salesforce training as an opportunity to boost their existing careers in relevant fields and those who came to Salesforce seeking a fresh start in a rapidly developing and prospective field.
However, all those professionals will admit that financial independence and the significantly higher salaries in the Salesforce job market are among the top reasons they started their Salesforce Developer training.
Yes, Salesforce Developer is among the top-paid jobs worldwide today. But how much can you actually expect to earn as a Salesforce Developer today? And how to achieve those top-ranked salaries for Salesforce Developers?
How much can you make as a Salesforce Developer?
Of course, many different factors will influence how much you will earn as a Salesforce Developer. From training, experience, and Salesforce Certification to the way you will prove yourself at the Salesforce job interview.
However, let`s observe some average numbers to have a general understanding of what paycheck you should expect after your Salesforce Developer training.
According to the most popular job and salary portals, an average salary of a Salesforce Developer in India ranges between ₹ 2.4 Lakhs to ₹ 11.0 Lakhs. It is one of the top-paying jobs in the country, which at the same time is an entry-level position in Salesforce. It means that your salary will definitely grow while you will be getting experience in Salesforce, gaining your Salesforce Developer Certification, and obtaining new professional levels.
In the United States the average annual salary of a Salesforce Developer varies from $78,000 to $103,000 depending on the employer and the state. Some of the best American companies like Apple and Spotify are actively using Salesforce and gladly hire Salesforce Developers worldwide. That is why those numbers may be relevant for you wherever you live and study Salesforce at the moment.
If you look at the worldwide practice, the salaries of Salesforce developers exceed the national average wages by at least 20%, making Salesforce developer training a prominent investment.
How to secure a top-paying Salesforce Developer job.
Of course, the fact that you have finished your Salesforce Developer training and applied for your very first job in Salesforce does not guarantee instantly that you will instantly get a top-rank salary. As we have already mentioned, there are many factors that will influence how much you will earn as a Salesforce Developer.
However, there are ways to ensure that you will not be disappointed with your Salesforce Developer career and paycheck. Here are some fundamental factors and tips to watch out for:
Hands-on experience – the work of a Salesforce Developer is all about practice and experience that you get from live assignments. Mae sure that your Salesforce training provides a fair share of practical tasks that can be added to your portfolio and enrich your professional skills;
Mentorship and training – once you get mentorship from certified Salesforce professionals from different fields, you will be able to claim yourself an advance Salesforce Developer with a deeper understanding of the field and therefore better professional perspectives;
Up-to-date knowledge – Salesforce Certification for Salesforce Developers is not just another pretty line in a resume but a guarantee that you are aware of the latest updates and developments in Salesforce solutions and therefore will let your employer get the most out of the world`s #1 CRM platform;
Learning mindset – Salesforce is a profession where you never really stop learning. A proper mindset and readiness to seek and absorb new information backed up by the best Salesforce training platforms will guarantee you stable professional and financial growth as a Salesforce Developer.
Final Thoughts
Every successful Salesforce career starts with thorough Salesforce training. As for a Salesforce Developer position, the training process never really stops, which allows you to improve and discover new opportunities.
Your Salesforce job interview will play a great role in the formation of your pay check, therefore make sure to prepare for this important stage in your career using Salesforce questions and answers checklists. And always remember that there is a space for growth and improvement, which will be guaranteed by Salesforce Certification. Make sure to check out the Salesforce Platform Developer 1 certification Guide and follow the mentorship of certified experts to secure the Salesforce salary you are aiming at.