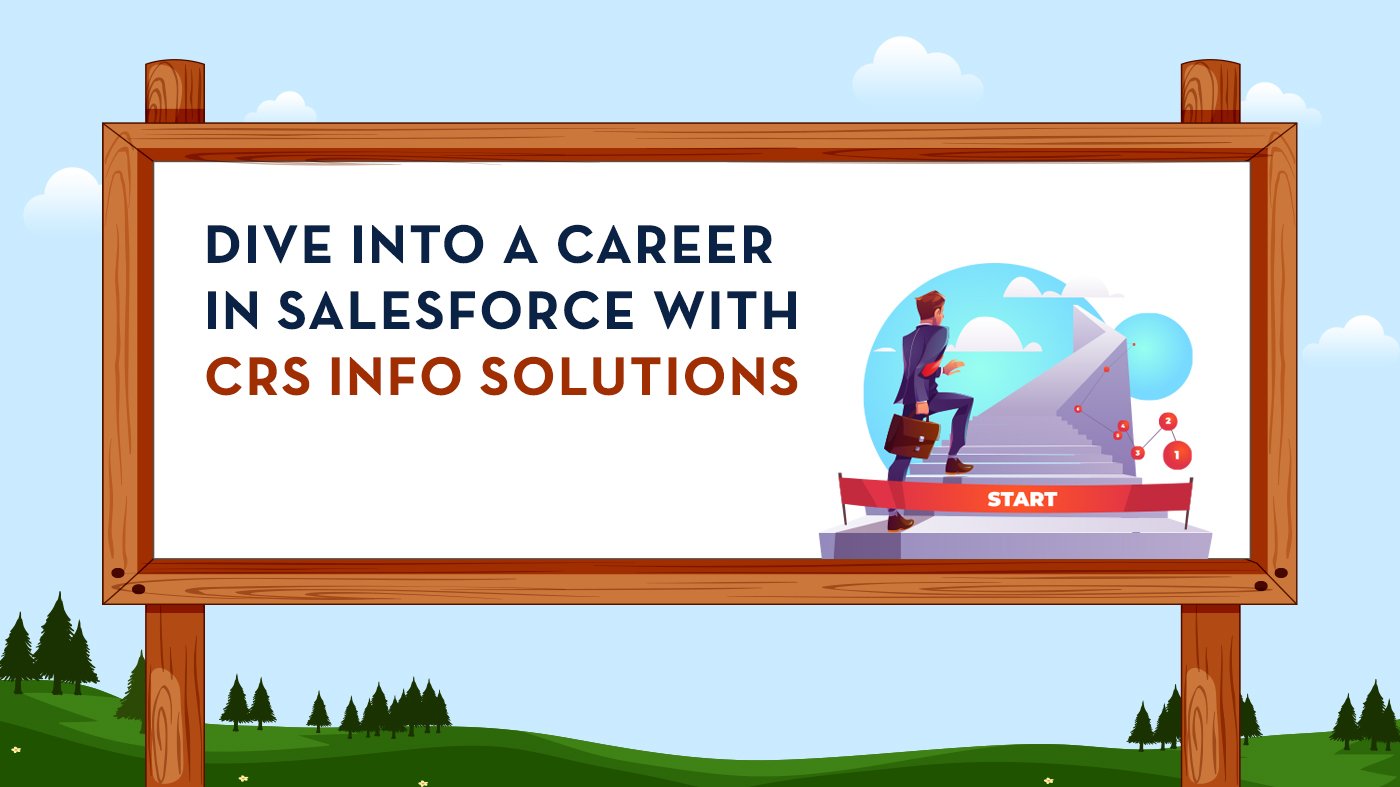 Dive into a career in Salesforce with CRS Info Solutions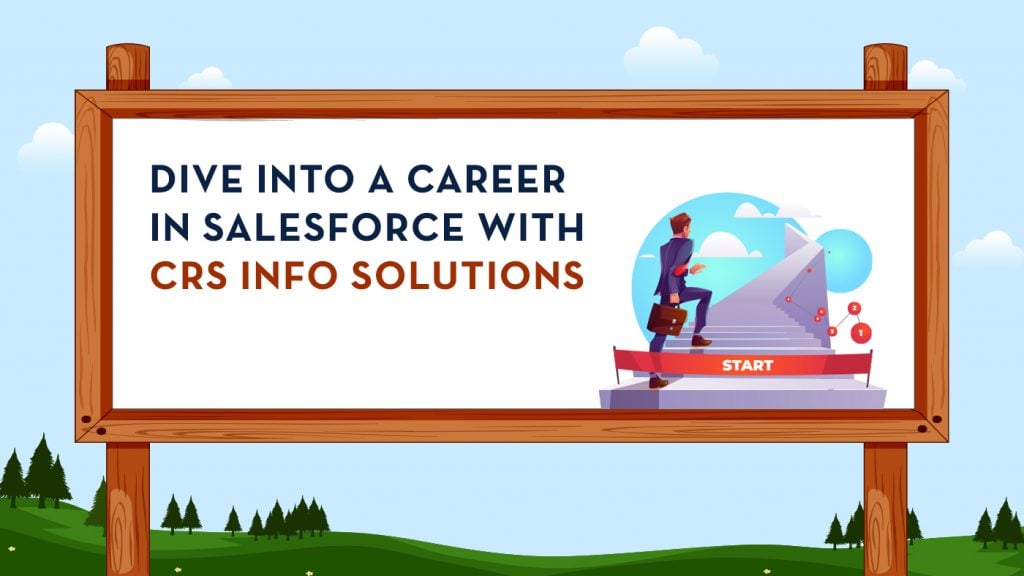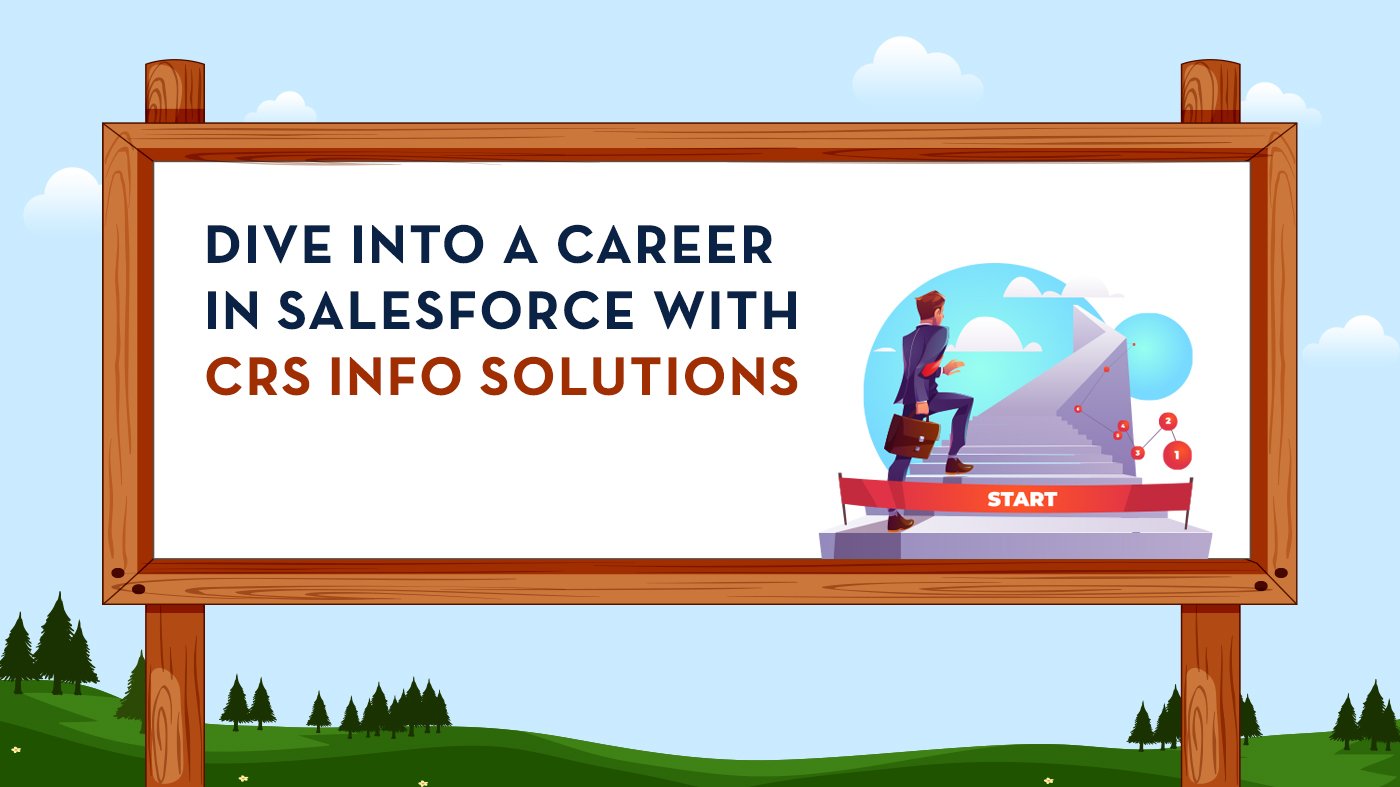 From Salesforce developers to administrators, career opportunities in Salesforce are booming across the world today. As its job market gets ready to scale up with an estimated rise of 548,400 jobs, in India alone, by 2024, Salesforce provides the perfect opportunity for someone looking for new challenges in a new career path.
The road to starting a career in Salesforce should pass through many hoops like learning Salesforce software, getting certified, and facing job interviews. And it might not be the easiest road to navigate on your own.
This is where we step in. Our organization, CRS Info Solutions, provides an all-in-one training program that walks you through each of these steps under the guidance of our industry experts. By the end of our training process, you'll gain the necessary experience and discover invaluable opportunities to quickly realize your dream of a career in Salesforce.
Why should you opt for a career in Salesforce?
Besides the booming demand for Salesforce professionals in today's job market, opting for a career in Salesforce comes with many benefits. As the leading CRM solution provider in the world, Salesforce has always stood ahead of its competition by constantly evolving with the help of the latest technology trends. And there are no signs to say they are slowing down anytime soon.
In addition to the fulfillment of working with top-notch software in the CRM market, you get to enjoy the high-end salaries when you choose a career in Salesforce. In fact, today, a Salesforce developer in India earns an average of ₹9,42,801 per year according to Indeed; the salary of a Salesforce administrator has an average of ₹6,45,959 per year.
When you combine these two factors, salary and job satisfaction, who wouldn't want to start working as a Salesforce Admin, Developer, Consultant professional?
How can CRS Info Solutions help you realize your dreams?
CRS Info Solutions is one of the leading Salesforce training institutes in the world today. Our training program is curated to guide you through the learning, certification, and job hunting process of starting a Salesforce career under a set of instructors with over ten years of experience working in the industry. We provide a 60-day program with one-hour-long classes our students can attend online from anywhere in the world.
Our job-oriented training program ensures that you gain the necessary knowledge, hands-on experience, and the right skillset to fast-track your jump into a career in Salesforce. Instead of the feeling of diving into the deep end preparing for Salesforce jobs on your own, our structured courses ease you into the ins and outs of Salesforce software and what a career in Salesforce entails in a matter of 60 days.
Should you fulfill any prerequisites?
Absolutely no. Starting Salesforce training is something anyone from anywhere in the world can do. You don't have to be a degree holder in a specific stream to dive into a career in Salesforce. As long as you are ready to go through the necessary training process and gain experience working with Salesforce products, the opportunity is open for you to join our program whether you're a graduate, working professional, housewife, or student.
Joining our training program gives you the chance to become one of the Salesforce professionals we discuss in the next section.
What Salesforce career paths does our training program cover?
Our training program offers three modules covering four career paths in Salesforce: Admin, Developer, Lightning, and Integration. Starting with Salesforce Admin, you can use each of these modules as a stepping stone to the next ones in your learning journey.
If you're an absolute beginner to Salesforce, it's always good to start with the Salesforce Admin module. It doesn't require any prior programming knowledge and isn't challenging to follow. The second module, Salesforce Developer, requires you to have some experience working with OOP (object-oriented programming) in a language like Java.
The most advanced training modules we provide to our students are Lightning and Integration. The Lightning module shapes you into a faster and more advanced Developer by introducing Javascript programing. The integration module takes this another step ahead and strengthens your development knowledge under the Salesforce platform.
Our way of training future Salesforce professionals
Upon joining our training program, our students get to participate in our training sessions from anywhere in the world as long as they have a laptop, desktop, or even mobile phone and a good internet connection.
We conduct our classes online via webinar software, where you get the opportunity to attend classes led by experts in the CRM industry and interact with them. You should have the meeting ID and password information our team shares with you for joining these online classes.
Main features of our training program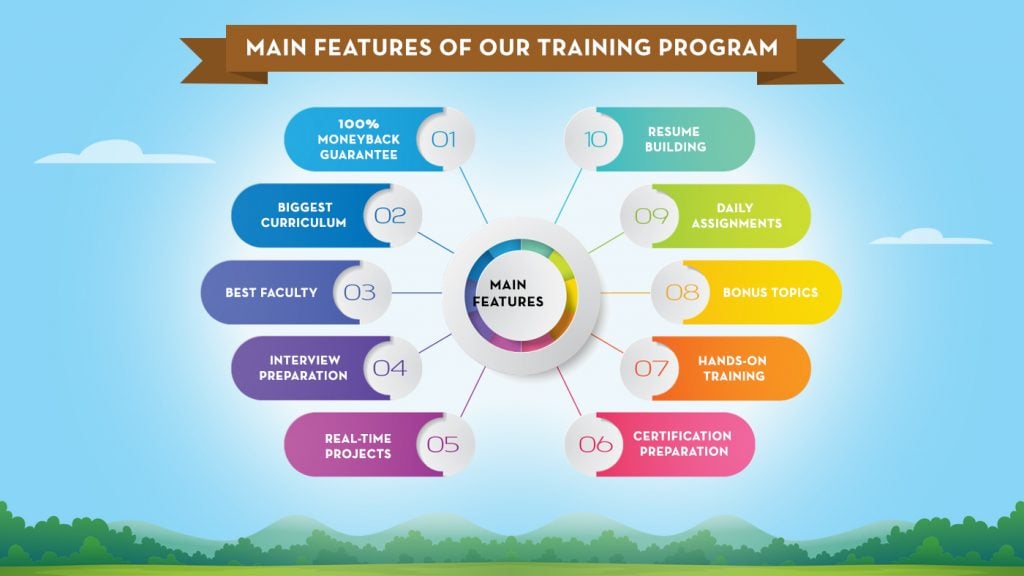 ✅ 100% money-back guarantee:
Our students get the opportunity to attend the first three classes of our training program free of charge. If you're not satisfied with our services by the end of the free class sessions, you can request a full refund of your payments. With our money-back guarantee, you don't have to just take our word; come and see if our training program suits you without any fear of losing your well-earned money.
✅ Biggest curriculum:
Among the number of Salesforce training providers in today's market, we present you the biggest curriculum with a combination of Salesforce Administration, Development, Lighting, and Integration modules and bonus topics. Once you join our training program, you gain access to our 170+ hours of free course content and videos to horn your Salesforce skills even further.
✅ Best faculty:
Our faculty consists of industry experts, including Salesforce MVPs, with 15+ years of experience working at the top level of leading software companies in the world.
✅ Making of "working professionals":
Our training program doesn't only focus on teaching you how to work with Salesforce products. We shape you into professionals who can start working with lucrative salaries right after completing the training process.
✅ Certification preparation:
We offer maximum support to our students to prepare for Salesforce certification exams. With extensive learning material, simulated quizzes, and special Q&A sessions, we provide a curriculum you can fully rely on to earn your Salesforce certifications.
✅ Interview preparation:
Part of our aim towards shaping working professionals is preparing them for job interviews with state-of-art Salesforce interview questions and answers material. With that goal, our daily classes share tips and tricks to help you gain the confidence and practice required for facing interviews of any difficulty level. You're looking to crack an interview with a Fortune 500 company? No worries, by the end of our training program you'll be raring to take your chances against the giants in the technology world.
✅ Real-time projects:
Our training program integrated working with 3-4 real-time Salesforce projects to give you the chance to gain hands-on, real-world experience working with CRM projects. It allows you to enter the job market as a candidate with a higher level of experience and understanding about Salesforce.
✅ Resume building:
Building a resume that showcases your experience and expertise in Salesforce is key to presenting a good image of yourself to potential employers. Our instructors are dedicated to guiding you through the process of creating attractive, on-point resumes that help you stand out as an Admin, Developer, or Lightning student.
✅ Daily assignments:
We provide in-class and after-class assignments to review and refresh your memory and knowledge on everything you learn in online classes.
✅ Bonus topics:
We supply around 120 hours of free course content to students enrolled in our training program.
✅ Hands-on training:
Our training program is designed to teach our students through hands-on practice sessions from day one. It'll give you an understanding of not just theoretical knowledge, but also applying those theories to solve problems in the real-world context.
Wrapping up
Salesforce has now become one of the best career paths for aspiring professionals in the technology world. Even though you have to follow a learning path before entering the Salesforce job market, the training program we offer at CRS Info Solutions helps you reach that final stage with less frustration and more understanding about what to expect in the industry. And once you finish our 60-day Salesforce Admin Developer Certification training program, you'll get to enter the job market and open up invaluable opportunities as a working professional in the industry.