Data Management – Salesforce Admin Tutorial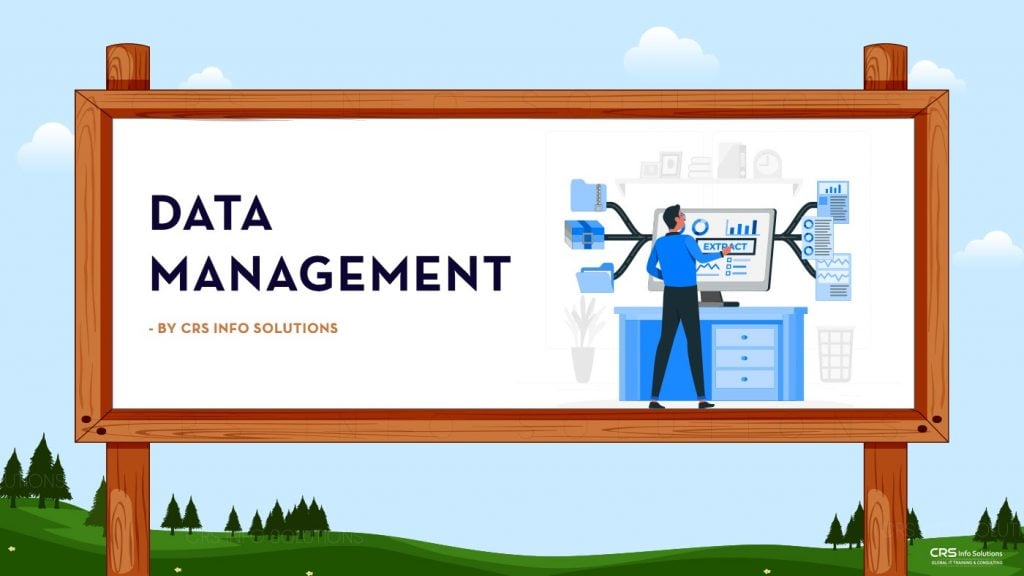 Data Managements means import/export of data from/to the external system using out of the box or third-party tools. We can classify into two types:
Data Import
Data Export
There are various tools which can be used for import/export of data in/from salesforce.
Data Import Wizard
Data Export Wizard
Data Loader
Workbench
Data Import Wizard
This is the salesforce out of the box tool which can be used for only data import for the standard objects i.e. Accounts, Contacts, leads and other custom objects. This is accessible through Setup menu. You can also monitor the jobs done by import wizard.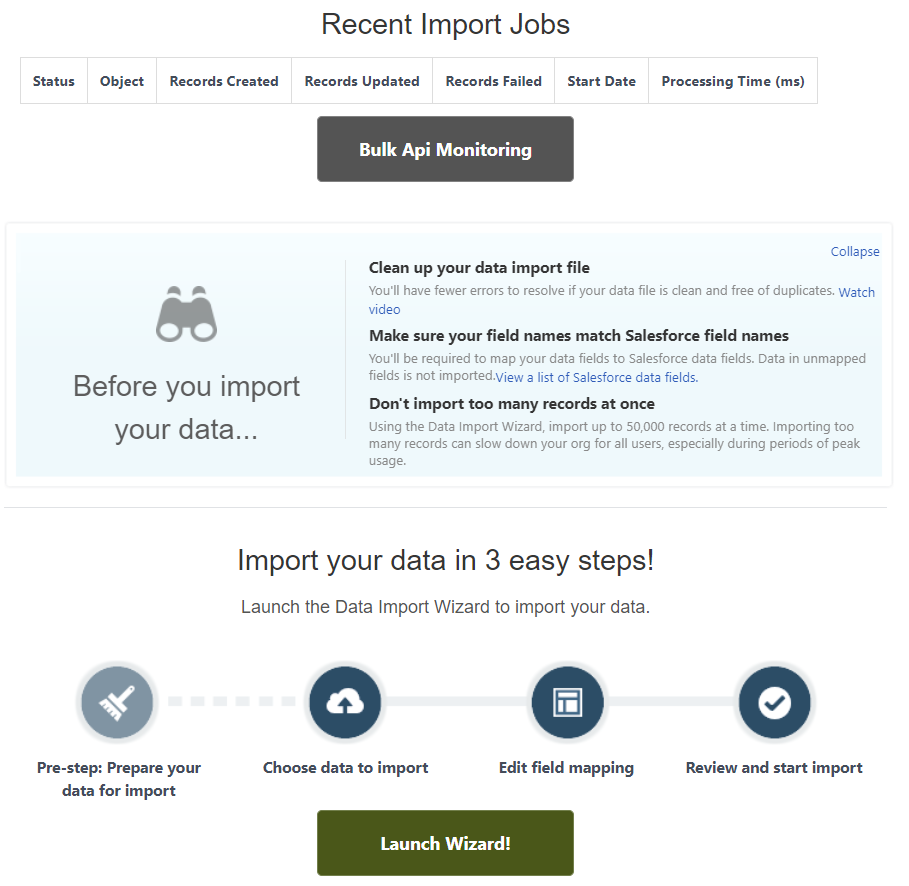 Following are the steps to import data using Data Import Wizard:
From Setup, enter Data import Wizard.
Click Launch Wizard button.
Choose the object for data import.


After the objects is selected you can choose anyone from the below operations:

Add new records
Update Existing records
Add new and Update Existing records

After selecting the operation you can select the matching fields and other parameters as per below image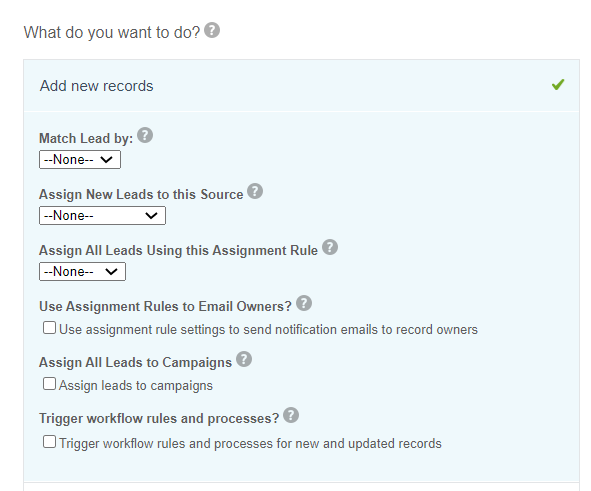 Select the csv file where all the records which needs to be inserted/updated residing.
Click next button.
You can check the status of job on home page of import wizard.
Data Export Wizard
This is only out of the box tool used for exporting the data from salesforce. You can access this through Setup menu. There are two options which are available:
Export now – It will act as an immediate action.
Schedule Export – You can specify the time when to export.
When you click on Export now option. Below screen will be opened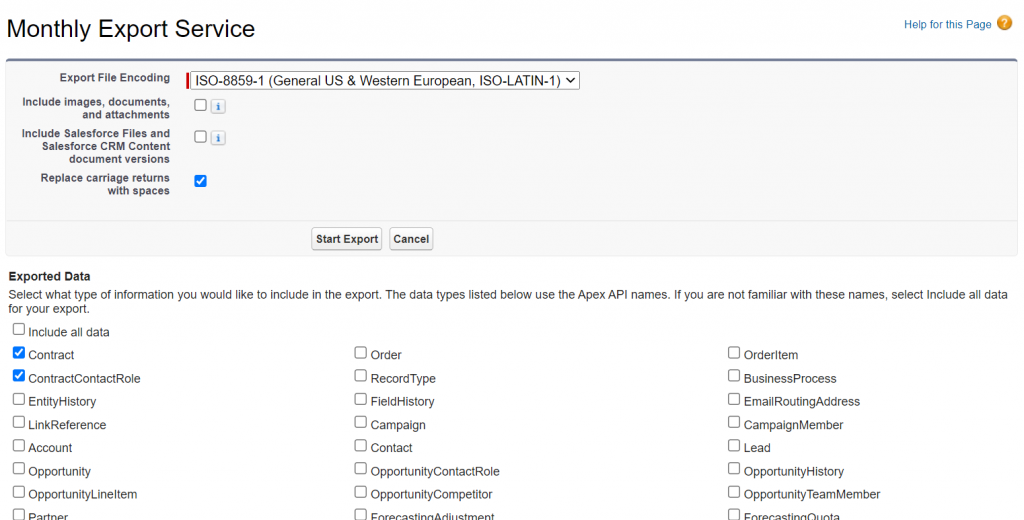 On this screen you can select any of the object for which you want to export the data. Also, we can select "Include All Data" option to export all objects data. We can check the parameters to include images, files and documents. After the selection is done hit the Start Export button. Once done it will queue the export job and you will receive an email notification once the job will be completed.
After completion reload the page, then you can see the zip file will be there in related list as below
Data Loader
Data loader is an application which is mainly used when bulk import/export of data is required. Basic operations insert, update, upsert and delete can be done with the help of data loader. It only supports csv files for reading the data and also exports the data in form of csv only. If comma's you can't use then you can change the data loader settings in settings tab.
You can install the data loader in system or you can use dataloader.io for performing the operations. You can download the same by visiting the setup menu. Select Data Loader and the following screen will be opened, then corresponding option you can choose.

Following are the steps for doing an operation in data loader
Open Data Loader. Below screen will be visible

Select any one of the above actions to proceed further.
It will ask for login for salesforce instance by username and password.
Select the object and the csv file if insert,update or upsert option is selected. As per below image.
Click on next button.
On mapping screen select the fields from salesforce objects which you want to map with the columns of csv file.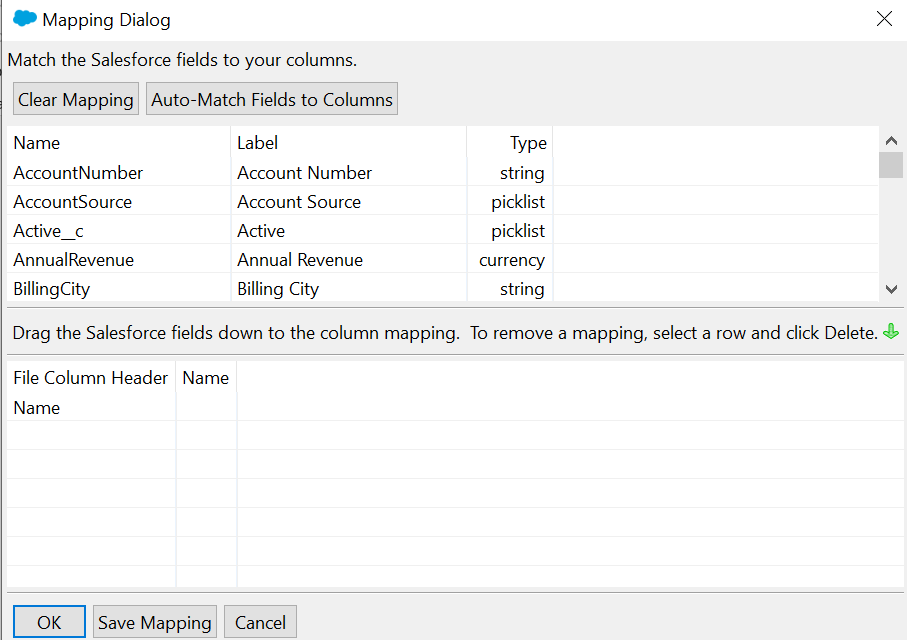 After the mapping is done click OK and then NEXT
On next screen select the folder for error and success files to be stored.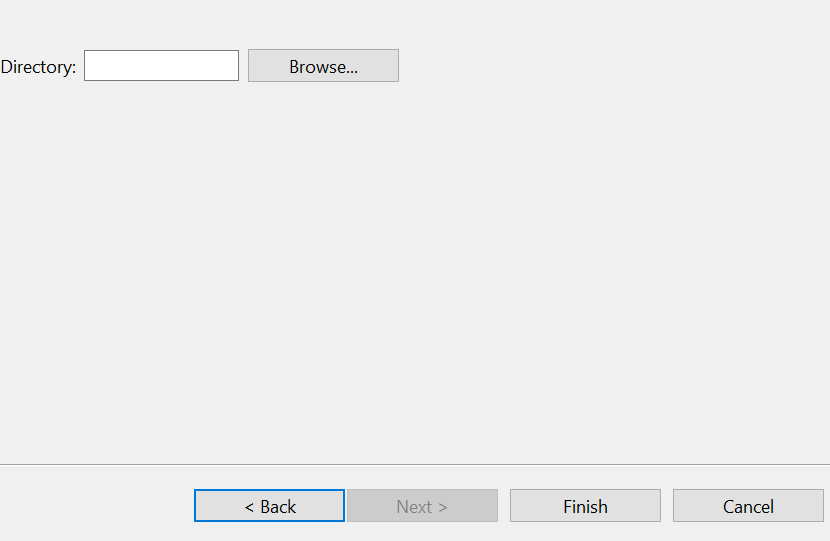 Click Finish button to complete the process.
In similar kind all other actions will work. For more information please visit – https://developer.salesforce.com/docs/atlas.en-us.dataLoader.meta/dataLoader/data_loader_using.htm
For settings of data loader, you can visit settings tab on top pane and select or deselect the parameters as shown in below image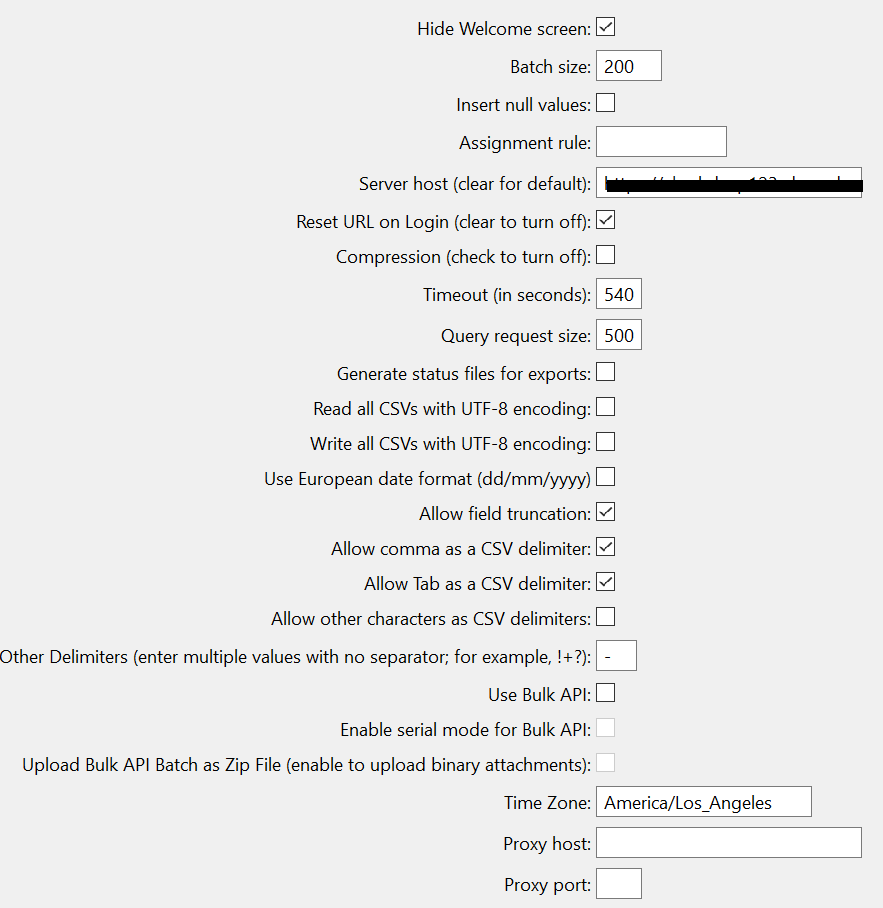 Workbench
Workbench could be a capable, web-based suite of instruments outlined for directors and designers to connected with Salesforce.com organizations by means of the Force.com APIs. Workbench incorporates strong bolster for the Force.com Accomplice, Bulk, Rest, Spilling, Metadata, and Pinnacle APIs that permits clients to depict, inquiry, control, and relocate both information and metadata in Salesforce.com organizations straightforwardly in their web browser with a straightforward simple basic straightforward and natural client interface. Workbench moreover gives numerous progressed highlights for testing and investigating the Force.com APIs, such as customizable Cleanser headers, investigate logs for API activity, in reverse compatibility testing with past API forms, and single sign-on integration inside the Salesforce application.You can visit https://workbench.developerforce.com/login.php and using the salesforce credentials you can login and perform the required actions as mentioned above.