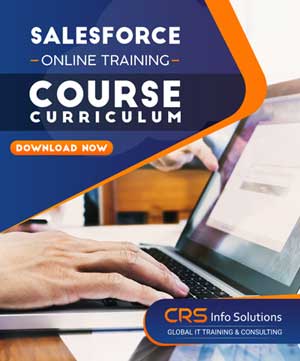 Cloud Computing Tutorial
Do you remember the days when storage was a big issue? Those times were so stressful. We used buy a 32 GB pen drive and that used to get full within no time. Then we used to buy external hard disk, which used to get full too. After massive changes in technological world, we got cloud computing, where all the storage can be done on the internet and hence our system can run smooth due to the free space.
In cloud computing one of the major leaders in salesforce. In this page, we are going to learn everything about cloud computing and why salesforce is the best option for your business. This article will discuss:
What is cloud computing
Different types of cloud computing
Different cloud computing services
Why salesforce cloud computing is the best for your business
Some of the incredible services offered by salesforce
Future of cloud computing with salesforce
Importance of salesforce certifications
Job roles available to salesforce professionals
FAQ about salesforce
What is cloud computing?
The method of storing information in a space which can be accessible 24/7 can be termed as cloud computing. When organization move from traditional storage systems to cloud, they get superior, speed, productivity, performance and security. Read more here about What is Salesforce Cloud computing?
Different types of cloud computing
At the present scenario, there are three types of cloud computing services which are hybrid, private, and public. See when a third party vendor comes into the picture, it is known as public cloud. For instance, your company and your friend's company storage are maintained by a cloud computing company known as salesforce. So salesforce acts a public cloud, where you can access, modify or manage business operation according to your needs.
Private cloud
When you want to keep things premium and exclusive for your company only, then you take the help of private cloud. See private cloud, is a cloud that is designed especially for your needs. Here the services and the infrastructure will be designed according to your business only.
Hybrid cloud
Some of the information you need to keep to yourself and some of the information can be shared with others. So when this has to be your requirement, then you need to select a cloud known as the hybrid cloud. With hybrid cloud, the deployment of application, flexibility, security and complication would be at the tip of your fingertips.
Different cloud computing services
There are four types of cloud computing services available. One is known as IaaS, the second one is known as PaaS and the third one is known as serveless computing. IaaS is a cloud computing infrastructure that includes operating systems, virtual machine, storage and networks.
PaaS
A cloud computing service, where you can make and create application according to your own needs can be termed as PaaS. Here you need not to worry about any kind of software infrastructure, being a developer you can create customized mobile and web applications.
Server less computing
Austen Collins brought servers less computing in 2015. The name itself gives you the idea of the functionality used. Server less states that, you don't to depend on any kind of servers to build and create application. When serves less computing is used, problems like capacity provisioning, cluster provisioning, patching can be eliminated with ease.
Why is salesforce computing best for your business?
Well, salesforce is best for your business due to three reasons. One is known as speed, the other is user friendliness and the last one is known as effectiveness. Business now needs software that can deploy application fast. A traditional cloud computing CRM can take weeks, but salesforce takes just few hours.
Many cloud computing programs are very tough to use and operate; salesforce on the other hand has no such issue. Secondly a there are many cloud computing software's that that cannot be adjusted according to the needs of the customer. Salesforce cloud computing offers flexibility and hence can people can use the software according to their needs.
Some of the incredible services offered by salesforce
Salesforce is one step solution to all your business needs. In this article, we are going to offer 5 incredible services that are offered by salesforce. Knowing each of them in detail, will compel you to use salesforce.
1. Salesfroce service cloud
In this service, the software will take care of all the customer needs. Activities like live interaction, Omni routing, social customer service, lightning console, and call centre operations are taken care by the software. By providing all these services customers are made into loyal shoppers
2. Salesforce sales cloud
Need software that will help you close deals?, then salesforce service cloud is all you need. The software tests you how to pitch to particular client and also helps you take data centric decisions. By managing tasks like email integration, sales collaboration, lead management, contact management and opportunity management salesforce sales cloud skyrocket your business.
3. Salesforce analytics cloud
Software that manages large amount of data and presents it in understandable format, is known as salesforce analytics cloud. See when you go to our websites through our mobile phones, we want to go straight to the information we are looking for. Salesforce analytics designs the website in such a way, that when you go the website, you will the exact information you need
4. Salesforce community cloud
Salesforce community cloud is nothing but a big family of salesforce that welcomes you with open heart. Newbie's that enter salesforce moves under the guidance of the existing ones. No one is belittled or insulted if a specific concept about salesforce is or understood. Instead they are thought through personal dissicussion or online training programs that are visually attractive and informative
5. Salesforce commerce cloud
When you run an e-commerce website, you need a software that would provide campaigns according the user. Salesforce commerce cloud provides just that. Every day the commerce cloud integrates experiences to the e commerce website, so that people can find what they are looking for. Through this sales is increased and the bounce rate is low
Future of cloud computing with salesforce
The future of salesforce is very bright. Every business is moving towards implementing cloud services. So that means every business will need a CRM that would manage all their needs. So salesforce will always be in high demand.
In 2017, there was collaboration with Google and salesforce. With the help of salesforce cloud services, Google made their business operations faster than ever before.
Soon we will see collaboration with data science and big data with salesforce. When this happens you will witness blazing fast speed in business operations. In addition, salesforce keeps their platform updated, so that means it always keep up with the new technological advancements
Importance of salesforce certifications
The importance of salesforce certifications cannot to be discussed in imitated words as it evolves every day. The demand of salesforce certifications like a salesforce developer, administrator and consultants is growing as each day passes by.
Businesses that are using salesforce need someone who knows salesforce in depth and that's where salesforce certifications come into the picture. An individual who has salesforce certifications has chance of getting a job 10x higher than any other individual.
If you serious about knowing salesforce, then you should get connected get with a training institution in Hyderabad that has managed to palace its candidates at big multinational companies. The professional of this educational institute are so well experienced in salesforce platform, that if you are attentive in their online and physical training classes, you will clear the salesforce exam at on chance
Job roles available to salesforce professionals
There are various categories of job roles available for salesforce professionals. Some of them are developer , administrator , architect , project manager and consultant
FAQ
1. Why people are so interested in salesforce
People are interested in salesforce because it is the future of technology. Fast forward 20 years every business will use salesforce. Everybody needs software that will automate all their business operations so that 6they dotty worry about the customer only
2. Why is salesforce certification required
It is required because it gives you the authority to use salesforce. Business that uses salesforce for boosting their revenue will be depended on your expertise on the platform. Thus you will have a very high paying job as a salesforce professional
3. What's the cost of salesforce certification?
In order to get a salesforce certification, you need to prepare yourself for an exam. The cost of the exam is 200 dollars. You will have the pay the test fees directly to the website known as www. Salesfroce.com
4. Time duration to learn the course?
The timed required learning the course depends on the course you are applying for. Since different positions of salesforce have different level of understanding and course duration. Approximately it takes 6 months.
5. Is java required to learn salesforce?
Nope, java is not required to learn salesforce. Though, if you have the knowledge of java, it can serve as an added advantage.