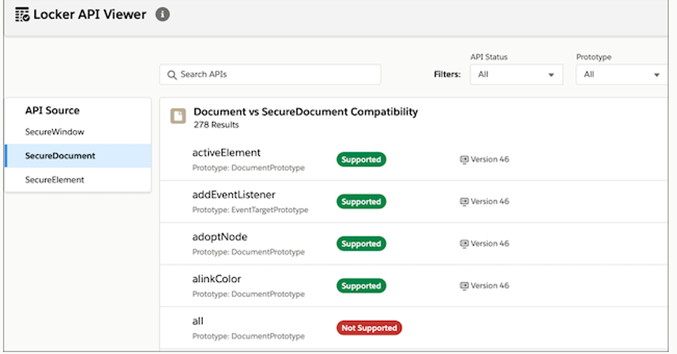 Chapter 1: LWC Tutorial – Lightning Locker and Lightning Locker Tools
On top of standard restrictions applied via native web APIs, lightning lockers implement a few more restrictions for security purposes.
What are lightning locker features?
By default, a strict mode of JavaScript is enabled
Components can only access elements that are part of it's DOM
Lightning locker restricts the use of global objects by wrapping them in a secure wrapper which is present in JavaScript for example

The window is wrapped as SecureWindow
Element is wrapped as SecureElement
The document is wrapped as SecureDocument
We can't use third-party web components (Only allows you to use components in lightning or c namespace)
Locker blocks access to global objects like $A, Aura, they are blocked as they might cause cross framework dependencies
Lightning Locker Tools
Lightning Locker tools help you develop secure code that is compatible and runs efficiently with Lightning Locker.
Lightning Locker API Viewer
As we earlier noted lightning locker has wrapped all the JavaScript global objects in a secure wrapper, with this, we can check what all standard DOM APIs are supported within each of those wrappers.
For example, setTimeOut, alert, console, etc are supported inside the lightning locker while Element. attachShadow is not allowed (because the LWC framework takes care of attaching shadow DOM to element)