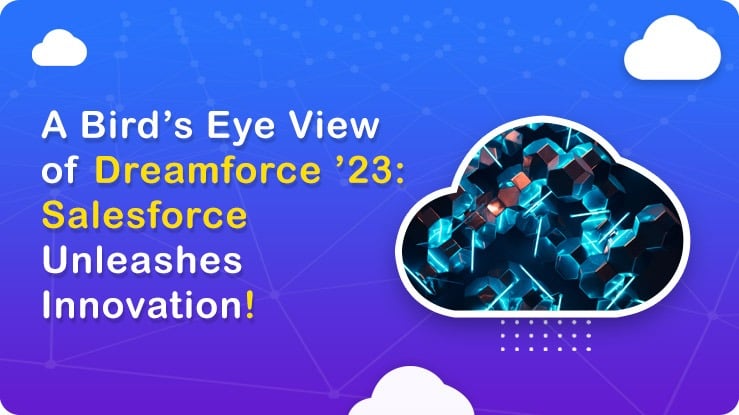 A Bird's Eye View of Dreamforce '23: Salesforce Unleashes Innovation!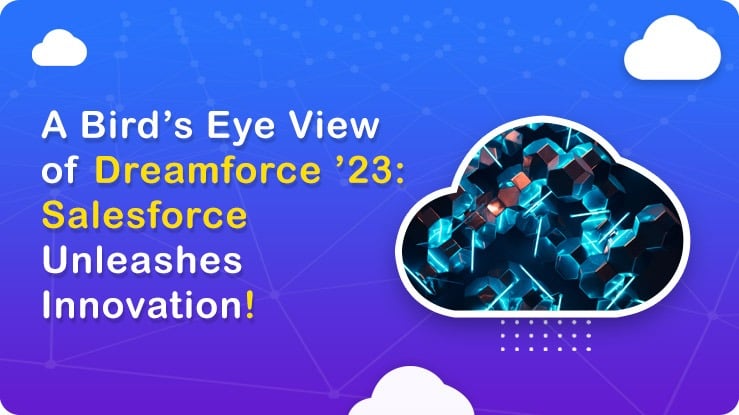 Hey there, Salesforce enthusiasts and aspiring Trailblazers! We hope you are as excited as we are about the incredible Dreamforce '23 event that just wrapped up. It was nothing short of amazing!
If you missed it, don't worry; we've got you covered. Here at CRS Info Solutions, your best Salesforce training institute, we created a thorough overview of all the highlights and announcements.
Dreamforce '23 Unleashed: The Salesforce Extravaganza
Every year, Dreamforce manages to outdo itself, and this year was no exception. With over 40,000 in-person attendees and millions tuning in online, it's clear that Salesforce has created something truly special. The conference was a grand spectacle, and the energy was palpable, even through screens.
The 10 Sensations and Big Announcements
Let's dive into the juicy bits—the 10 Dreamforce `23 sensations and announcements that had Salesforce professionals buzzing worldwide:
1. Marketing Cloud & Commerce Cloud Evolution
Salesforce is taking Marketing Cloud and Commerce Cloud to new heights! With 26 generative AI capabilities already on the roadmap and another 25+ set to arrive by the end of 2024, it's a game-changer. All these improvements are built on the powerful Data Cloud.
2. Life Sciences Cloud
Salesforce is introducing a brand-new Industry Cloud – the Life Sciences Cloud. This tailored solution will help organizations in the life sciences sector work faster and more efficiently using Salesforce's robust platform.
3. Einstein 1 Platform: AI You Can Trust
The Einstein 1 platform is here to stay. It's a relaunch of the Salesforce platform with a focus on creating a trusted AI environment. The star of the show is Einstein Copilot, your very own conversational AI assistant that understands natural language, making your Salesforce experience a breeze.
4. Free Data Cloud and Tableau Licenses
Great news for Salesforce users! Salesforce is offering free Data Cloud and Tableau licenses to customers on Service and Sales Cloud in Enterprise and Unlimited editions. This includes two Tableau Creator licenses and Data Cloud licenses for up to 10,000 profiles.
5. Slack Innovations
Salesforce has given Slack a makeover with new AI features like Thread Summaries, Channel Recaps, Search Answers, automation, and Slack lists. These innovations are set to supercharge collaboration and productivity.
6. Data Cloud-Powered Automation
Salesforce Flow has been a trusty tool for automation. Now, with Data Cloud integrated into the Einstein 1 platform, you can take automation to the next level with real-time data from various systems.
7. Copilot Studio: AI Power in Your Hands
Einstein Copilot Studio empowers Salesforce professionals to implement generative AI and boost user productivity. You have full control over which processes use AI and to what extent. It's a game-changer with Prompt Builder, Skills Builder, and Model Builder at your disposal.
8. Trust, Ethics, and Humane AI
Salesforce values trust, and they've introduced Tenets of Trusted, Ethical, and Humane AI to ensure that all their innovations maintain that trust between Salesforce and its customers.
9. Salesforce's AI Impact
Salesforce's AI initiatives are expected to create a massive impact. According to an IDC report, these initiatives could generate a whopping $2.02 trillion in revenue from 2022-2028 and potentially create 18 million jobs globally. That's a testament to the power of Salesforce!
10. Sustainability Matters!
Salesforce doesn't just talk the talk; they walk the walk. They've introduced Net Zero Cloud to help organizations meet their sustainability goals. Dreamforce '23 itself was the most sustainable ever – a great example of practicing what they preach.
What's Next for You?
With these groundbreaking announcements, Salesforce is charting a new course for the future. If you're looking to make your mark in the Salesforce world, now is the perfect time to get started! Whether you are a beginner or a seasoned Salesforce Admin or Salesforce Developer, consider enrolling in a Salesforce training course to hone your skills. Don't forget to brush up on those Salesforce interview questions too – you never know when your dream job might come knocking!
Here at CRS Info Solutions, we offer top-notch Salesforce training courses for beginners and experienced professionals alike. Our expert instructors will guide you through the ins and outs of Salesforce, preparing you for a bright future in the world's leading CRM platform.
So, what are you waiting for? Let's embark on this exciting Salesforce journey together. Dreamforce '23 was just the beginning, and the future is looking brighter than ever!