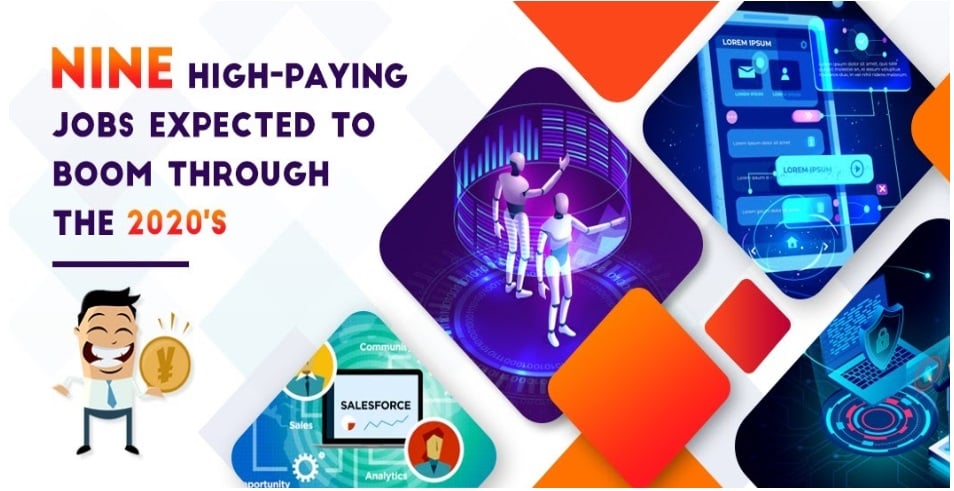 9 high-paying jobs expected to boom through the 2020
Nine high-paying jobs expected to boom through the 2020s
2020 harbors in an entirely improved job market with jobs that were practically nonexistent a decade ago. The jobs are the effects of technological advancements that have redefined and created new well-paying roles, especially in the technology space.
Here's a peek at the top 5 jobs expected to rock the employment market this year with its growth and pay.
Data scientist: $107,697 p.a.
According to Glassdoor, the data scientist is the U.S.'s no.1 job because of its opportunities, pay, and job satisfaction. While concentrated in the tech industry, there's a high demand for them in various sectors like health care, business, media, and finance.
It's the increasing technological investment for collecting user data that lead to an increased need for data scientists to interpret the data. It's also a new job field with data scientists coming from varied backgrounds like statistics, engineering, and commuter science. There are many universities now offering specific data science degrees and courses.
Information security engineer: $100,553 p.a.
The increased data breaches over the past decade, and a need for data protection, has lead to an increased demand for information security engineers.
They implement security measures in an organization's computer network systems to protect and prevent any infiltration or cyber-attacks on sensitive information.
While the field should grow in the coming years, there is a higher need for information security engineers than the number of skilled engineers. According to the analytics and research company Cybersecurity Ventures, about 3.5 million cybersecurity jobs will go unfilled by 2021.
It's this shortage that warrants such a high demand and pay for the job. Information security engineers can earn over $100,000 a year while top-level posts like chief information security officers earn more than $300,000.
Sustainability Director: $99,900
A sustainability director works at reducing an organization's environmental footprint. It's achieved by promoting the responsible use of resources and by ethically sourcing products.
They may work with other heads of departments to collect and analyze indicators like energy data. They also have to organize seminars and workshops and analyze outreach efforts.
A background in supply chain management, planning, environmental studies, or engineering is helpful for the job.
Sales engineer: $90,000 p.a.
Most businesses nowadays need customized software to expand their IT efforts. The sales engineer is the communicator between the Tech Company and customer. They work at ensuring their client receives a high-value product satisfying their business needs.
A technical background like a computer science or engineering degree is required to understand the software's scientific processes. In addition to this, they also need excellent soft skills to communicate and negotiate with customers.
This requirement lets candidates with a marketing background consider transitioning to this role. They, however, should be ready and able to learn all about their company's tech products. While $90,000 is the median annual pay for sales engineers, it may vary based on what they sell.
Web Analyst: $67,500
Web analysts have to analyze and identify any problems and opportunities in a customer's data. They then come up with a solution that both addresses the problems and exploits the opportunities.
They use tools to first collect data and then review it. The analyst then discusses their findings and the solution plan with their client. People who can find patterns in large and even messy data sets make great website analyzers.
Salesforce developer: $80,357 p.a.
Salesforce is a software company specializing in customer relationship management. The company has grown so popular in the U.S. workplaces that companies like Google and Amazon are continually requiring Salesforce developers.
Salesforce developers use the Salesforce platform or cloud technology to code customized software or application solutions for their clients. They work at creating a better collaboration between the partners and existing and potential customers.
A background in computer science is a must, and the developer has to get certified in specific Salesforce processes. They also require some soft skills like communication to explain the software data and workflows to the common man.
User Experience Director: $111,700
User experience directors use their marketing, design, customer services, and communication skills to analyze their brand's customer interactions. They work at understanding and merging their customer's requirements into a satisfying experience.
This is achieved by overseeing UXs performing primary user research, interaction design, usability testing, information architecture, prototyping, and much more.
Mobile Application Developer: $85,900
With so many people depending on and using apps today, there is a natural demand for mobile application developers. The developer's duties vary depending on their company. They may work on any project ranging from simple games to complex data crunching.
Developers need to know programming languages and know how to use development tools and environments. Understanding mobile communication and consumer trends is a plus point. So is the ability to find a mobile software solution that meets a company's objectives.
Director of diversity and inclusion: $98,154 p.a.
This is the only non-technical top paying emerging job of the decade. It's a job focusing on work culture, specifically in diversity and inclusion. The increased discrimination U.S. employees experience based on age, gender, race, and LGBTQ identities lead to more diversity and inclusion job openings.
Larger companies with more than 5000 employees are now ready to invest in an inclusive D&I workplace. These are the companies that need a D&I director for their D&I department.
The demand for this job should continue with the next decade. More employees are expected to consider leaving their company to join companies having better D&I initiatives and programs.
There you go! These are the 9 top jobs set to go dominate the market this year, and throughout the decade. It's time you too hopped onto the bandwagon and be a part of this booming job revolution!
Sources:
https://www.cnbc.com/2019/12/30/5-high-paying-growing-jobs-that-will-be-booming-through-the-2020s.html