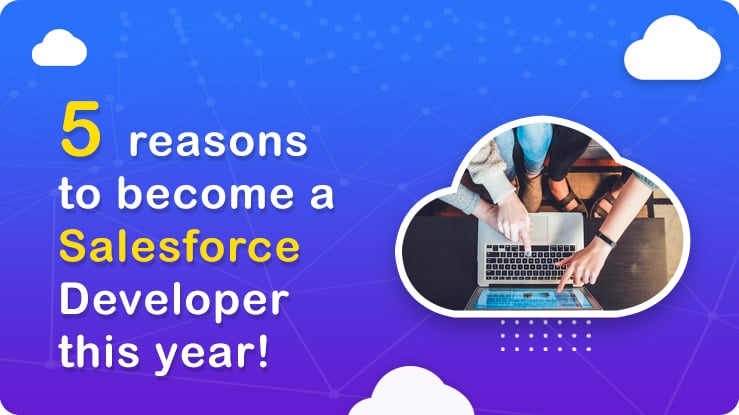 5 reasons to become a Salesforce Developer in 2023!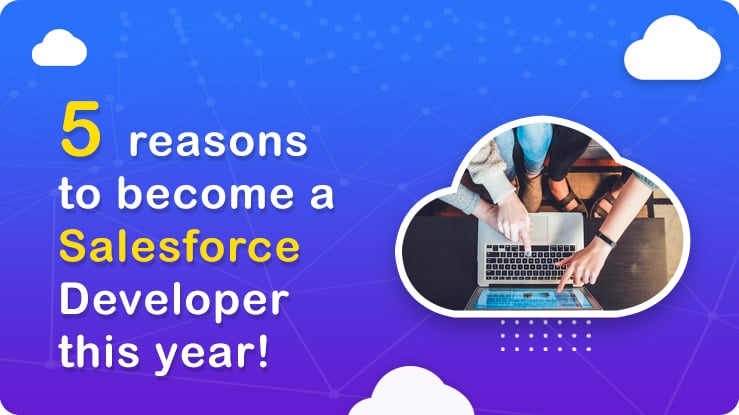 Salesforce is a worldwide phenomenon! What was once an ambitious concept that made efficient CRM available for all sorts of businesses is now one of the biggest job markets and a unique professional ecosystem in the IT segment.
Salesforce Developer is considered an entry-level position in Salesforce. However, it is among the top ten most demanded and highly-paid jobs today. The work of a Salesforce Developer probably combines everything that makes the IT segment so attractive for millions of professionals today. It is an opportunity to build a lucrative career in a fast-developing industry, become a highly paid and valued member of any business team, learn and prove your technical as well as analytical and communicative skills, and work on interesting projects for the world`s best employers.
Last but not least, the job of a Salesforce Developer allows you to work remotely and find the best work-life balance we all are looking for. Moreover, you can also do your Salesforce training online as well and therefore combine your studies with your current career or get this lucrative profession no matter where you live and how much time and effort you are ready to invest into your Salesforce training at the moment.
In this article, we shall talk about the 5 main benefits of the Salesforce Developer job according to the aspirants of Salesforce training programs as well as practicing Salesforce Developers.
#1: Salesforce Developer is a perspective career
The first thing you will probably check thinking about a new career is how perspective is it. Nobody wants to be stuck in the same position for years no matter how attractive it looks from the very beginning.
Well, Salesforce Developer is exactly the job that can kickstart and skyrocket your career. Salesforce Developers are people with a deep understanding of the nature and principles of CRM – the backbone of modern business.
At the same time, the multileveled Salesforce Certification system allows you to gradually advance in your skills and knowledge, building a successful career in any direction you choose.
#2: Salesforce Developer is the job of the future
Another vital question that people ask themselves before starting their Salesforce training is whether they will be as demanded and valued professionals in the future as they are today. Indeed, being replaced by artificial intelligence or any other software is a threat that looms over many professions today.
From this point, A Salesforce Developer is the real job of the future. Not only the Developers cannot be replaced by machines, but they are even more valued and demanded the faster the progress goes. Those are Salesforce experts and especially Salesforce Developers who will manage, develop and train artificial intelligence such as the Einstein GPT and make sure that they bring Salesforce CRM solutions to a whole new level.
#3: A chance to work for the best employers in the world.
Salesforce is used by millions of various businesses and organizations from all sorts of industries. Moreover, a Salesforce Developer is a job that often allows you to work remotely, get hired by a company from overseas, or even be a freelancer if you choose to.
In other words, whether you want to be a part of another unicorn startup, work for one of the giants like Apple, or find a job in a non-profit, humanitarian organization, etc. Salesforce Developer is the profession that will open the door to your dream job.
#4: The best way to start a successful career.
Want to make a change, start a new career, or learn something new but are afraid to get disappointed? Salesforce Developer is a great way to start a successful and prospective career!
Salesforce provides over 3 million job opportunities every year and it is a truly candidate-driven job market. In other words, with a Salesforce Developer as an entry position you have all the chances in the world to build a successful career.
#5: Become a part of a unique global community.
One of the things Salesforce is known for and the thing that makes it so attractive for professionals worldwide is the unique ecosystem the company managed to create. By becoming a Salesforce Developer, you join a unique international community of like-minded people, get access to communication, networking opportunities, mentorship from the leading certified experts, and much more.
Salesforce Developer is indeed the job that opens all the doors to the professional and financial freedom you are dreaming about. Although it is considered an entry-level position, Salesforce Developers are highly-demanded and valued professionals who enjoy all the benefits and perspectives of the trendy "careers of the future".