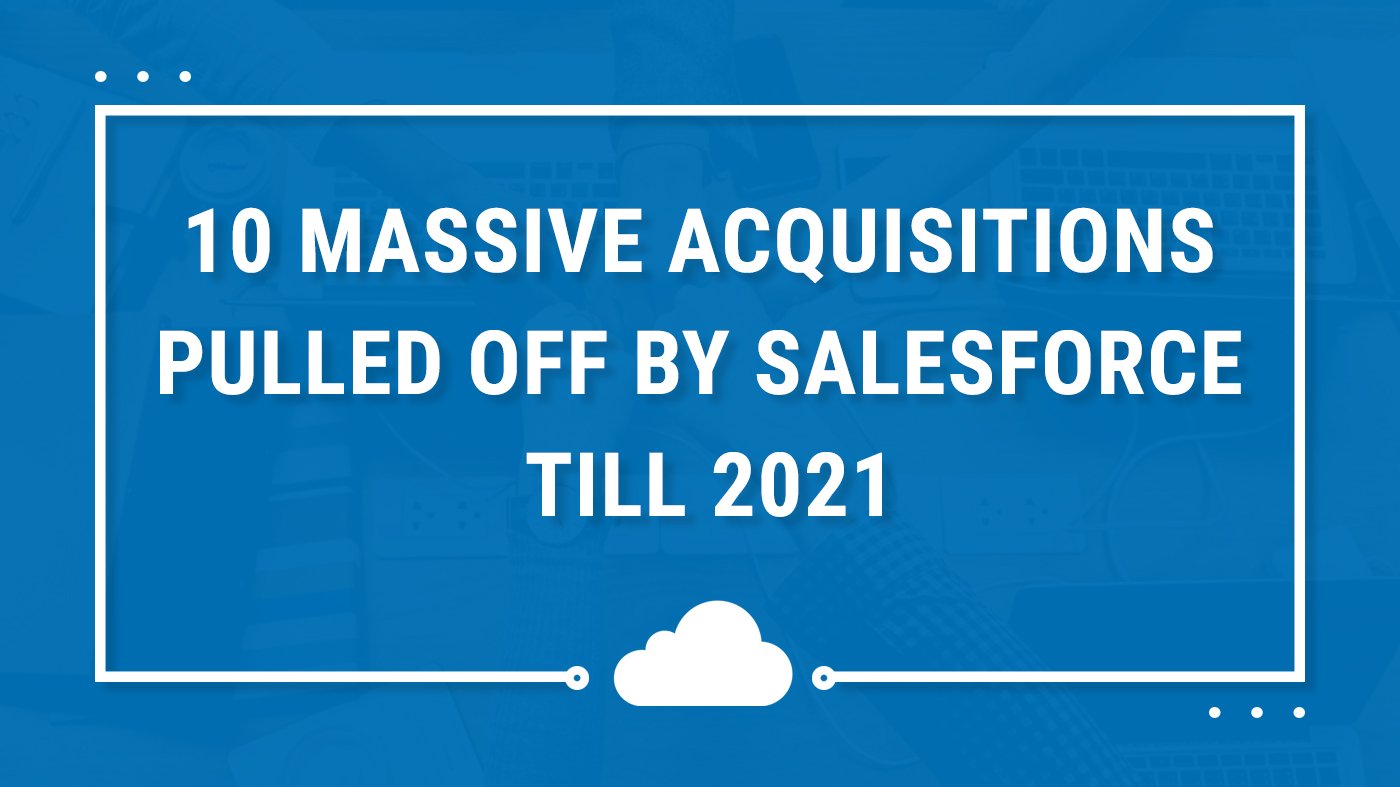 10 Massive acquisitions pulled off by Salesforce till 2021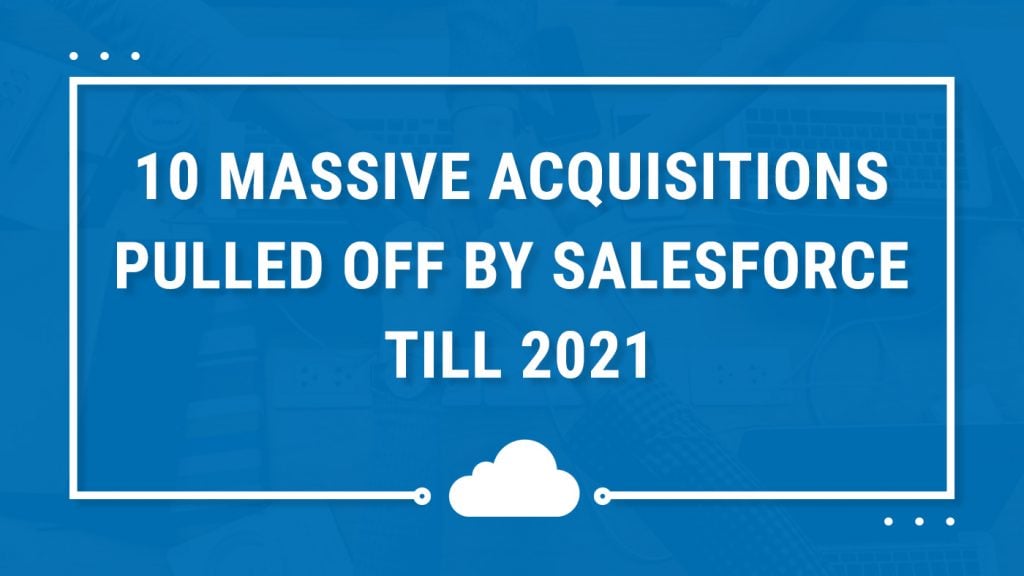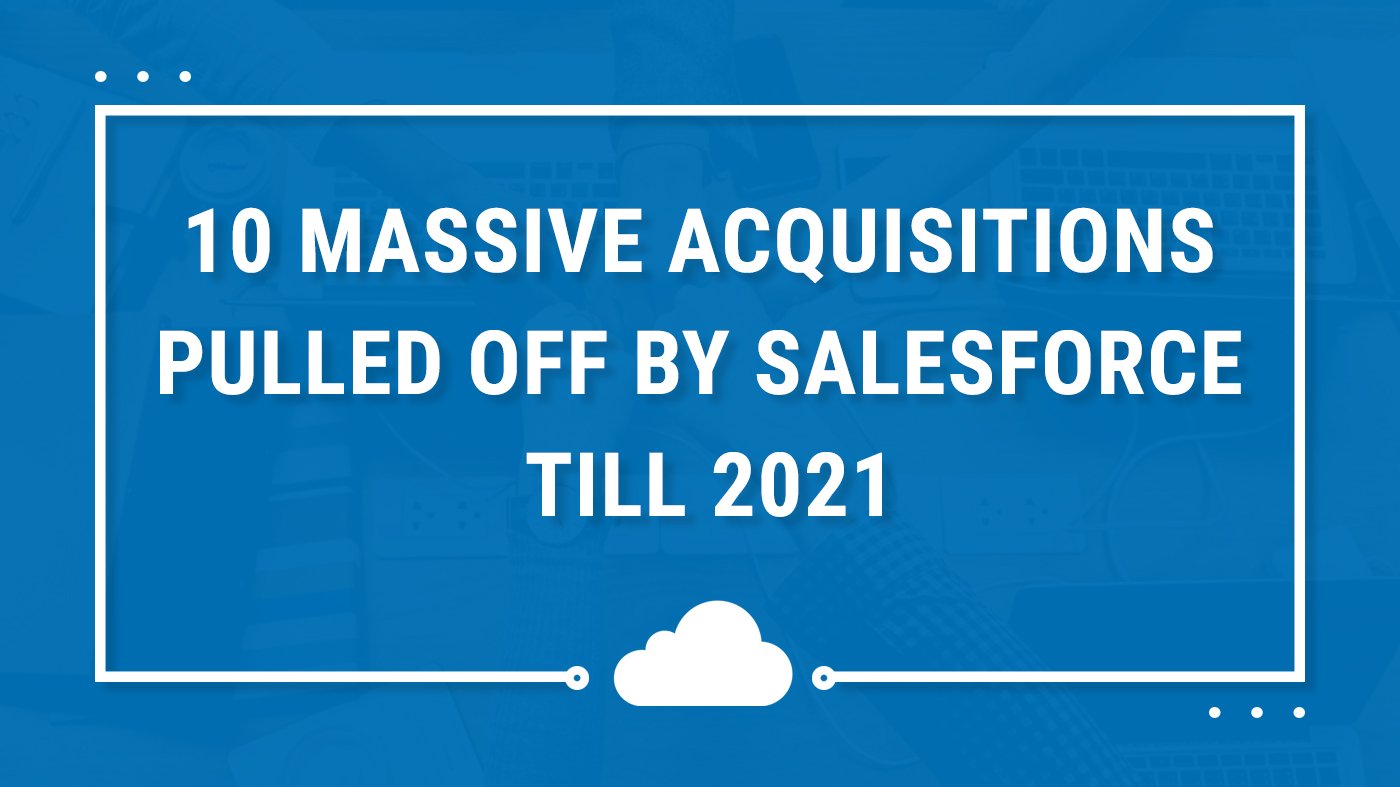 You probably are aware that Salesforce is the pioneer and leading provider of cloud-based CRM software. They offer different products that help connect businesses to their customers. And through continual innovativeness and practical assessment of the market trends, their products are always in huge demand.
One of the key strategies Salesforce has deployed over the years to gain dominance in the business world is to take on establishments with excellent prospects and integrate them with their technology. And you guessed right. Salesforce does make massive acquisitions. In this piece, we have explored the details about some mind-blowing acquisitions Salesforce has made thus far in no particular order. Enjoy!
Slack
Salesforce's acquisition of Slack was a $27.7 billion deal that was the talk of the town in the US on December 1st, 2020. While the acquisition came as a surprise to many, the purchase was highly beneficial to Salesforce. Slack could efficiently integrate internal communication among employees with external communication with customers.
Reasons for Acquisition
Salesforce and Slack both make a symbiotic combination because of the interrelatedness of their services. Here are few reasons Slack and Salesforce came together.
Slack could help Salesforce achieve its social media vision. Since Salesforce's primary services are related to Sales, Customers Services, and marketing, integrating a communication tool that could facilitate the interaction of employees, customers and vendors easily was crucial. And that was Slack. With Slack, Salesforce could deal with the new normal such as working from home. Salesforce could compete with competitors or prevent competitors.
Slack's Current Position
From the time Salesforce has tied the knots with Slack, the results are magical. It has made Salesforce's market presence very strong.
Salesforce is working on expanding its marketing presence to the companies to have a digital transformation. Slack is turning out to be the shining star for effective communication. It works everywhere on your IOS, Android, and windows which makes everyone prefer it.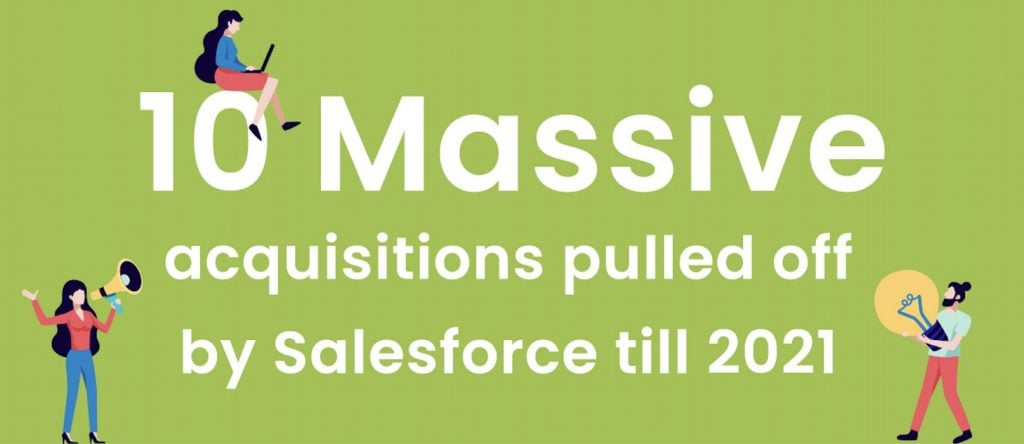 ExactTarget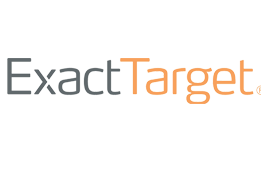 Salesforce extended its reach into marketing software with the acquisition of ExactTarget on June 4th, 2013. The deal value was worth approximately $2.5 billion.
Reasons for Acquisition
Salesforce considered developing in the pre-sales direction after gaining success in sales and service divisions. The next rational phase was marketing. ExactTarget had 6,000 customers as well as six modules. It had B2C customers, Expedia, Universal Music Group, Coke, and Nike. By the acquisition, Salesforce gets an entry into the B2C segment. It could cross-sell its MAP offerings, sales force automation, and social media.
Again, the email capacities on the Salesforce platform were weak. There were no email designers, and users cannot send large volumes of emails, and email deliverability is poor. The regions where ExactTarget shines in email marketing improve these gaps. Salesforce improves its email proficiency with ExactTarget's MAP offering. Salesforce now has the opportunity to modify the email application its customers are using.
ExactTarget purchased Pardot in 2012, and this acquisition provides marketing automation capabilities. The massive client base or Salesforce and Pardot's MAP abilities offer just the required level of marketing automation.
Exact Target's Current Position
For Salesforce, marketers could now have email, social, SMS, digital marketing, and more with the acquisition of ExactTarget. Marketing Cloud is boosted by adding ExactTarget's central Marketing Automation abilities, precisely email marketing. Pardot is developing every quarter. It has an impressive client base, with Stanley Black & Decker and Amazon in its portfolio.
Salesforce fascinated stakeholders lately by crushing third-quarter estimations, reporting third-quarter profits of 4.5 billion dollars, up to 33% year over year. It offers a wealth of features that comprise contact management, opportunity management, email integration, lead management, reports and dashboards, files sync and share, sales forecasting, and so much more. With Salesforce, over 150,000 firms are developing their businesses.
Demandware
We have established that Salesforce is one of the leading names in cloud-based software. And one of their aims is to assist and reinforce salespeople to identify their potential customers and then convert them into actual sales numbers. On June 1st, 2016, Salesforce took a big decision to latch onto Demandware, a prominent e-commerce service provider to both small and big businesses. Salesforce acquisition of Demandware took a whopping $2.8 billion, which is considered a premium amount by investment gurus worldwide. Since Demandware renders cloud-based services, this crucial investment decision was the fountainhead for creating a state-of-the-art business segment called the Salesforce Commerce Cloud.
Reasons for Acquisition
Among the numerous reasons, Salesforce bought Demandware to broaden and multiply the contracts that Salesforce can extend to the current customers, including various other commerce services. Apart from this, the acquisition provides Salesforce with a new assortment of potential customers to impart other services ranging from marketing to online analytics through extensive back-office digital solutions for marketing and IT tasks. Also, it extends Salesforce's competitive edge with businesses like Shopify, eBay, and Amazon. It is not a surprise Demandware earned Salesforce customers like Design Within Reach, Lands' End, L'Oreal, and Marks & Spencer.
Demandware's Current Position
With the acquisition of Demandware, Salesforce has metamorphosed efficiently into a Commerce Cloud service provider. It has now become the dominant force among contemporary retailers. This Commerce Cloud extends "Omni-channel Commerce," which provides consistent and flawless services along all the digital and physical avenues like the store, mobile, social, and web.
Vlocity
Vlocity is a worldwide company that enables select companies to conduct their services effectively. They provide industry-specific solutions; cloud-based and mobile software that enables sales, marketing, and IT remote works.
Coincidentally, Salesforce also provides similar services. Hence, they acted as competitors. However, Salesforce bought Vlocity on February 25th, 2020, spending $1.33 billion. The two companies now combine as one, and the acquisition counts as one of Salesforce's most outstanding achievements.
Reasons for Acquisition
As the leading company in CRM software, it is only natural that Salesforce would expand to acquire CRM applications for vertical markets. With Vlocity, Salesforce has the opportunity to assist companies in more specific market areas. Salesforce aims to improve its skills and services, especially in areas predicted to grow in the market trend.
Most companies have trade secrets that serve as leverage. Thus, acquiring Vlocity opens Salesforce up to improvements, particularly in those areas Vlocity is strong. And that way, they can better compete in the world of technology which is constantly growing. You may also want to consider that Salesforce can now offer a wider range of advanced services to companies without them having to move from place to place.
Vlocity's Current Position
Your guess is right. Once Vlocity was acquired, Salesforce soon came up with the concept known as "Industries Cloud" to provide industry-based solutions. And now, they stand out as a dominant force among companies that offer industry-based cloud and mobile software. An efficient way to rise is to merge with one of the best.
Enroll for free demo for our salesforce training a real-time project based course by experienced faculty.
Tableau

Given their goal to be the best in their industry, Salesforce made an official move for Tableau on June 10th, 2019, spending $15.7 billion in stock. Tableau has been described as "an unprecedented company, with a tremendous product and team and an incredibly passionate community, delivering powerful AI-driven insights across all kinds of knowledge and use cases for people of each skill level."
It is one of the quickest developing data visualization tools used inside the Business Intelligence Industry in understandably analyzing data. Experts and non-technical customers can engage it.
Reasons for Acquisition
By shopping for Seattle-based Tableau, Salesforce sends a clear message to the marketplace the level at which they seek to operate, as BI was becoming more influential in decision making. Of course, Salesforce already had a BI platform, i.e., the Einstein Analytics platform. However, their results were not outstanding. Hence, there was a need to leverage a thriving BI platform.
By acquiring Tableau, Salesforce aims to provide one of the most intelligent and intuitive analytics and visualization platforms for every department and every user at any company. Tableau can supply BI analytics which will give a competitive edge to end-users directly in a short period.
Tableau's Current Position
Since the acquisition, Tableau has operated mainly as an independent application, while Einstein Analytics has been rebranded as Tableau CRM, which stays as Salesforce's local Business Intelligence tool. Tableau has remained the world's leading analytics solution for all data.
Krux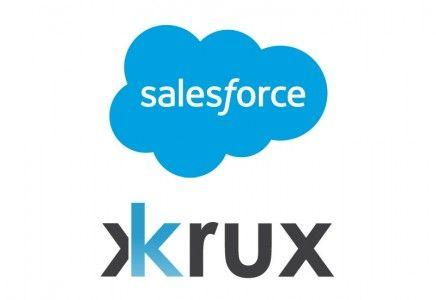 Salesforce bought Krux for 800 million dollars on October 3rd, 2016. Out of the $800 million, $340 million was paid in cash, the rest in stock. Krux is a company that delivers more innovative content, commerce, and marketing experiences, thereby helping marketers, publishers, and agencies.
Reasons for Acquisition
Salesforce remains the same in its aims. One aim is to offer the best services in all they are engaged in. And that is the primary purpose of buying Krux. Krux was to help Salesforce with marketing, as well as being able to compete with other Data Management Platforms such as Adobe. DMP compiles and organizes data sets from external sources and analyses them alongside internal sources from an organization.
Digital marketing was growing at that time of the year, and Forrester predicted that the market would increase 43% Year-Over-Year from 2015 to 2021. As Salesforce has yet to acquire digital advertising, they bought Krux to overcome the disadvantage against their competitors.
Krux's Current Position
Salesforce immediately rebranded Krux as Salesforce DMP, as well as incorporating it into the Marketing Cloud. Now, the former Krux is known as Salesforce CDP, which stands for Customer Data Platform. Salesforce CDP gathers data from multiple sources and across all parts of the organization and brings them together in one place. Krux is now known as the 8th largest Salesforce acquisition.
Buddy Media
Buddy Media is one of the leading marketing platforms that help brands connect with customers on social media (such as Facebook, TikTok, and Twitter). Salesforce acquired it on June 4th, 2012. The platform was purchased for $649 million. After the acquisition, it was technically rebranded into the Salesforce platform. After that, its online pitch became Salesforce Buddy Media, social media-based for building and maintaining connections between companies and customers.
Reasons for Acquisition
The main reason Salesforce bought Buddy Media was the hype on social media. There have been steady increases in displaying personal details on social media about people worldwide. Individuals on different social media platforms share their likes and dislikes, favorite products, and shopping habits. These data could help Salesforce Customers in quite many business operations. The most common way is how Buddy Media allows companies to insert their brands in various conversations on social media platforms. Salesforce, needing to increase their offers to their customers and give them social media features, saw the need to acquire a social media tool. Buddy Media was the best candidate to fill the gap, and Salesforce went in immediately for it.
Buddy Media's Current Position
Since the acquisition time, Buddy Media was made part of the Salesforce Marketing Cloud by pairing it with Radian6 to make up a Social Studio. The studio has numerous integrations that link back to core Salesforce. In cases where customers are angry or dissatisfied, a slot can be created easily in Service Cloud. Salesforce aimed to maximize social media potentials to increase the CRM services they offer to companies worldwide. And this is ongoing.
Quip

By 2016, Salesforce had already earned its reputation as a leading figure in the software industry, with several acquisitions. Yet no one, not even major competitors like Microsoft, could envisage Salesforce's game-changing purchase of Quip that year (at $750 million).
On July 30th, 2016, an official document was sent to a regulatory body, SEC, detailing the price and process of acquiring the cloud collaboration software publishers. Following the July 11th completion of Demandware's acquisition, the buyout was initiated, which places Quip's purchase in the late half of July 2016.
Reasons for Acquisition
With competitors Microsoft and Google boasting similar products, the acquisition confirmed Salesforce's ambitious plans for its platform. The benefits of this acquisition were amplified following the company's loss to Microsoft in the takeover war of LinkedIn some weeks earlier.
By having a top word processor under its belt, Salesforce gained a foothold in Microsoft's territory. After all, the general tech community depicted Quip as the "Word Killer."
Quip's Current Position
Today, over 30,000 companies and millions of people are ardent users of Quip. Major tech companies like Instacart and Stripe, media companies like CNN and Al Jazeera, and non-profits like LeanIn have expressed satisfaction in Quip's services.
Given Salesforce's constant innovation, Quip has now been merged with Salesforce Anywhere, a new product introduced by Salesforce to help with remote work.
ClickSoftware
On August 7th, 2019, in San Fransisco, the worldwide innovator in CRM, Salesforce, finally declared conclusive consent for the acquisition of ClickSoftware for a sum of roughly $1.35 billion. ClickSoftware is a leading force in Field Service Management, enabling companies to schedule and optimize field service work intelligently.
Reasons for Acquisition
ClickSoftware empowers organizations to plan and advance field administration work insightfully. Based on Service cloud, Salesforce Field Service Lightning bridles the most recent in dispatching, portable labor force strengthening, and IoT advances to enable organizations to interface their whole assistance labor force on a solitary, unified stage.
ClickSoftware's Current Position
This expansion of ClickSoftware was likely to improve Salesforce Service Cloud's authority as the #1 help stage, enabling each assistance worker from the contact place to the field to convey more associated, savvy client care, enhance the FSM.
MuleSoft
Salesforce's decision to purchase MuleSoft was made public in March 2017. A year and a few months later, on May 2nd, 2018, Salesforce completed its acquisition process. The deal was settled at a whopping sum of $6.5 billion, part stock and part cash.
MuleSoft is a global software company that was inaugurated back in 2006, headquartered in San Francisco in California. MuleSoft is a data integration software platform that enables users to connect data, applications, and devices. This global platform is built to perform analytics, ETL processes and applications, legacy systems, and on-premises software.
Reasons for Acquisition
Large international companies acquire smaller ones primarily to use their technology, resources and save their development time. The acquisition also allows the larger companies to explore and plunder the customer bases of the smaller ones. Well, both purposes have been served well by Salesforce's acquisition of MuleSoft.
This deal was important for Salesforce because it needed access to data across a broad range while expanding its machine learning process and artificial intelligence mechanics. A platform like MuleSoft could give that to them. Via MuleSoft's integration services, Salesforce could climb up the enterprise cloud pack and incorporate its functionality into all operating business mechanisms. Secondly, Salesforce also got access to the large customer base of MuleSoft, consisting of MNCs like Coca-Cola, Barclays, Anheuser-Busch, Cisco, Netflix, Office Depot, and Wells Fargo.
MuleSoft's Current Position
MuleSoft has now been a part of the Salesforce empire for about three years. And through MuleSoft, Salesforce has achieved digital transformation by connecting and integrating its business systems.
You must be wondering if at all MuleSoft has any future. Well, MuleSoft has provided positive career opportunities for people across the globe. The future of this platform is definitely on the right track. There's still much for MuleSoft to improve and integrate. This cutting-edge platform architecture is the go-to solution if you are looking forward to developing foundational strength, integrating it with scalable AI tactics.
Wrapping up:
Salesforce was first built to provide a cloud-based platform where people can better organize their sales operations a bit and track advertising and marketing data. Given Salesforce's market trend predictions and constant innovation, the company has thus far smartly expanded, maintaining its position at the top in the software industry. None can say they have seen all there is about Salesforce, as they have demonstrated over time their unpredictability.