CRS Info Solutions
Taking software training to the next level, CRS Info Solutions has been active in shaping the bright careers of smart professionals with real-time certification online courses for professionals.
Our learner's speak about our service:
The instructors are highly experienced in imparting productive knowledge on industry-specified methodologies and offer relative practical experience with real-time online certification training for professionals.
We, at CRS Info Solutions, help candidates acquire certificates, master interview questions, and prepare brilliant resumes.
Indeed, our online training modules encompass an array of software technologies with a vigilant eye on the latest software courses. We believe in keeping our students abreast of everything in the software world.
Furthermore, working with a zest to provide fundamental knowledge and advanced training to graduates, we make sure they get a valuable kick-start to their careers in software development from our institute. It is rightly understood that software is becoming the backbone of every business organization.
With the internet widening its horizons through the adaptation of remarkable technologies, our online training certification course faculty ensures that students get justified information. As well, our team is adept at formulating specialized curriculum in liaison with technological developments. It is all about imparting every piece of requisite knowledge without missing the high-end details. The expert instructors have professional experience with real-time projects and job-oriented concepts in our certification courses.
Trending Software Courses in 2023
Salesforce Lightning
Tableau
MuleSoft
DevOps
Data Science
Python
How can CRS Info Solutions help you?
CRS Info Solutions is one of the leading Salesforce training institutes in the world today. Our training program is curated to guide you through the learning, certification, and job hunting process of starting a Salesforce career under the guidance of a set of instructors with over ten years of experience working in the industry. We provide a 60-day program with one-hour-long classes that our students can attend online from anywhere in the world.
Our job-oriented training program ensures that you gain the necessary knowledge, hands-on experience, and the right skillset to fast-track your jump into a career in Salesforce. Instead of the feeling of diving into the deep end preparing for Salesforce jobs on your own, our structured courses ease you into the ins and outs of Salesforce software and what a career in Salesforce entails in a matter of 60 days.
The main features of our training program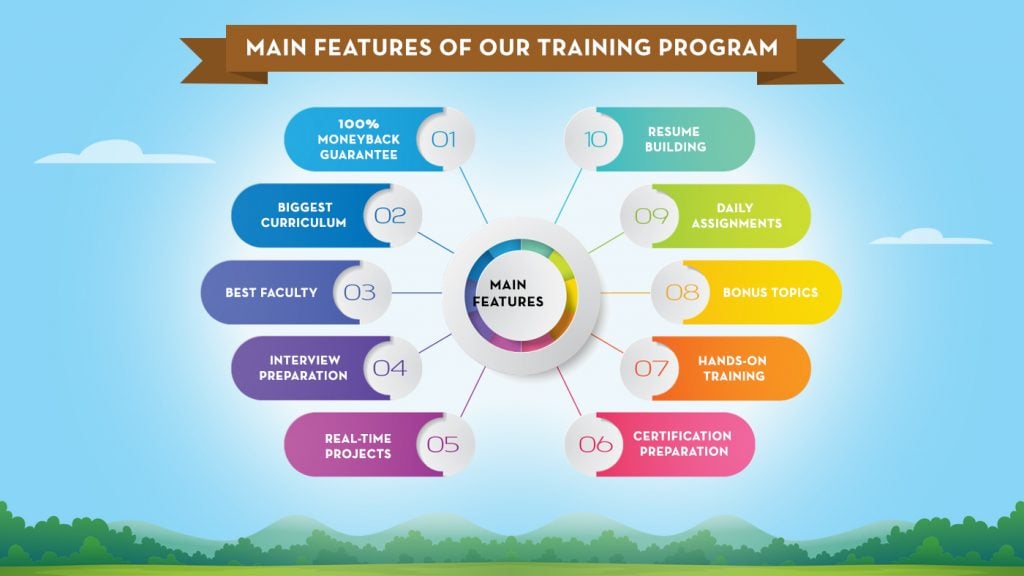 ✅ 100% money-back guarantee:
Our students get the opportunity to attend the first three classes of our training program free of charge. If you're not satisfied with our services by the end of the free class sessions, you can request a full refund of your payments. With our money-back guarantee, you don't have to just take our word; come and see if our training program suits you without any fear of losing your well-earned money.
✅ Biggest curriculum:
Among the number of Salesforce training providers in today's market, we present you the biggest curriculum with a combination of Salesforce Administration, Development, Lighting, and Integration modules and bonus topics. Once you join our training program, you gain access to our 170+ hours of free course content and videos to horn your Salesforce skills even further.
✅ Best faculty:
Our faculty consists of industry experts, including Salesforce MVPs, with 15+ years of experience working at the top level of leading software companies in the world.
✅ Making of "working professionals":
Our training program doesn't only focus on teaching you how to work with Salesforce products. We shape you into professionals who can start working with lucrative salaries right after completing the training process.
✅ Certification preparation:
We offer maximum support to our students to prepare for Salesforce certification exams. With extensive learning material, simulated quizzes, and special Q&A sessions, we provide a curriculum you can fully rely on to earn your Salesforce certifications.
✅ Interview preparation:
Part of our aim towards shaping working professionals is preparing them for job interviews with state-of-art Salesforce interview questions and answers material. With that goal, our daily classes share tips and tricks to help you gain the confidence and practice required for facing interviews of any difficulty level. You're looking to crack an interview with a Fortune 500 company? No worries, by the end of our training program you'll be raring to take your chances against the giants in the technology world.
✅ Real-time projects:
Our training program integrated working with 3-4 real-time Salesforce projects to give you the chance to gain hands-on, real-world experience working with CRM projects. It allows you to enter the job market as a candidate with a higher level of experience and understanding about Salesforce.
✅ Resume building:
Building a resume that showcases your experience and expertise in Salesforce is key to presenting a good image of yourself to potential employers. Our instructors are dedicated to guiding you through the process of creating attractive, on-point resumes that help you stand out as an Admin, Developer, or Lightning student.
✅ Daily assignments:
We provide in-class and after-class assignments to review and refresh your memory and knowledge on everything you learn in online classes.
✅ Bonus topics:
We supply around 120 hours of free course content to students enrolled in our training program.
✅ Hands-on training:
Our training program is designed to teach our students through hands-on practice sessions from day one. It'll give you an understanding of not just theoretical knowledge, but also applying those theories to solve problems in the real-world context.